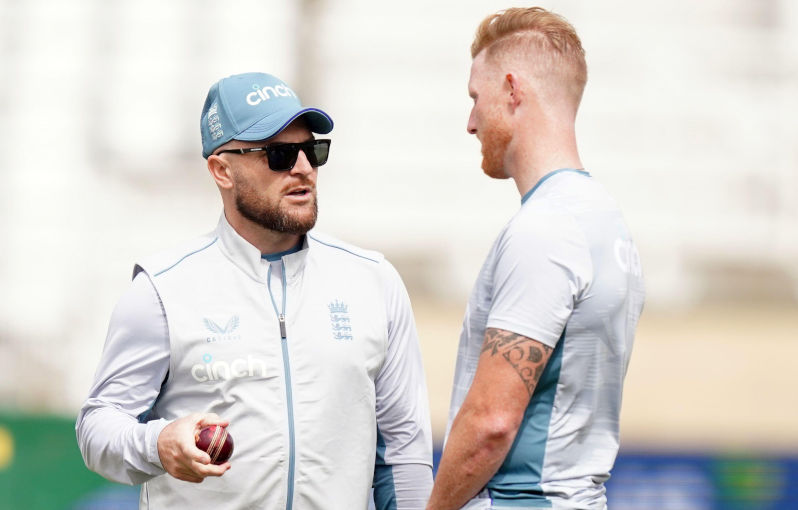 Test cricket is sometimes its own worst enemy, regularly shooting itself in the foot. Can 'Bazball' save it? And can the playing conditions be applied more effectively?
These days, two lines are frequently heard about Test cricket, the long-format version of the old game. The first is that it is dying and will not survive outside of a small number of countries because the short forms (especially T20) have taken over the affections of the masses. The second is that the game is its own worst enemy, regularly "shooting itself in the foot" over the way Tests are played.
Both lines are of concern to the game's traditionalists. But one ray of hope emerged in the last English summer: the 'Bazball' approach advocated by Brendon (Baz) McCullum, now the coach of the English Test team. Bazball is about playing with a positive mindset, chasing victory without fearing defeat as the worst of all fates.
A quiet revolution has been going on in cricket for decades. It has been characterised by the challenge mounted to Test cricket by first the 50-overs-per-side game and latterly by the 20-overs-per side one. T20 cricket, especially, has perfected instant, thrill-a-minute play characterised by big hitting, fast scoring and desperate, athletic fielding. New supporters have flocked to the T20 game in most of the countries in which it is played.
Meanwhile Test cricket has languished except in its strongest bastions, England and Australia. Crowds are often tiny, and the economics of playing Tests are being undermined as a result. Even in India, with its massive, cricket-mad population, support for the Test format is not always strong. There are fears that Test cricket will soon not be played in some of the dozen countries that currently do so.
The situation is worsened when Tests appear to end in farces created by arcane laws that govern them. Too often, the laws relating to the fitness of playing conditions produce outcomes that people find hard to follow – games being suspended when the weather is fine but the underfoot conditions are imperfect, or games being called off because of poor light when the players nevertheless appear happy to continue.
Last week's Test in Karachi between New Zealand and Pakistan was heading late on the fifth day towards a thrilling finish. Tension abounded, New Zealand needing a single wicket and Pakistan a mere handful of runs. The gloom was gathering, but the floodlights were on and in the penultimate over one of the home players hit a six and a four. Both teams, reportedly, wanted to continue.
The laws of the game state that either umpire (that is, only one of them) may terminate play if he or she thinks the conditions are 'dangerous' or 'unreasonable'. In this case there can have been little risk of injury to batters, because the umpires had ruled that only spinners could operate. And the tail-ender who hit the six and the four just before the close evidently saw the ball well enough for the light not to have been unreasonable for play.
Three overs remained when an exciting finish was thrown away by an umpire's poor application of a flawed law of the game. This can surely be fixed. If the players on both sides do not believe the conditions to be dangerous or unreasonable, play should continue.
And Bazball? McCullum, in his role as captain of New Zealand's Black Caps a few years ago, preached playing positively and with enthusiasm. His men were encouraged to chase the ball all the way to the boundary, sometimes with two or three in pursuit. With bat and ball they were encouraged to attack, not mindlessly or recklessly but with scoring uppermost in their minds. They fought for the draw if necessary, but except when the weather intervened draws were infrequent.
Now McCullum has brought his mindset to a struggling English Test team, and with striking results. One manifestation was in the scoring rates that were achieved over seven Tests (variously against New Zealand, India and South Africa) during the English summer.
Here, history tells a story about how the game has changed and what Bazball might do to it in future. I have calculated the scoring rates per six-ball over in Tests between England and Australia in England since the Second World War and noted the frequency of drawn Tests over the same period. The figures are interesting, and revealing.
Between 1948 and 1968, scoring rates varied across series from a low of 2.1 (in 1956) to a high of 2.5 (in 1948). They averaged 2.3 runs per over. Sixteen of the 30 Tests ended in draws.
Between 1972 and 1981, scoring rates increased, varying on a series-wide basis from 2.7 to 3.1 and averaging 2.8 runs per over. Twelve Tests ended in positive results, with nine drawn.
Then, from 1985 to 2001, run rates varied between 2.8 and 3.9. Only in one series did they dip below 3 per over, and the overall average was 3.2. There were 22 Tests that ended in results and only six draws.
The T20 era, which in terms of international matches began in 2005, saw run rates in Tests between the old enemies vary from 3.1 to 3.7 with an overall average of 3.5 scored per over and seven draws against 18 positive results.
The overall trend is clear: run scoring rates increased substantially, and draws declined in frequency from more than 50 per cent in the first period to less than 25 per cent in the last two.
Gradually, an old mindset favouring the avoidance of defeat at all costs was displaced. From seemingly considering the possibility of winning only after the potential for defeat had been eliminated, players increasingly appeared to work towards victory from the start. The game was improved.
Some of the change was the result of the advent of the short forms which taught new skills (especially in batting). But additionally, because the draw did not exist in 50-overs and 20-overs cricket, players were conditioned not to see defeat as terrifying.
Now to the last English season, when England scored at just under 4.5 runs per over in the Tests, a new high. All seven matches ended in positive results and England won six of them, some with heroic, thrilling last-innings chases of large targets that had once seemed impossibly risky and likely to end in defeat. Then, in Pakistan before Christmas, England scored at 5.5 runs per over across three Tests and won the lot.
Bazball, if it catches on, might yet save the Test game. If it produces frequent exciting cricket played with elan and crowds return, it might save Tests from the competition brought by T20. We might see the progress of what could be a new form of Test cricket in the coming Ashes series, set to be played in June and July.
But there is one matter for concern. Recently I met an elderly cricket follower from Surrey who was decidedly unenthusiastic about the Bazball of the last English summer. Test cricket's appropriate tempo, he thought, was a scoring rate of about 2 per over. Anything much higher than that was tantamount to immorality, too much like the cheapened, bastardised form of cricket that is T20. With friends like that, Test cricket needs no enemies!
Chas Keys, a former academic and emergency management practitioner who writes many articles on flood management in Pearls and Irritations, occasionally writes on cricket.