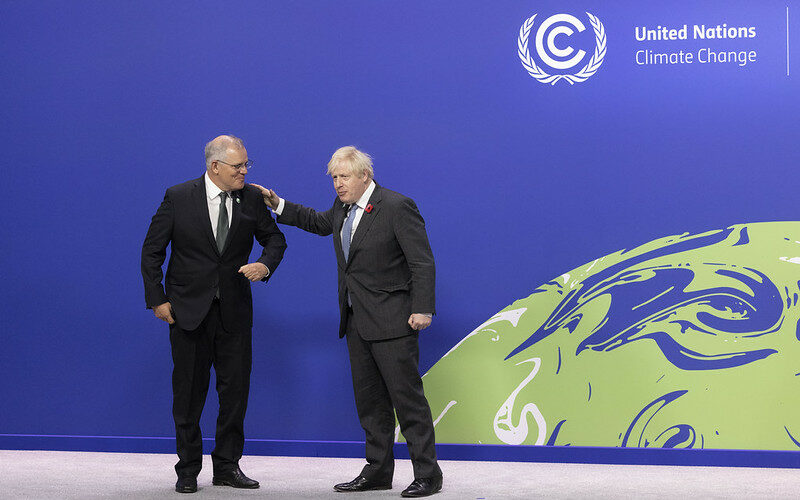 As the consequences of global warming worsen, countries that are laggards on climate action risk facing sanctions or bullying from powerful nations.
Australia left COP26 in Glasgow with little honour and few friends. Within a day of our joining 197 countries that agreed to the Glasgow "pact", our government said it would not abide by its most important plank: to come to another COP in a year's time (in Sharm el-Sheikh, Egypt) with a better pledge to cut emissions.
A Queensland senator on the government side said the pact was a "green light" for more coal mines. It certainly was not.
We refused to join 100 countries that pledged to cut methane emissions by 30 per cent by 2030. Deputy Prime Minister Barnaby Joyce and Minister for Emissions Reduction Angus Taylor made outlandish statements that this would require shooting cattle or closing down the beef industry. They may well have been distracting our attention from policy capture by the gas industry.
Prime Minister Scott Morrison dashed off to Glasgow having secured Coalition support for a supposed plan to cut our emissions to net zero by 2050. It was clear this "plan" involved doing practically nothing. When the modelling behind it was released after he returned, it turned out not to get us to net zero at all. We had to assume 20 per cent of our emissions would be removed by "global technology trends", 10-20 per cent by "international and domestic offsets" (where we pay someone to take carbon out of the atmosphere) and a further 15 per cent by "future technology breakthroughs".
Glasgow was a success, if less than the triumph the host, British Prime Minister Boris Johnson, had hoped for. It lifted the need to cut emissions up the global agenda, and it produced some important new national pledges. India made its first commitment to reach net zero, even if it will come late to the party in 2070. The US and China agreed to set aside differences and cooperate on climate matters. An important group of countries agreed to phase out coal, another big group to slash deforestation.
Climate Action Tracker calculated that if all pledges made by the end of COP26 are carried out on time, it is probable the world will warm by 2.4 degrees Celsius (compared with the pre-industrial era) by the century's end. This is better than the 2.7C expected with the pledges on foot before Glasgow.
Improvement by 0.3C does not sound like much, but it means fewer droughts, floods and huge storms in the future, less sea-level rise and less displacement of poor people. Most importantly, it brings the Paris goals of well below 2C and ideally 1.5C into closer reach if we try harder in the future.
Which is what we must do. Our federal government may not believe there is a global climate emergency, but this is what the evidence shows and what the scientists think.
The climate change denialists were quiet this time around. The evidence is now overwhelming. If you did not notice huge fires here and overseas, drastic floods in Europe and hurricanes and cyclones in various near-tropical areas, you can see the evidence in the science volume of the IPCC's Sixth Assessment Report. This came out in August. Even the Murdoch media calmed their denialism. Perhaps the old mogul needs to appease his advertisers.
China played a limited role in Glasgow. President Xi Jinping did not attend. The world cannot meet the Paris goals without a full commitment by China. It is by far the world's largest emitter of greenhouse gases. Xi has his hands full at present with huge domestic reform on the theme "common prosperity" (or "de-tycoonisation"). And China is experiencing an acute shortage of energy as its cold winter approaches.
There are grounds to think China will, in its own time, step up efforts to cut the carbon dependency of its huge economy. China is acutely aware of the dwindling of the Himalayan glaciers that feed its great rivers. It knows some of its most developed coastal areas are threatened by sea level rise. It is as vulnerable as any country to drought, floods and tropical storms. We may just have to wait a little before Xi can take on powerful interests associated with the high-emitting coal, power, steel and cement industries.
It is almost 30 years since Australia and the rest of the world joined the United Nations Framework Convention on Climate Change. The IPCC and the COPs (Conferences of the Parties) work within this framework. Progress was slow for years, but now the institutions for this exceedingly difficult global challenge are in place and functioning. They have a lot of work left to do.
The Paris Agreement added a mechanism under which nations formulate their own goals and plans for emissions reduction and present these to a COP every few years. Under an intense international spotlight, comparisons can be made, ideas can be exchanged and laggards can be shamed. Australia is without doubt a laggard, but shame seems to have no effect on its government.
This system is the best hope we have of avoiding a climate change catastrophe. It is far better for us than the alternatives and deserves more wholehearted support from Australia.
One alternative is for countries with strong emissions reduction policies to impose tariffs on the goods of those with weaker policies. The European Union is working on this now. It will apply initially to a limited range of goods and may only have a small effect on Australia. But once the principle is established, it could be adopted by more countries and applied to a wider range of goods. It could harm us a good deal.
Another option that may loom as the climate crisis worsens is for powerful countries to bully weaker ones that are not cutting their emissions enough, perhaps with boycotts or some form of sanction. We are on our own, with a long record of not doing our share to counter the climate crisis. Bullying may well target us and could hurt.
As the crisis worsens, one or more powerful nations may opt for direct measures to influence the climate. The most obvious is to add aerosols to the upper atmosphere to reduce the intensity of the sun. This may work, up to a point, but would leave some aspects of climate change unaffected, such as ocean acidification. Any such large-scale intervention in the climate is likely to have major unintended consequences, such as changes in the pattern of rainfall, which could cause great harm to many countries.
It is in Australia's interests to take the UN approach seriously and to step up our efforts to cut greenhouse gas emissions. This is the best option we have for the long term. The national government should recognise this and stop talking of "victory" when we are able to get away with actions contrary to the global interest for a year or two more.