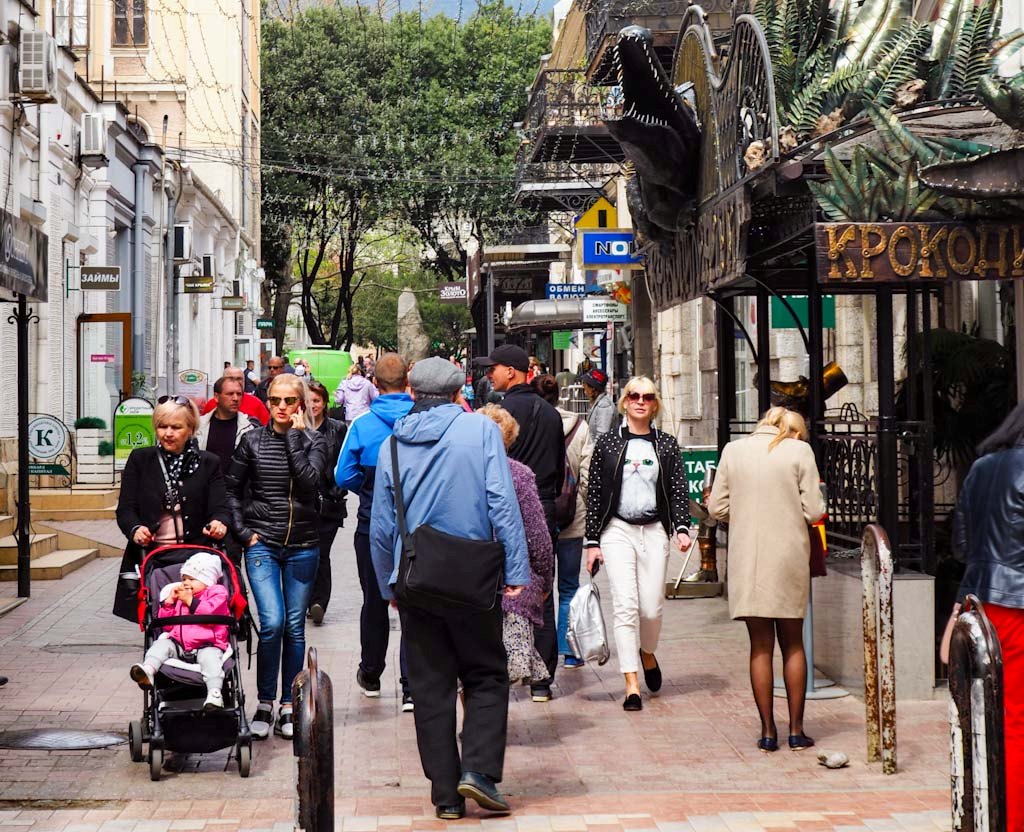 "What convinces masses are not facts, and not even invented facts, but only the consistency of the system of which they are presumably part." Hannah Arendt
This article is based on notes following a visit to Crimea in April 2018. The contrast between what I had understood, formed by accepted narratives over many years, with the reality that was Crimea forced me to reconsider – and to start investigating the history of Russia, Ukraine, and the annexation of Crimea.
I am revisiting these notes after a conversation with my niece about Ukraine, and the difficulty I have had discussing this conflict with those who are so definite in their views.
I was in Crimea following an audio show in Moscow, I had four weeks before my next show in Munich. Crimea seemed intriguing, peaceful at the time, and easy to get to by plane from Moscow.
Crimea was bustling and seemed relatively prosperous, there was a lot of work on new infrastructure such as roads, apartments, the new airport terminal, and of course the Kerch bridge.  Apparently, this was a change – a common theme was that, before annexation, money flowed to Kiev and very little made its way back to Crimea.  Most believed that they were better off now than before – despite the problems outlined below.
I travelled throughout the south-eastern side of the peninsula (Simferopol, Yalta, Sevastopol etc). Crimea is very beautiful. I was not aware of any tension – in fact, everything was very peaceful. This was not an oppressed population. Families were strolling through parks, buying ice-creams, or sitting outside cafes drinking coffee – just like anywhere else.
As a lone traveller I felt safer than I would have in many other developed countries, never having any concern whatsoever. Surprisingly, there was no obvious military or police presence in any of the towns or on the main roads, except of course in Sevastopol which, from Soviet times, was home to a large Russian Naval base.
People were welcoming, very open and friendly. There were several main concerns that were raised – the first was the difficulty caused by the border closure with Ukraine. Whilst those with Ukrainian passports could travel to Ukraine, after several hours queuing at the border, Crimea was isolated from the mainland. Remember that this was before the Kerch bridge opened, forcing travel and trade to be conducted by ferry or air.
Another concern was the lack of water. Ukraine had closed the canal supplying Crimea and the lack of water devastated farmers, irrespective of who they supported, and caused intermittent water supply in the cities. The electricity supply seemed to be OK due to major investment in wind farms over the previous 4 years – initially the pylons providing electricity from the mainland had been blown up.
The major issue was the economic sanctions – these made banking difficult, and banks were forced to close due to sanctions.  When new ones opened, they were not connected to the international banking system, credit cards no longer worked, trade was disrupted if not impossible, the tourist industry was devastated, and the economy was initially crippled. Again, these were people who had not caused the annexation, although the majority had voted for annexation (see links below).
The following links are to lectures that I found helpful in understanding the situation in Crimea, as well as a chronology of events and other polling data:
Chronology
1954 – Nikita Khrushchev (First Secretary of the USSR) transferred Crimea from Russia to Ukraine. The transfer was described as a "symbolic gesture", marking the 300th anniversary of the Reunification of Ukraine with Russia in 1654.
1991 – 94.3% of Crimeans vote to leave Ukraine and join the USSR as a republic. The USSR dissolves later that year and Crimea reluctantly accepts autonomous status within Ukraine.
1994 – Crimeans vote into power a Crimean government that is a pro secession from Ukraine and pro accession to Russia. Kiev forcefully intervenes and orders the dissolution of the government.
1995 – Kiev cancels Crimea's constitution in a unilateral measure to prevent Crimea from organising referendums, a violation of Ukraine's obligations as stated in Article 1.1 and 1.3 of the International Covenant on Civil and Political Rights.
2008 – Kiev, Ukraine think-tank, Razumkov Centre, poll of Crimea
63.8% of Crimeans (76% of those who identified as Russians, 55% of those who identified as Ukrainians, and 14% of those who identified as Crimean Tatars) want Crimea to secede from Ukraine.
May 2013 – Washington D.C. pollster Gallup polls Crimea asking what they first identify as:
40% of Crimeans primarily identified as Russian, 24% as Crimean, 15% as Ukrainian and 15% as Crimean-Tatar.
March 2014 – One week before Crimea's referendum, German pollster GfK
54.8% of Crimeans consider themselves to be Russian and that 70.6% of Crimeans have decided to vote for accession to Russia in the upcoming referendum.
May 2014 – Pew Research, Washington D.C. reported 2 months after Crimea's sovereignty referendum:
Crimean residents are almost universally positive toward Russia. At least nine-in-ten have confidence in Putin (93%) and say Russia is playing a positive role in Crimea (92%). Confidence in Obama is almost negligible at 4%, and just 2% think the U.S. is having a good influence on the way things are going on the Crimean Peninsula." "Overwhelming majorities say the March 16th referendum was free and fair (91%) and that the government in Kyiv ought to recognise the results of the vote (88%).
June 2014 – Gallup survey – Most Crimeans Say Life Would be Better as Part of Russia
February 2015 – One Year After Russia Annexed Crimea, Locals Prefer Moscow To Kiev (forbes.com)
February 2015 – Overwhelming majority of residents of Crimea assess positively incorporation of Crimea into Russia and will vote for that in a repeat referendum
March 2015 – Open Democracy – The Crimean conundrum
The annexation of the peninsula by Russia has the support of a strong majority of the Russian and Ukrainian ethnic groups. 84% of this combined group said it was 'absolutely the right decision'.
November 2017 – German poll by ZOiS poll asking Crimeans, "How would you vote if a referendum about Crimea joining the Russian Federation was held today?"
78.8% of respondents said they would vote the same as they did in 2014, while just 2.4% of respondents said they would vote differently. 85% of the respondents said that they expect that other Crimeans would also vote the same.
March 2019 – Overwhelming majority of Crimeans would again vote to reunite with Russia
89% percent would cast their votes to reunite with Russia if a referendum were held next Sunday, and 93% view the reunification in a positive light. 3% of Crimeans view reunification as negative. 86% of respondents believe that Crimea is developing more successfully as part of Russia, while 72% say that the reunification had a positive effect on their lives and the lives of their families.
I recently came across the term "Cognitive Empathy", to understand why others think like they do, but not necessarily to agree. This term encapsulates the skills necessary to understand these vastly different narratives on Crimea, and perhaps the skills necessary to resolve this crisis.  I believe that it is only with this understanding that a conflict can be resolved, by understanding the position of others, and following up with open negotiation.
It is fascinating how a lack of experience and knowledge leads to simple characterisations and ready acceptance of mainstream narratives – and I am just as guilty of doing exactly that. It was only after this trip that I started to question my beliefs and understanding – and then watch in horror as cheerleaders for either side push for more death and destruction.  So far more than 300k people have died and many more are injured in the Ukraine war – and a country is well on the way to being destroyed, not to mention the world-wide environmental costs of this war.
We can only hope that sense prevails – sooner rather than later. The alternative to negotiation is total capitulation by either side – and total capitulation will only be after many more deaths, much more destruction – and may end with WW3.