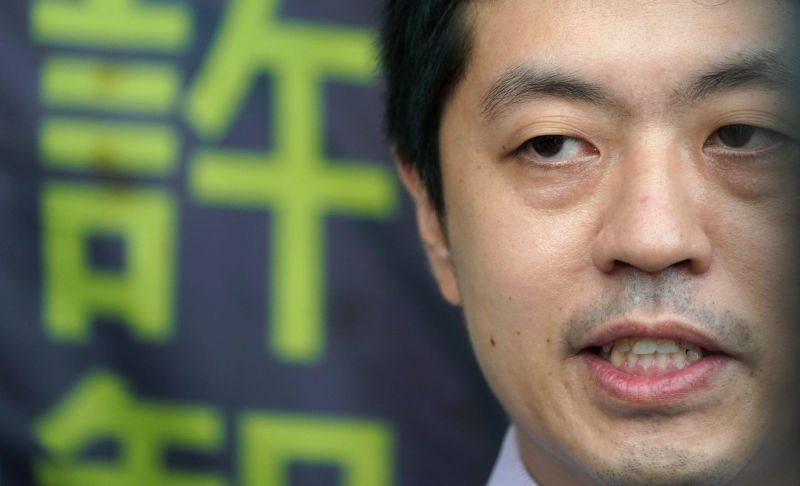 Although Penny Wong is eager to condemn Hong Kong, she has done nothing of any substance to help her fellow countryman, Julian Assange; an Australian citizen currently in a UK jail fighting extradition to the US, which is using the extraterritorial reach of the Espionage Act (1917) for the alleged "crime" of exposing malfeasance at the heart of the American government.
On July 3, the Hong Kong Police Force obtained arrest warrants for eight criminal suspects, reportedly enjoying safe haven in Australia, Canada, the United Kingdom and the United States. A reward of HK$1 million ($127,800) was also offered for information leading to the arrest and conviction of any of the fugitives. If any of them had imagined they could try to harm Hong Kong from afar without consequences, they would have received a rude awakening.
Before the National Security Law for Hong Kong (NSL) was enacted in 2020, it was not possible to act against people who tried to harm Hong Kong by assisting their country's antagonists. In 2019, for example, when Civic Party legislators, including Dennis Kwok Wing-hang, implored the US to revoke Hong Kong's trade preferences and sanction its officials, they could do so with impunity, and the NSL is not retroactive.
This, however, has now changed, and Kwok, who left in 2020, is now being sought for collusion with foreign forces to endanger national security. This includes allegedly using his post-NSL exile to ask foreign politicians to sabotage Hong Kong's Linked Exchange Rate System. If successful, this could have undermined the city's role as an international financial centre.
Whereas another ex-legislator, Nathan Law Kwun-chung, has been charged with advocating separatism and colluding with foreign forces to endanger national security (including by seeking sanctions against Hong Kong judges), his former colleague, Ted Hui Chi-fung, is accused of multiple offences, including advocating "Hong Kong independence" and the overthrow of the regional and central governments.
Why the UK ever allowed Law and Hui to set foot in Britain is a mystery, given its professed commitment to the rule of law and the fugitives' ugly criminal records, including for violence. Whereas Law had been convicted in 2016 of what the Court of Appeal described as "a large-scale unlawful assembly, involving violence," which injured 10 people, one seriously, Hui's antecedents are even viler.
Although Hui only served in the Legislative Council for four years, he made a lasting impression for thuggery. In 2019, after he attacked a government official in the council's complex and grabbed her telephone, he was convicted of common assault, obstructing a public officer and gaining access to a computer with criminal or dishonest intent.
In 2020, when Hui fled Hong Kong, having obtained bail by lying to a judge over his reasons for wanting to visit Denmark, he was facing nine criminal charges, some grave. They included attempting to pervert the course of public justice, obtaining access to a computer with dishonest intent, and criminal damage. He had also been charged with using a harmful substance to harm others, arising out of an incident in the Legislative Council when noxious substances were thrown around, and contempt, arising out of another incident when fighting broke out and several council officials were injured.
It may be that, when Australia allowed Hui to move there, it was unaware of his criminal propensities. It is, however, certainly possible, given its eagerness to poke Beijing in the eye, that it chose to disregard them, seeing him as a useful agent. After all, Australia not only endorsed the US attempts to harm Hong Kong in 2020, but also weighed in with hostile measures of its own, including its notorious travel advisory that warned Australians to keep away from Hong Kong.
Although some of Hui's alleged crimes involve violence and are not protest-related, it is currently very difficult to secure his return to Hong Kong, as he knows. Ever since then-British foreign secretary Dominic Raab and his then-Australian counterpart, Marise Payne, made their ill-judged decisions in 2020 to suspend their countries' fugitive surrender agreements with Hong Kong, people like Hui, along with drug traffickers, killers and sex offenders, can simply turn up in Britain or Australia and claim safe haven. Illogical though it is, this is the new reality, and only the criminal fraternity has benefited from their abdications of responsibility.
After the arrest warrants were issued, there were the usual phony cries of horror from the Five Eyes partners, and it is not easy to judge which one takes the biscuit for the greatest hypocrisy.
The British foreign secretary, James Cleverly, who is never happier than when slagging off Hong Kong, fatuously announced that London would "not tolerate any attempts by China to intimidate and silence individuals in the UK and overseas". What, however, he failed to explain was why the UK has allowed convicted felons like Nathan Law not only to settle in Britain, but also to set up shop there, although the reasons are not hard to fathom.
On July 21, 2020, when then-US secretary of state Mike Pompeo visited the UK, he summoned Law to meet him, and patted him on the back for furthering his anti-China agenda. Although the precise instructions he gave Law are unknown, what is clear is that, shortly afterward, on Aug 21, Law wrote to Raab urging him to impose what Hong Kong Watch, his local patron, described as "targeted Magnitsky sanctions on Chief Executive Carrie Lam and other Hong Kong and Chinese government officials". In other words, Law is seen as a US proxy, which means, while living in London, he is licensed to do as he wishes to harm Hong Kong.
In Australia, the government's response to the arrest warrants was no less shameful. The foreign minister, Penny Wong, who met Hui in January in Adelaide (together with another fugitive, Kevin Yam Kin-fung, a solicitor who has publicly supported the sanctioning of Hong Kong judges), said she was "deeply disappointed" by the arrest warrants, and was supportive of people in Australia who exercise their rights to "freedom of expression and democracy".
Like Cleverly, Wong made no attempt to explain why Australia had thrown its doors open to a violent criminal like Hui. It can only be assumed that she is prepared to ignore his criminality because of his links to the UK-based Hong Kong Watch and the US-based Hong Kong Democracy Council, the anti-China propaganda outfits on whose advisory boards he sits.
What, however, was particularly nauseating about Wong's stance was her hypocrisy. Although she is eager to condemn Hong Kong for trying to protect itself from people abroad who wish it ill, she has done nothing of any substance to help her fellow countryman, Julian Assange, whose ordeal is horrific. Although the US, by using the extraterritorial reach of the Espionage Act (1917), is hounding Assange, the Australian-born Wikileaks founder, who is currently rotting in London's notorious Belmarsh prison as he fights extradition to the US for the alleged "crime" of exposing malfeasance at the heart of the American government, Wong simply looks away, presumably fearful of upsetting Washington.
In the US, meanwhile, the US State Department spokesman, Matthew Miller, claimed "the extraterritorial application of the Beijing-imposed National Security Law is a dangerous precedent that threatens the human rights and freedoms of people all over the world", which must have been said tongue in cheek. He, of all people, must have appreciated the irony of trotting out sound bites like that at the very time when the US is using the extraterritorial reach of its own Espionage Act not only to persecute Assange but also to terrorise journalists around the world.
If the US and its Five Eyes partners had not decided to allow criminals and other malign actors to use their countries as bases to try to harm Hong Kong and its people, the arrest warrants would not have been necessary. Putting national security to one side, they even allowed common criminals like Hui to do whatever they wanted, knowing full well it would be harmful to China. Whereas they should have returned Hui and the other fugitives to Hong Kong, they chose instead to embrace them, and they have only themselves to blame for the events that have now unfolded.
Although at least one of the eight fugitives, the US-based Anna Kwok Fung-yee (who is accused of colluding with foreign agents and seeking sanctions on Hong Kong officials), has sought to laugh off the arrest warrants, things will never again be the same for any of them. Nathan Law told the BBC he would have to be more vigilant because of the police announcement. He recognised, given the bounty, there might be people willing to provide information about him to the authorities, and "they could possibly extradite me when I'm transiting in certain countries". In other words, he will need to spend his days constantly looking over his shoulder, as will the others, and he will never know when the long arm of the law will finally catch up with him.
Unless they find the courage at some point to come back and face the music, all that Law and the others will have left are the memories of their home city. Even these, over time, will fade, which may be no bad thing, as they are not welcome in Hong Kong, given their efforts to harm its people. However sad, they have made their beds, and now they must lie in them, however uncomfortable.
The author is a senior counsel and law professor, and was previously the director of public prosecutions of the Hong Kong SAR.
First published in the China Daily Hong Kong July 6, 2023