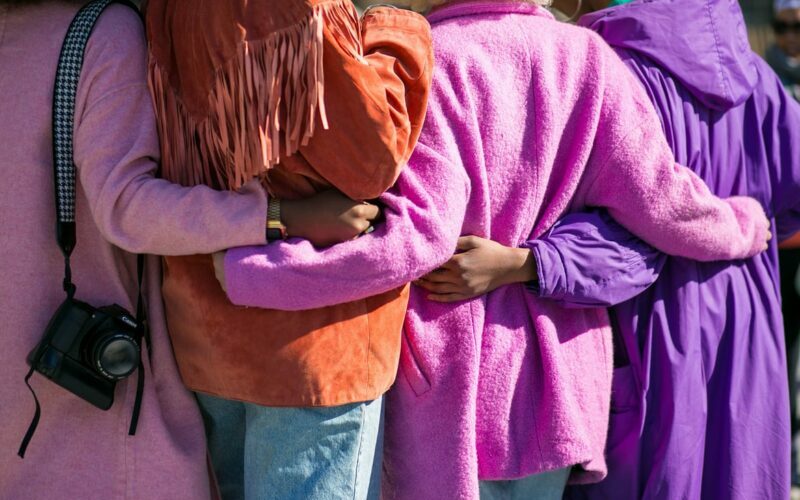 As the public health measures work to suppress the pandemic, community relations and connections are at risk. A sense of community, togetherness and mutual support is needed, now and in the long-term.
In the decades before the pandemic, Western countries experienced epidemics of opioid and substance use deaths, suicides, and alcohol-related liver deaths.
It took two US economists, Anne Case and Angus Deaton (2015 Nobel laureate), to label these deaths as "deaths of despair". They argued the policies of capitalism were an engine of inequality and suffering — causing income inequality, workers' disempowerment, outsourcing of manufacturing jobs, cuts in social services, mass incarceration, costly private health care and a paltry public health system. "Diseases of despair" had doubled in the US in 18 to 34 year olds and tripled in under 18 year olds in the decades before the pandemic.
All regions of the UK were also affected. Scotland had more "deaths of despair", mainly from alcohol. Drug deaths occurred in early adult life, suicide in the middle years (predominantly males) and alcohol-related deaths in late life. In the US, mainly white men died from these conditions, reducing the overall life-expectancy of the whole population. Alcohol-related conditions increased by 37 per cent, substance use problems by 94 per cent and suicide by 170 per cent.
Australia did not suffer such increasing rates of "deaths of despair".
According to Australian Institute of Welfare's research, the rates during the two decades were stable at 23–25 per 100,000 persons. Australian men died from these conditions at three to 3.5 times more than women. These deaths peaked in 1997–1998 when suicide rates were at their highest. Suicide rates then declined but plateaued and increased in the most recent decade. Our social welfare, universal health insurance, primary health services and public health have shielded us from the worst ravages of globalisation and the market economy.
When people are economically dispossessed and rights trampled on — there is despair, desperare — down from hope — meaningless, hostility, loneliness and apathy. In turn, the ability to make personal choices, for the family and for the community is compromised. Whole communities, neighbourhoods and networks can be affected. The Senate Inquiry into Aboriginal and Torres Strait Islander Mental Health and Suicide found despair the root cause of their suicides.
Impacts of the pandemic
The pandemic has exposed despair, in the making, not of days, months, but years. The gulf between libertarians and social democrats has been revealed; the gulf between (the suffering) of those who labour their livelihoods (exposed) and the desktop workers; and between those who do the work others will not do, and those able to choose their work and environment.
The pandemic has led to border closures, restrictions on socialising and barriers to treatment dramatically affecting the use and trafficking of drugs, the consumption of alcohol, patterns of crime and the indirect effects on domestic violence.
However, overdose deaths have not increased so far in Australia, although use has shifted from heroin towards synthetic drugs. This experience is different from that of other countries, where illicit drug use has increased. Opioid deaths increased by 10 to 60 per cent in the US, blamed in part on fentanyl. The Foundation for Alcohol Research and Education (FARE) has reported that while calls for assistance with alcohol problems have doubled, multiple surveys have shown inconsistent results about the consumption of alcohol.
In NSW urban crime has fallen by 30 per cent to 50 per cent for reported incidents – thefts of all kinds, non-domestic violence and sex offences and drug possession offences have been stable (NSW Bureau of Crime Statistics and Research). Similar reductions in crime have occurred in the UK and, in the US, overall crime rates have fallen by 23 per cent and drug crimes by 65 per cent with inconsistent spikes in shootings and homicides.
Many women have reported the barriers preventing them from seeking help for domestic violence in a recent survey by the Australian Institute of Criminology. Two-thirds of women experiencing physical or sexual violence said violence had started or escalated during the pandemic. They reported the perpetrators used violence as a means of control and was commonly related to alcohol consumption. Much of this did not get into police records.
Suicides in the pandemic
When there is economic dislocation, disrupted care and a separation from valued relationships there is fear and anxiety which is made worse by fear of COVID-19. Front-line agencies and mental health organisations, from the numbers of people contacting them, warn of burgeoning mental health problems. They warn us of the likely increase in suicides.
Despite these warnings, suicides have not increased. Lifeline reported that suicide numbers fell in 2020 and they have not risen so far in 2021. Australia, Canada, New Zealand, Norway, Peru, Sweden and the US, high-income countries, have not experienced increased suicide rates. These data should be interpreted with caution as data on suicides are delayed and in the recovery period social stress can increase suicide risk.
During the two world wars suicide rates fell in many countries, including Australia. The falls in wartime have been attributed to social integration — "closing ranks in the face of common danger". Even in the face of extreme threat, such as the Nazi labour and concentration camps and the Soviet gulags, suicide rates did not appear to increase. Hannah Arndt wrote of "an astonishingly rarity of suicide". Victor Frankl, Alexander Solzhenitsyn and Primo Levi made similar observations.
When faced with a common threat, individuals form more closely knit relationships; and their misfortunes can be attributed to the threat rather than to themselves. In the face of psychosocial or existential despair the natural tendency is to socialise; and for some this gives them hope. It is hope of this kind which will enable affected communities to come through the pandemic.
Connectedness
As the public health measures work to suppress the pandemic, community relations and connections are at risk. A sense of community, togetherness and mutual support is needed, now and in the long-term.
This ethos was captured by the World Health Organization in the theme for suicide prevention "One World Connected" in 2014. What works to prevent suicide will also work for the "diseases of despair". And the values implicit in these relationships — everyone's entitlement to live a contributing life, in family, work, and society — are the bricks in the reports of National Mental Health Commission on the nation's mental health in 2012 and 2013.
During National Suicide Prevention Strategy, I saw local suicide prevention networks spring up across Australia in urban, regional, and remote areas. These networks were essential where suicides clustered and where suicide "hot spots" attracted attempters, especially in Aboriginal and Torres Strait Islander communities. To my mind, local networks of this kind are the key to building community trust and resilience in the face of adversity.
This is not a foreign idea in Australia. We have seen it before when Australia led the world in social reforms and antipoverty measures and in the rapid take up of public health programs. All these have demanded cooperation, unity, and connectedness.
That is what is needed now if we are to deal effectively with the social and health outcomes of despair, now and in the aftermath of the pandemic.