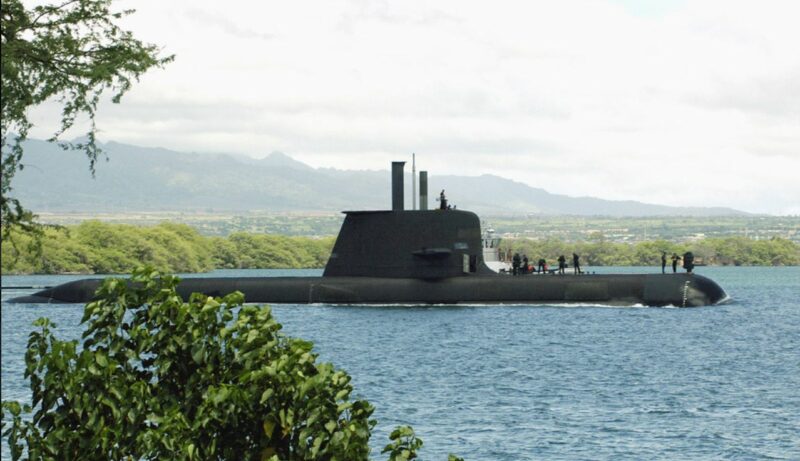 Which Australian Defence Minister convinced the Hawke Cabinet to create a submarine production industry at Port Adelaide with no commercial prospects, its product being of only marginal benefit to our defence, with zero local construction expertise, at extraordinary cost to taxpayers yet available economically elsewhere – while obscuring the finding by his Department that submarines suffer critical limitations in defending Australia?
It's about time Australians knew that the submarine fixation which grips our media is a fraud. Rather than being a war-winner, submarines have intractable strategic problems in defending Australia, of which our governments and people have been kept ignorant for over four decades. The upshot is that outsize spending on submarines for many years has seriously detracted from Australia's security and national productivity. The origin of this aberration is a Cabinet submission placed before Hawke Ministers by then Defence Minister Kim Beazley, in May 1987. A warning: readers will need some patience with Defence official practices and some semi-military terms.
For submarines to be effective they need a lot of luck. Hitler, like most of our recent prime ministers, believed them to be war- winners. But Hitler at least knew that to be effective in vast waterways large numbers of submarines are required, because submarines are slow. In the war Germany built 3000 submarines mainly to interdict convoy supply to Britain across the Atlantic. By 1941 Britain's economy was on its knees from Germany's submarines. But Hitler's luck ran out. The same laws of physics and risk which induced Hitler's huge investment were exploited by British operational analysts. Simply by cutting the frequency of convoys and increasing their size by twenty-fold, Britain's resupply was transformed almost overnight from perilous to satisfactory. Germany had grievously misallocated its military spending to submarines.
Of course, Australia has different geographic and strategic factors. And passing time has meant that submarines are more capable, although not much in speed. But so have their alternatives changed ie aircraft and surface vessels. Because such strategic and operational influences play out differently for Australia and Germany, and understanding them is critical to gauging value for Australian taxpayers, their evaluation was the starting point whenever Defence faced a major acquisition decision.
Defence Department Machinations
The strategic case for submarines was addressed by the Department of Defence in 1985 in response to the Australian Navy's proposal to replace its ageing British Oberon submarines. The reviewing body was the Force Structure Committee (FSC) whose members were the military Vice-Chief of the Defence Force, Services' Chiefs of Operations, Chiefs of Materiel, Deputy Chief Defence Scientist and senior officials with strategic, analytical and financial responsibilities.
The FSC gave serious consideration to scrapping submarines entirely because the evidence showed they offered little incremental effectiveness in major roles of strike, interdiction and ant-submarine warfare above that already obtained from existing aircraft and surface vessels. There was no dissent. The decision finally was to acquire 4 to 6 small boats off- the-shelf to retain a core of skills in submarine operations, some secondary intelligence and as a tool for training our primary anti-submarine forces. Local production was specifically ruled out as unwarranted for such a marginal capability.
Major factors for Australia were long transit times to and from southern basing to northern waters which present difficult submarine operating conditions. Sonar effectiveness is degraded in the warm waters and variable depth of the archipelago. That also presents physical risks – covert submarine operations are hazardous and boats are "canalised", increasing vulnerability.
The Defence Department's procurement process required this decision to be referred to the Defence Source Definition Committee (DSDC) for procurement. The DSDC would then identify a supplier for new submarines constructed offshore. As it turned out the FSC recommendation was ignored. The procurement focus of the DSDC went straight to construction in Australia. Kim Beazley had become Minister in December 1984.
The Submission
In May 1987 a submission was put to the Hawke Cabinet by Minister Beazley entitled " New Submarine Project" ( No 9580, obtainable through the National Archives of Australia – running to 90 pages). The Minister's submission concentrates on the merits of two tender responses to construct new submarines at Port Adelaide. The project is said to lead to benefits to Australian industry – 65% of cost to be expended in Australia, creating some 800 jobs.
As justification, Ministers were informed that the new submarine would replace the Oberons which "are difficult to maintain and suffer operational degradation". The submission touched on operational utility by listing submarine roles: "maritime strike, anti-submarine, covert surveillance, mining, clandestine operations, training for other ADF assets". These roles were said to require "sufficient speed, range, reliability and endurance to make fast covert passage through oceanic and archipelago areas and patrol for extended periods at long distances from Australian base support etc". There the Minister's advice stopped. Yet, whether these requirements could be delivered was exactly what the Force Structure Committee had assessed and found wanting. That finding was omitted from the Minister's submission.
The submission's Attachment D is entitled "Evaluation Processes", referring to evaluations done in the Department of Defence. It lists the findings of the DSDC tender evaluation, but leaves out the overarching evaluation by the FSC.
On local construction, the Cabinet was given no estimate of the cost premium for local construction nor why Port Adelaide was the chosen site, apart from observing that both contenders were agreeable to working there. The project cost was estimated at $3.89 billion. The Minister advised colleagues that the design involved some risk but that this risk would fall predominantly on the chosen contractor. Cabinet decided that Defence must return if the cost exceeded the estimate by $10m.
Cabinet agreed to the Minister's recommendations and decided that public scrutiny of the Port Adelaide choice would be blocked: " The Minister for Housing and Construction seek a resolution from the House of Representatives that the construction of the submarines and the associated Australian Construction Facility to be located at Port Adelaide be exempted from the Parliamentary Standing Committee on Public Works ( PWC ) on urgency grounds".
Thereafter, the Collins submarine project has been riven with difficulty, bestowing anguish on every subsequent government. Anthony Galloway writing in the Sydney Morning Herald in 2021 observed that the project cost was $40 billion more than expected, citing former Howard Finance Minister Nick Minchin on his experience 15 to 20 years later:
"We had enormous issues with the Collins. Almost every National Security Committee meeting, Cabinet meeting, Expenditure Review Committee meeting that I was involved in – the issue of submarines came in."
Marcus Hellyer of ASPI estimates the annual cost of operating the Collins today: " With around $670 million for sustainment, $225 million for workforce and $300 million for upgrade projects, the Collins class's direct costs are in the order of $1.2 billion per year".
And John Menadue has cited : "The Effective Rate of Assistances for the submarine industry is in excess of 300%. This is the excess cost we are paying for construction in Australia rather than buying from overseas suppliers. Compare that rate of assistance to the 5% that our car industry received before the Coalition shoved it out the door."
Obviously, the objective of Minister Beazley was to create a subsidised, uneconomic industry at Port Adelaide. Professional concern for Australia's security did not rate. Nor did frankness with Cabinet colleagues. Largely because of this duplicity no government since has  questioned the submarine –its relative immobility, absurdity of small numbers in our geography, chanciness of sensors, limited payloads and long replenish periods. The Collins major roles are currently being performed by combat platforms having orders-of-magnitude greater capability – by squadrons of fighter/attack and long-range maritime patrol aircraft operating from strategically-sited airfields plus surface combat ships, all armed with stand-off anti-shipping missiles. And the multi-dimensional anti-submarine combat capacity dwarfs that of the Collins submarines.
The upshot is that successive governments have muddled through with no strategic foundation to weigh the chronic submarine failures and cost blowouts – unaware that cancellation was the prudent course which would be beneficial to national security. Our governments operate under inherited, empty hubris on submarine utility. If Australia's Defence Budget is as stressed as claimed, requiring high levels of growth, the responsible course is to decommission the six Collins Class now, recognising that they offer little in defending Australia. And obviously no strong case exists for replacing them.
The current nuclear submarine proposal for Australia under AUKUS is also devoid of strategic justification, unsurprisingly. Being championed by a fast-disappearing international trio of political leaders who also are untroubled by verity, what could go wrong? The proposal is peculiar in not being initiated by the Australian Navy. Australia must have a transparent strategic premise for this off-the-wall proposal. The origin of its advocacy is basic to that transparency. Release of papers showing where the proposal originated and its reasoning would be a welcome display of honesty by our Defence Minister Richard Marles.