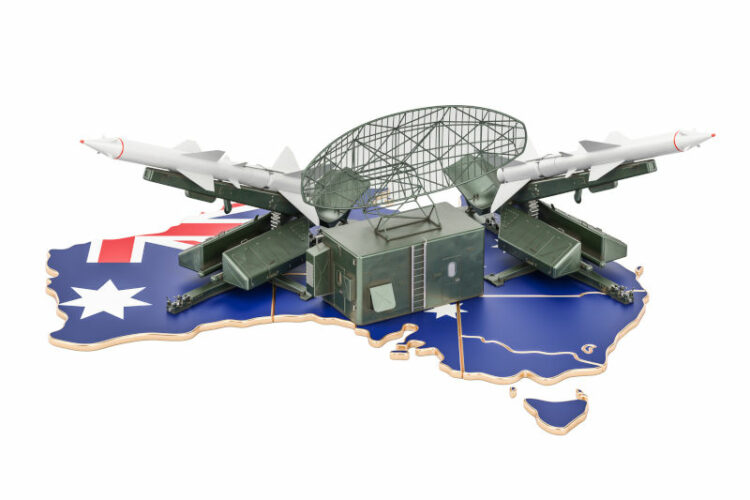 At this time, Australia should be able to rely on its own defence of the nation's sea and air approaches, operating from infrastructure here. We have no reason to require US armed intervention for our security. That is a significant milestone coming after some fifty years of single-minded capital and activity programs. An example of tenacious public policy delivering big, complex outcomes.
It is clear that Australia can contribute little militarily to resolving the opposing geostrategic strategic influences now gathering around China. For that reason and the policy primacy of our own direct defence needs, those influences should not determine Australia's future defence spending. To the extent that proponents say differently, the Review must require that arguments be quantified in terms of any capability increment and cost over and above our existing capability for defending Australia, as well as in putative operations in Asia alongside the US. The point is basic. Yet such crucial information is absent from the AUKUS proposal to construct nuclear submarines in Australia. No Review can have credibility without that underpinning.
Which assumes the Review will be able to impart a clear picture of what Australia's existing defences are capable of in the direct defence of our territory. That has to be the template upon which the benefits of future programs are calibrated. It might appear pedantic, except that such a reference point has not ever been available. The result is that very few Australians feel otherwise than defenceless against an attack on our territory without the intervention of US power. Even public figures, whose duty requires being informed, belittle our defences in ignorance. What follows is an attempt to sketch the influences which have led to today's capability in the hope that such perspective will aid the Review in its task.
The road to self reliance
Throughout the 1970s successive Australian Governments imposed thoroughgoing change on Australia's defence machinery- collapsing five ministries into one, to serve a radical policy of sovereign defence which had been in gestation since 1941. Because its implementation would be a long haul, a unique administrative mechanism was devised to fuse independent analysis and military consultation. Old expectations were challenged and often died hard. Progress was rarely non-controversial. But it wrought big change which paid its way. Without diminishing the detail necessary for this change from an almost blank-canvas, an outline of the progress should suffice to illustrate the principles applied.
From the outset defence developed investment plans which emphasised policy priorities and value-for-money. Mine countermeasures vessels were built to protect our ports from disruption. Mastery of our huge maritime resource zones became possible with new patrol craft and long-range maritime patrol planes, enabling us to find and interdict vessels in our waters. Transport aircraft of different types enabled movement of the light infantry which seemed best suited our strategic realities.
Generally, the military Services were confused about their place in this process. Institutional loyalties unavoidably impinged on progress. The sore of separate Services remains untreated to this day, while everything else in the nation has been rationalised.
After some years of analysis and consultation, the Hawke government scrapped the Navy's aircraft carrier. Thereby Australia took a major step forward. It meant government had officially recognised that land-based aircraft were able to perform many of the roles necessary to defend our maritime approaches, economically and effectively. Infrastructure began to be developed across our north for defence of the approaches, putting substance into this theme.
But always Australia had faced a fundamental vulnerability. We had almost no transparency into our vast proximate airspace. Radar mounted upon aircraft could provide little more than point visibility, intermittently. This absence of operational warning imposed pervasive inefficiencies and unavoidable vulnerabilities across the board. Defence strategies had to be heavily risk oriented. Which is how notions such as the "Brisbane Line" arose earlier.
But an extraordinary group of defence scientists had big sky ideas. Working across disciplines and with US colleagues they had broken the back of this constraint by the mid -1980s – creating Jindalee over-the-horizon radar network (JORN). Hereby Australia has become one of few nations to possess very early warning of aircraft and vessels deep across its approaches. An immense hike in certainty meant greater efficiency of our air and sea defences, delivered for modest cost. Providing an exquisite instance of our own science anticipating and delivering complex technology against national objectives.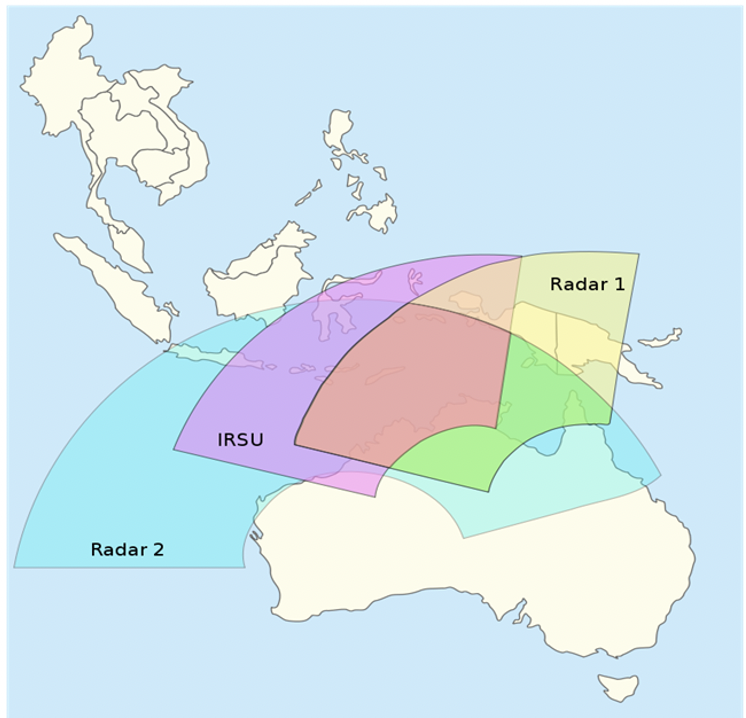 RADAR NETWORK CHART by Voskos
The technology is unique to Australia as the US relies upon a space-based system, in another dimension of cost. The JORN network has revolutionised how we deal daily with enforcing our sovereignty and managing resource zones. And it has underpinned effective sea and air defences.
Protecting our approaches
Northern infrastructure and airfields able to host specialised combat aircraft didn't just happen, but were largely the result of logic around happenstance.
In the indicative map below by ASPI the red rings represent the F-35A aircraft's combat radius operating from the six mainland airbases in Australia's north: Darwin, Townsville, Amberley, the bare bases at Curtin and Learmonth in Western Australia, and Scherger on Queensland's Cape York Peninsula – assuming a middle value of 1000km radius. Inclusion of Tindal airbase would increase our aircraft availability off the north east.
Clearly these operational envelopes are not all sustainable simultaneously. But the early warning enabled by JORN should enable the aircraft resources to be managed efficiently at any airfield. The combat aircraft carry advanced sensors (look-down, high search volume doppler radar), armaments ( air-to- air and to air-to surface precision guided missiles), electronic countermeasures, and can work with our airborne control aircraft and airborne refuelling tankers.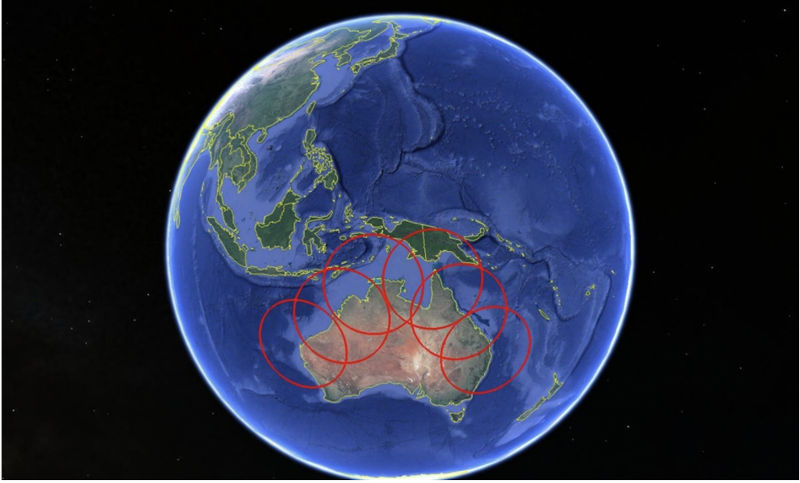 ( From "Projecting power with the F-35", Hellyer, ASPI, 2019)
The circles obviously are variable, depending on the distribution of aircraft and operational objectives at any time. They are more realistically thought of as coalescing into a fluid offshore barrier across the north of the continent.
It is evident that Australia would present immense obstacles to an attacker seeking to gain and sustain a foothold here. Even were China inclined to try its luck, it would have to apply serious resources a long way from home, assuming it was able do so freely on the international stage. The Defence Department should be able to provide the Review with stochastic simulation analysis of northern approaches contingencies. Such analysis can get overly complicated relying as it does on a range of assumptions. But it would be surprising if a balanced estimate of risk did not run heavily in favour of our defences. Risk is never eliminated. It's the old question of how much is enough. My experience with force balance analysis is that even across land borders ( much less complicated) the weight given to attacker is too high.
So, at this time, Australia should be able rely on our defence of the sea and air approaches, operating from infrastructure across our north. We have no reason to require US armed intervention for our security. That is a significant milestone coming after some fifty years of single-minded capital and activity programs. An example of tenacious public policy delivering big, complex outcomes.
The job is far from done
Also important is that this northern barrier has ample coverage away from our shores, while recognising that capability does diminish eventually with distance. To attempt to project defences over much longer distances is unrealistic. For example, to add ground missiles with long range to attack China's land and sea defences would be counterproductive – the impact would be questionable and our own defences would have to be hardened against expected responses. That is, the cost of Australia acquiring forces to attack China on its homeland should be multiplied heavily by the added defensive burden here. And let's not forget that China holds nuclear missile options. Serious cost and effectiveness asymmetries apply to the "sovereign missile" proposal publicly aired, favouring China. In any case, Australia would be reliant on the US for targeting, as well as impact evaluation.
This is not to say Australia's defence job is done. The Review aims to create a defence program appropriate to 2030ish. To the extent that government wants to hedge against deteriorating security prospects in that period, the existing core for defending Australia should be built upon, judiciously. Another squadron of combat aircraft perhaps, and their weaponry with greater reach etc. I do not pretend to have the material to help much at the project level.
But a big question arises as to how well these key assets, sensors and platforms can be secured against pre-emptive attack of various kinds. From infrastructure re-engineering to ground-based air defence systems sited variously, the list is costly and long.
The Australian Army has perennially worried it has become redundant in a well-defended island continent tucked out of the way, without a land border nor a threat of invasion. Yet it has stuck to its guns, asserting that an army has to look like an army, bearing combined arms in emulation of counterparts. It has long aspired for mechanised armoured capability for high intensity manoeuvrable formation warfare, needed only for fighting in certain distant battlefields. This preoccupation with institutional preservation has meant little disciplined planning has been given to critical-asset security here.
The Army finally should realise that it has a productive role in critical-asset security at home. Commitment is needed, as the costs of implementing, and of failure, are high. Trade -offs are obvious, out of Defence's existing financial misallocations to mechanised infantry and armoured ground forces.
Let's not forget submarines. Tellingly, public debate on submarines shows no awareness of the potency of our various land-based aircraft and combat vessels in performing most of the submarine roles, more effectively at lesser cost. The incremental value of submarines in defending Australia is non-essential, but in adding a layer of complexity for an enemy seeking control of our maritime approaches. Capital ships of an enemy, such as an aircraft carrier, would be burdened with countermeasures and risks of Mark 48 torpedoes not otherwise a concern. Given that all governments have shown willingness to bear the cost of any benefit that can be found for submarines, they have a place in Australia's force structure.
Australia has produced a submarine in the Collins class which has turned out to be a highly capable specimen. Australian taxpayers having endured project cost blowouts in order to gain an industry able to construct such boats. It defies logic that this industry should now be discounted. If the Review is serious about Australia being well- placed by 2030 it will recommend proceeding forthwith with construction of updated conventional submarines. Let's not be overly ambitious about something that really is not central.
Defence cooperation
The original White Paper of 1976 identified our geographic neighbourhood as fundamentally important. Defence cooperation programs have achieved much but had variable priority over the years. We can be imaginative in how we help Indonesia, PNG and the Pacific islands family. Their security priorities are basic, like resource zone enforcement, which we are experienced in. We have the technology and ability to give them the gift of daily transparency into their resource zone activities. A truly cooperative project with potentially great economic payoff. And also benefiting US security across those wide spaces of the Pacific where it finds itself stretched.
In conclusion
All of the above is the stuff of the real ANZUS agreed in San Francisco – self-help and reinforcing mutual interests. The Review has the opportunity to assist the government in informing Australians about the nation's achievement of obtaining effectiveness and independence in ensuring our territorial security. And thereby to inter the Hollywood ANZUS, which has deceived Australians into believing a US security guarantee is necessary and unquestioningly available should we be attacked. It would signal an Australia really growing up.
Even were China to threaten Australia we should stick with the defence strategy now in place, strengthening it selectively. The spine is sound. It would be rudimentary folly to threaten to attack China on its territory, where the asymmetry in cost-effectiveness would disadvantage Australia heavily. Yet that is precisely what the AUKUS submarine proposal invites Australia to do. The exorbitant madness of that project is an affront to Australians, crafted as it was by our old "friends", rekindling memories of the exploitative pressure which took us into Gallipoli and Vietnam.
Nevertheless we should thank our friends for making much possible along the way. And inform them that their interests will be well served by our focussing on the costly tasks still facing our national defence and by imaginative cooperation with our neighbourhood from Indonesia to the Pacific family.
Read more in our Defence Strategic Review series of articles.