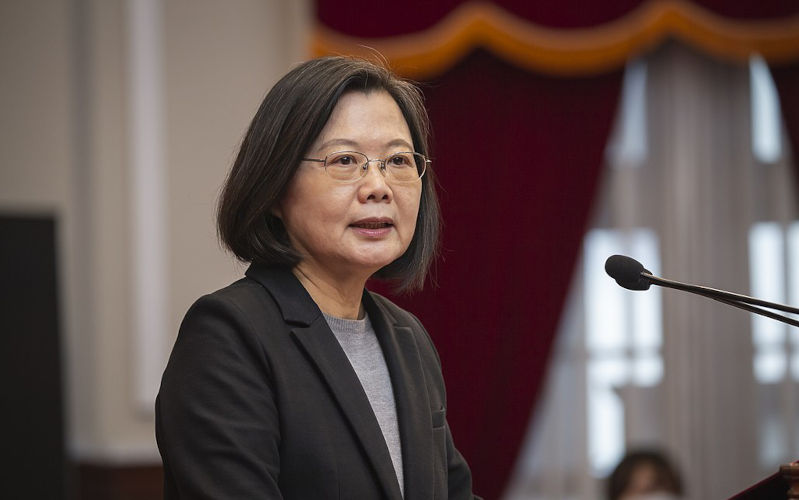 In 2019, President Tsai Ing-wen led the DPP to record-setting election victories in Taiwan by megaphoning the China-Threat. This same approach has crashed badly for the DPP in the recent local elections in what can only be read as a rebuke to US China baiting and a win for regional peace.
In 2019, in the lead up to the 2020 Presidential and Legislature elections in Taiwan, President Tsai Ing-wen led the DPP to record-setting election victories by megaphoning the China-Threat issue. Never mind that Taiwan fervently egged on the insurrection in Hong Kong from mid-2019 – that horrifically destructive event was still paraded as the fate awaiting Taiwan unless you voted for the DPP. This same essential approach has, however, crashed badly after being applied by the DPP, yet again, in the recent, extensive local elections in Taiwan.
In January, 2020, when Taiwan last went to the polls to choose its primary leader and the legislature, Tsai Ing-wen, the first term, incumbent Democratic Progressive Party (DPP) President was seeking re-election. Although her popularity rating in late December 2018 had sunk below 25%, she managed to turn these figures around spectacularly within a little over a year, securing her second term victory with a record 57% of the total vote.
How did she do it? President Tsai relied, above all, on a ruthlessly dexterous use of polarising politics in the second half of 2019 in the lead up to the election. She rightly saw that, at that time, her best chance of securing victory lay in sharply alarming the electorate about Beijing's ambitions with respect to Taiwan. In this way, she could present the DPP and herself as the essential protectors of Taiwan democracy and to cast maximum doubt on the ability of her central opponents, the Kuomintang (KMT), to take on this vital task.
One difficulty was that Beijing had for decades stressed the need for eventual reunification; but had equally shown that it saw peaceful reunification as being of paramount importance – with the use of force a last resort if Taiwan should assert any sort of formal independence. Worse still, Beijing had backed up this policy with decades of patient waiting combined with massive economic integration which had proved hugely beneficial across both sides of the Taiwan Strait.
However, a pathway to maximising alarm by violently winding up the China Threat volume presented itself around mid-2019.
A Hong Kong resident, Chan Tong-kai murdered his pregnant Hong Kong girlfriend, whilst they were holidaying together in Taiwan in mid-February, 2018. After killing her and disposing of her body, he fled back to Hong Kong, admitted his crimes and declared he wanted to return to Taiwan to face trial.
Hong Kong moved to widen, in a general way, its very limited extradition law (a move earlier urged by the G7 Financial Action Task Force) in part, to allow this. Taiwan wilfully blocked every attempt by Hong Kong to facilitate this transfer at the same time as an extremely violent insurrection in Hong Kong spun-off from peaceful protests against the proposed new extradition reforms.
Taipei rightly reasoned that their refusal to allow Mr Chan to return, would help inflame the political violence in Hong Kong. The DPP and its allies swiftly moved to support the insurrection more generally in words and materially. Another effective political gesture was rolling out a warm Taiwan welcome mat for Hong Kong protesters fleeing from possible arrest for rioting, for example. Once that landslide win was achieved, however, this mat was soon rolled-up.
These tarnished tactics worked exceptionally well, politically. Nevertheless, it is impossible to forget that they also demonstrated an extreme readiness to scorn fundamental rule of law principles in order to secure an electoral victory.
As the just held, 2022 local elections approached, President Tsai adopted a strong hands-on role and sought to replay her 2019-2020 success. She even went so far, as Alex Lo recently noted in the South China Morning Post, to turn the polls into a referendum on her Presidency. Lo added that: Throughout the campaign [Tsai] has made the case that she was all that stood between Taiwan's democracy and freedom and a Mainland invasion.
In 2022, political-panic-inflation flopped badly, however. As the Australian Financial Review reported, the ultimate result delivered a sweeping win for the KMT across much of Taiwan. John Copper recently argued persuasively that Taiwan voters looked hard at troubled economic prospects and management of the COVID pandemic and concluded that Tsai's hostile relationship with China was foolhardy.
Two other factors come to mind, which gravely undercut Tsai's attempt to repeat her earlier cold-blooded strategy successfully.
First, the Communist Party of China (CPC) recently held its critical 20th National Congress. Despite resolute Western media attempts to conjure seriously heightened Beijing's hostility to Taiwan from that gathering, well-informed observers like Nikkei's Ken Moriyasu subsequently argued convincingly that "nothing [from the National Congress] suggests that China has radically changed its strategy regarding the island." Voters in Taiwan are acutely tuned-in to Mainland politics: the National Congress sent a message that Beijing continues, despite US provocations (regularly echoed by the DPP) to support peaceful (inevitable) reunification as its basal policy.
Second, Taiwan was watching as Hong Kong was brutally brought to its knees by the extended insurrection that ran from mid-2019. Since then, radical changes have been applied to Hong Kong's legal structure. These have restored robust safety and stability and established the first fully functional legislature seen in over a decade.
Still, the whole world is currently paying the price of the descent of American foreign policy into extensive, belligerent global glaring, continuing wartime engagement, active protectionism and an extraordinary commitment to suppressing the rise of China. And Hong Kong, keeping company with the majority of jurisdictions, is certainly facing intense resulting headwinds. But the HKSAR remains better placed than most – not least Taiwan – to cope with whatever it must face. Taiwan's voters will have also discerned this significant turn-around since 2019.
Ultimately, the Taiwan Strait remains a primary geopolitical flashpoint. But the most avid China-hawks in the US, Taiwan and well beyond will be despondent over this recent hiding handed out to unconcealed China-baiting-politics. Even more gloom-making for such folk, the prospects for maintaining regional peace have also measurably improved.