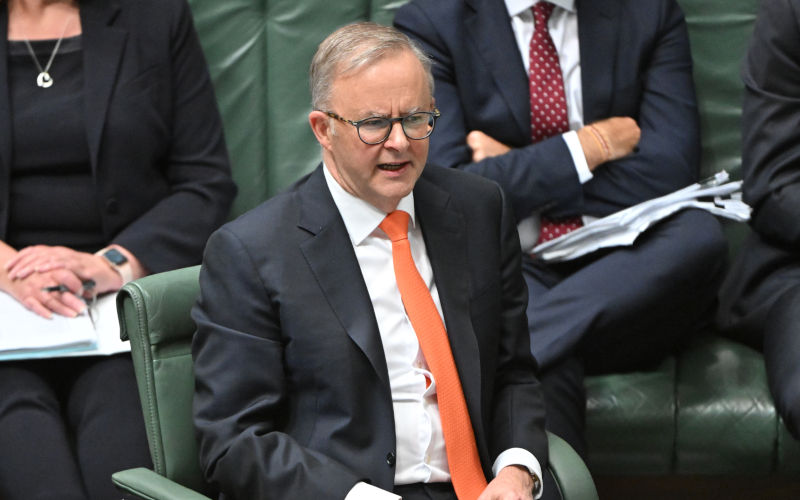 The Prime Minister's surprise revelation that he has raised the case against Julian Assange with US officials and urged that charges of espionage and conspiracy be dropped opens up many questions.
Mr Albanese thanked Dr Monique Ryan for her question on Wednesday 31 November, giving what appeared to be a carefully prepared and timed answer. The Independent MP for Kooyong sought to know what political intervention the government would make in the case, observing that public interest journalism is essential in a democracy.
The news flashed around between Assange supporters in and outside Parliament, and reached the Guardian, the Australian, SBS, and Monthly online. Neither the ABC nor the Sydney Morning Herald carried the story, even the next day. SBS reported that Brazil's president-elect Luiz Inacio Lula da Silva expressed support for the campaign to free Assange.
But two days earlier, on Monday 29 November, the New York Times and four major European papers had printed an open letter to the US Attorney-General Merrick Garland, deploring the assault on media freedom which the pursuit of Assange represented.
The NYT, the Guardian, Le Monde, Der Spiegel and El Pais were the papers which in 2010 received and published some of the 251,000 classified US documents provided by Assange, many revealing American atrocities in Afghanistan and Iraq.
US Army intelligence analyst Chelsea Manning gave them to Assange, who redacted names of people he considered could be harmed by publication. A senior Pentagon serving officer later confirmed that no-one had died as a result. Manning was imprisoned, and then pardoned by Obama. Assange spent seven years in diplomatic asylum in the Embassy of Ecuador in London before British police removed him and he was imprisoned for breach of bail conditions.
Assange has been in Belmarsh high security prison for three years, in poor physical and mental health. Court proceedings against him over extradition to face trial in the US have been farcical, biased, oppressive, and excessively prolonged.
In Opposition, Albanese said 'Enough is enough' for Assange, and he has at last done something about it in Government. What exactly, with whom, and why now, we don't yet know. The PM's hand may have been forced by the major dailies' letter to Attorney-General Garland, which made Australian politicians and media appear to be doing nothing. Or he may have raised the Assange case in his recent meetings with Biden, at the G20 for example.
Another possibility is that he was talked into it by Assange's barrister, Jennifer Robinson, who met with him in mid-November and spoke about the case at the National Press Club. When I asked if she could say if she and Albanese discussed Assange, she smiled and said 'No' – meaning she couldn't, not that they didn't.
Monique Ryan made the point that this is a political situation, requiring political action. By raising it with US officials, Albanese has moved away from the previous government's position that Australia couldn't interfere in British or American legal processes, and that 'justice must take its course'. That wasn't the approach Australia took to secure the freedom of Dr Kylie Moore-Gilbert, imprisoned for espionage in Iran, or of Dr Sean Turnell from jail in Myanmar. It isn't Australia's approach in China either, where a journalist and an academic remain in detention.
By taking up Assange's case, Albanese is doing nothing more than the US always does when one of its citizens is detained anywhere, or than the UK and Canada quickly did when their nationals were imprisoned in Guantanamo Bay. Australia allowed Mamdouh Habib and David Hicks to spend much longer in US custody before negotiating their release. We might gain more respect from our allies if we adopted their speedy approach to these cases, than we do by subservience to British and American justice.
It's possible that pursuing Assange in a US court could cause even more embarrassment than the WikiLeaks' publications. As the years have passed, we have learned that a Spanish security firm recorded his every move and those of his visitors and legal counsel in the Embassy of Ecuador. This was passed to the CIA, and was used in the US case for his extradition. The trial of Daniel Ellsberg for leaking the Pentagon Papers failed because his psychiatrist's records were stolen by investigators, and this should set a precedent for Assange.
Even though Biden once called Assange a 'hi-tech terrorist', as President he is now an advocate of human rights and democratic freedoms. This might be a good time for him to put them into practice. Doing so would make both Biden and Albanese look better than their predecessors.