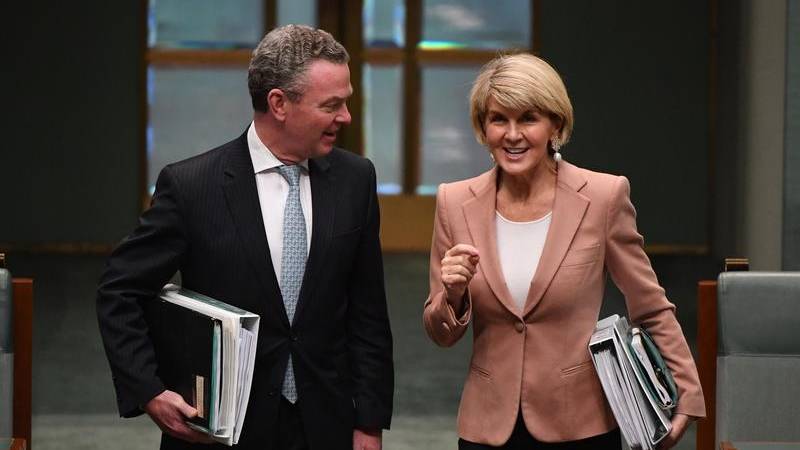 Australian politics smells and sanitation is long overdue. The establishment of a National Integrity Commission with teeth is long overdue.
The daily news relentlessly features items that don't pass the pub test. Staffers in the national parliament use desks for purposes best confined to a bedroom. Politicians denounce their colleagues, lose a position and then unashamedly reappear. State and local governments engage in sweetheart deals with land acquisition. Special interests are privileged in deals regarding coal and water, without regard for future generations or even probity.
It is unsurprising that the 2019 Australian National University 2019 Australian Election Study reported community satisfaction with democracy is at its lowest level since the 1970s, with trust in government having reached its lowest level on record. A mere 25% of Australians believe people in government can be trusted, 56% believe government is run for 'a few big interests'. Many appear to believe the situation is hopeless, a disengagement that both favours dirty 'business as usual' and fosters a politics of resentment that includes anti-democratic agitation by extremist groups evident in responses to COVID lockdowns.
Last week saw two calls for action that offer a practical step forward. An Open Letter by 59 eminent Australians told the Prime Minister "Enough is enough. The establishment of a National Integrity Commission with teeth is long overdue'. There is no substantive reason for delaying the establishment of a Commission, equipped with both the authority and resources to quickly and publicly deal with community concerns.
As former Victorian Supreme Court justice the Honourable David Harper AM QC comments:
"After years of solid resistance to any proposal for a Federal anti-corruption body, and putting forward a proposal which is essentially designed to protect themselves and shield the public sector from proper scrutiny, the Coalition's continued delays in the process towards establishing a federal anti-corruption body cannot be tolerated … Based on all available evidence, one can only conclude this government has no interest in a genuine federal anti-corruption watchdog with teeth."
The imminent national election is an opportunity for voters to rebuke the non-performance of both the Coalition and ALP.
The importance of a genuine national integrity body is highlighted by the report from the NSW Independent Commission Against Corruption (ICAC) on Operation Eclipse, an investigation into the regulation of lobbying, access and influence in the state. The 91 page report is an incisive analysis of how NSW has failed to effectively regulate the 'hidden persuaders' and how that problem might get fixed. Regrettably the report has attracted less attention than the reappearance of Barnaby Joyce and the latest news about Christian Porter.
ICAC finds that new legislation, or significant reform of the current Lobbying of Government Officials Act 2011 (the LOGO Act), is required to safeguard the public interest against the inherent lobbying risks of corruption and undue influence. That lobbying might be by former politicians and by former senior officials: people with connections, potentially owed favours and in a position to provide favours to peers contemplating a move to the private sector. They may be very persuasive. They often operate behind the scenes, away from the sunlight that fosters administrative efficiency and public trust.
Both Operation Eclipse and a succession of earlier ICAC reports have demonstrated a wide range of integrity problems involving Ministers, MPs, officials and local government. Such problems are evident in other jurisdictions but have rarely received the same scrutiny.
Governments typically voice a commitment to probity. ICAC states that:
The LOGO Act, while a step in the right direction, falls short of implementing all of the 17 recommendations made by the Commission more than 10 years ago in its previous lobbying investigation.
Undeterred by that shortfall (and appropriately unchastened by questioning last year during an inquiry by the NSW Parliament's Committee on the Independent Commission Against Corruption) ICAC offers further 29 recommendations. They are practical, necessary and proportionate although unlikely to be embraced by the Government and emulated by the Commonwealth.
ICAC calls for a dedicated NSW lobbying commissioner whose primary purpose is to regulate the LOGO Act. That is a sensible way of addressing the pasteboard & tinsel status of much regulation at the national and state/territory levels, where watchdogs are both systemically under-resourced – something that for example erodes the effectiveness of the national Freedom of Information regime – and disinclined to bite the hand that so grudgingly feeds them. The Commissioner would be empowered to investigate and report on indirect lobbying that involves alleged unlawful and/or dishonest conduct.
The report emphasises transparency, which is a basis for accountability. Governments should embrace the claim that 'if you have nothing to fear you have no need to hide'. ICAC accordingly recommends that any fundraising event where an attendee pays for any form of exclusive or private access to a minister should be disclosed in published summaries of ministerial diaries, along with the fact that it was paid access, irrespective of whether any lobbying takes place. Yes, you can pay $5000 for a plate of rubber chicken but your opportunity to persuade will be noted. Lobbyist registers, just like the Commonwealth interest registers, are insufficiently accessible and timely. ICAC calls for a more transparent system, with lobbyists file information electronically for automatically publication on the Lobbyists Register. The expectation is that the register should allow any person to alert the lobbying regulator of any information that is considered missing or inaccurate.
Importantly, ICAC calls for expansion of the Lobbyists Code of Conduct to create obligations for government officials who are lobbied. That expansion is a major step forward for accountability and reflects recognition that the existing Lobbyists Code of Conduct imposes few if any obligations on government officials who interact with lobbyists. The revised and renamed Code should include a prohibition on undocumented or secret meetings with lobbyists. That involves documenting all communications with lobbyists, including those held away from government premises (apart from immaterial or ephemeral communications); and avoid discussing substantive matters with lobbyists in social settings. No undisclosed cosy chats at coffee shops, restaurants and footy matches.
A broader range of lobbyists should be register, particularly professional in-house lobbyists.
Persuasion is not restricted to Ministers and other MPs. ICAC recommends amendment of the Act to empower secretaries and agency heads with authority to designate high-risk roles and associated "key officials", subject to a six-month restriction on employment in certain areas related to their public duties.
The Act should also be amended to establish a "Former Public Officials" list, to be managed by the Lobbying Commissioner. All former public officials involved in lobbying activities, for four years after leaving office, would be required to ensure they are named on the list, including those working for third-party lobbyists. Ministerial and parliamentary secretary advisers of sufficient seniority would be prohibited from engaging in any lobbying activity relating to any matter that they had official dealings with in their last year in office.
Overall the proposals do not restrict lobbying, which we can construe as representations that might be legitimately undertaken by business and civil society alike. They do not involve a 'star chamber'. Instead they take persuaders into the sunlight, with digital light being the best policewoman for fears and corruption.