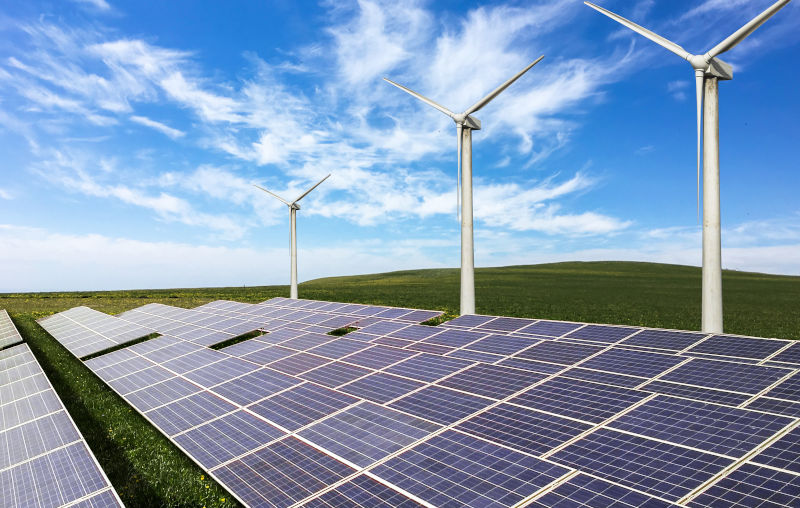 Wind and solar generate a tenth of the world's electricity but coal still dominates in Australia. Reptiles and marine species face high risk of extinction. Moving from agribusiness to agroecology.
Two graphs about wind and solar …
In 2021 wind (6.7 per cent) and solar (3.4 per cent) generated 10 per cent of global electricity for the first time. In 2000 it was 0.2 per cent (all wind) and in 2010 it was 1.7 percent (95 per cent wind). This is encouragingly rapid growth over the last decade (blue wedges in bottom right corner in graph below), but 10 per cent is still only 10 per cent!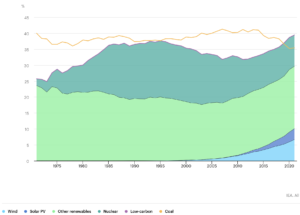 Of course, there are enormous differences across countries. Denmark and Uruguay lead the pack at around 50 per cent, albeit with modest requirements, while some European countries and Australia are doing pretty well at 20 per cent or more. Japan, USA and China, all biggish producers of wind and solar electricity, are each hovering around 10 per cent. The original of the figure below is an animated graphic showing the various nations' progress from 2000 to 2021.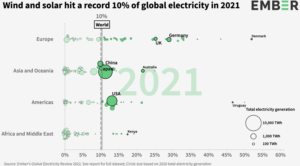 … and three about Australia's electricity
The first graph below shows the electricity demand per person for the EU, USA, China, India and Australia from 2000 to 2021. The big mover is China, increasing from around 1 Megawatt hour per person in 2000 to almost 6 in 2021, about the same as the EU. Australia has dropped by about 10 per cent from a peak of around 11 Megawatt hours per person in 2004  to just under 10 in 2021.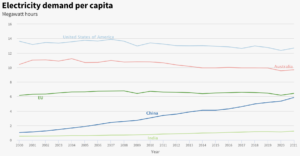 Next, the sources of Australia's electricity from 2000 to 2021. The important point to note here is that while the combined wind and solar production has increased ten-fold from 5.5 Terrawatt hours in 2010 to 54 in 2021, the combined production from fossil fuels has changed little, going from 181 Terrawatt hours in 2000 to 174 in 2021, peaking at 217 in 2010. Hydro and bioenergy have also changed little over the period. In short, wind and solar have not replaced fossil fuels, they have supplemented them as demand for electricity has increased from 200 Terrawatt hours in 2000 to 250 in 2021.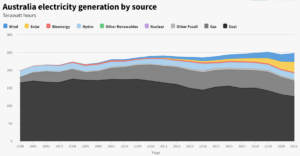 The consequence for Australia's electricity-related CO2 emissions (the lowest hanging fruit for emissions reduction) is that our emissions from fossil fuels have decreased only modestly from 143 Megatonnes of CO2 in 2000 to 127 in 2021, having peaked at 164 in 2009. The annual rate of decrease since 2009 is 3 per cent, although in fairness it has been slightly more rapid in recent years.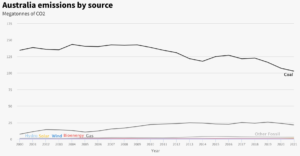 Five technologies to tackle climate change (Fibonacci would be happy)
I've summarised the first two as they are new to me but I suspect that, like me, you have a pretty good idea about the last three so I've kept those descriptions very brief:
California is putting solar panels over water distribution canals, of which they have about 7,000 kilometres. As well as expanding renewable energy output without encroaching on farmland, it also reduces water loss by evaporation. The cooler, shaded water also reduces the temperature of the solar panels and makes them more efficient. Not sure how many canals like this we have in Australia.
Lithium-ion batteries need, well, lithium. Australia is the world's major lithium miner. Lithium is also present in the hot brine that is pumped to the surface to produce geothermal power. Currently the brine and its lithium are pumped back underground but they can be processed to produce vast quantities of lithium metal that could supply the increasing demand for batteries.
Green hydrogen produced by splitting water into hydrogen and oxygen using electricity from renewable fuels.
Using the batteries in EVs to power homes when the car is sitting in the garage, or to feed power back into the grid during peak demand periods (vehicle to grid or V2G).
Drawing CO2 out of the atmosphere and burying it underground using geothermal energy.
A fifth of reptiles are threatened by extinction
We know that globally 41 per cent of amphibians, 25 per cent of mammals and 14 per cent of bird species are threatened with extinction, but reptiles haven't been subject to the same level of study. Perhaps they don't have the same pulling power as koalas, frogs and parrots for the public and politicians. But an extinction-risk assessment of over 10,000 reptiles worldwide (representing almost 90 per cent of known reptile species) reveals that 21 per cent of reptiles are also threatened. Contrary to expectations, reptiles inhabiting forests are more threatened that those in arid areas. Over 50 per cent of turtle and crocodile species are threatened and also over 50 per cent of some types of lizards and snakes. Southeast Asia, west Africa, northern Madagascar, the northern Andes and the Caribbean are reptile extinction hotspots. Loss of forests and wetlands for agriculture and urban development, logging, hunting for trade and 'sport', invasive species, climate change and in some cases commercial harvesting – the factors that threaten amphibians, mammals and birds – are also threatening reptiles. This is somewhat good news in that we don't need a different suite of actions to halt the losses. Habitat protection and control of climate change, trade and invasive species will all significantly reduce the threat – provided the action is taken urgently.
… and also 90 per cent of marine species
About 90 per cent of marine species died out in the mass extinction that occurred at the end of the Permian age, 250 million years ago, when increasing levels of CO2 in the atmosphere led to overheated, acidic, deoxygenated oceans – conditions that are similar to those developing in today's oceans. So it's not surprising that if we allow global warming to reach 4 degrees Celsius there will probably be another mass extinction in our oceans. Polar species will be most at risk but tropical oceans will suffer the biggest declines in biological richness. Keeping warming to 1.5 Celsius would reduce the extinction risks by over 70 per cent. "'How screwed are we?' I get that all the time. If we don't do anything, we're screwed," said one of the study's authors. (Only the abstract of the original study is freely available.)
Agribusiness to agroecology
This may not be everyone's cup of tea but if you're interested in the political economy of farming I can recommend this video of an eighteen minute talk by Rob Wallace, an evolutionary epidemiologist. In the first thirteen minutes Wallace describes the animal welfare, environmental and infection problems associated with agribusiness, "a suburban phenomenon that turns rurality into a series of fictitious commodities such as topsoil, freshwater and natural pest control". He shows some shocking photos and tells some staggering stories about the industrial farming methods used. For instance:
The organic waste produced by pig (or 'hog' if you're a north American) farming in the northwest corner of Iowa, an area with a human population of 350,000, is greater than the total waste equivalent of Tokyo, New York City and Mexico City combined.
Although China has the most pigs, with multistorey pig hotels housing a thousand pigs on each level, the main source for the international spread of swine fever is the USA. This is because China's pigs are mostly for domestic consumption whereas the USA is the biggest exporter of pig products.
To produce infection-free piglets, sows are euthanised en masse just before they are due to deliver. The uterus is removed and placed in a humidicrib where the piglets are born.
In the last 5-6 minutes, Wallace briefly describes agroecology, a radically different way of farming involving, for instance, intercropping, crop rotation, cover cropping, conservation tillage, trap crops, forest farming, silvopasture, wildlife corridors, riparian buffers, and integrated crop-livestock systems. These changes would transform a system consisting of  multinational companies that control farming and farmers to maximise the production of crops, meat, dairy and profits, all for export, into one that generates integrated regional food landscapes tended by and producing nutrition and welfare for local communities.
Wallace presents the figure below 10 minutes into the presentation to illustrate a way out of our current predicament.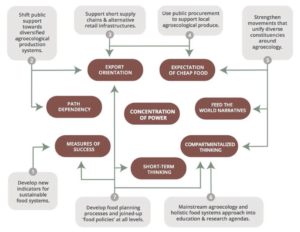 Colourful chameleons
Madagascar is home to about a half of the world's 200 species of chameleons. Unfortunately, the island's lesser chameleon is one of the 21 per cent of reptiles threatened with extinction.