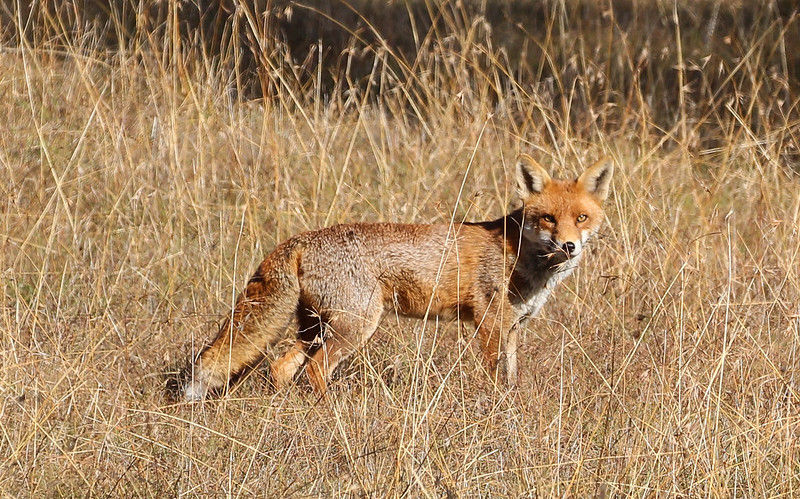 Three years to turn the carbon supertanker around. 'Fortress conservation' of forests is killing local communities. Cats and foxes destroy 3 billion Australian native fauna every year.
IPCC report on mitigating climate change
For me, the World Resources Institute (WRI) has produced the snappiest summary of the recent IPCC report on what the world needs to do to reduce emissions of greenhouse gases, keep global warming as low as possible and avoid the worst consequences for the environment and humanity. The WRI distils the report into six takeaway messages:
If we want to limit global warming to 1.5 degrees Celsius, the emission of greenhouse gases must peak by 2025 and fall by 43 per cent of the 2019 level by 2030.
Existing and planned fossil fuel infrastructure will produce emissions greatly in excess of the carbon budget to stay under 1.5C. There is no room for any new fossil fuel infrastructure, existing plants need to be retired as early as possible and planned projects should be cancelled.
All systems must rapidly transition: scale up renewable energy; decarbonise industry; incentivise green building; redesign cities; more walking, cycling and zero-carbon transport systems; conserve natural ecosystems; and reduce emissions from the food system. All models that provide a greater than even chance of keeping warming under 1.5C involve rapid, deep and immediate cuts to greenhouse gas emissions in all sectors. The public acceptability and success of these transitions is underpinned by transparent, and participatory decision making processes leading to just transitions, poverty eradication, greater equity and sustainable development.
Use policy to encourage lifestyle and behaviour changes in rich countries and among rich people. The richest 10 per cent of households globally produce 40 per cent of greenhouse gas emissions; households in the poorest 50 per cent produce 15 per cent.
All routes to staying under 1.5C depend on removing CO2 from the atmosphere. This will involve increasing nature's capacity to store carbon (trees, soil, wetlands, mangroves, seagrasses etc.) and machines. The WRI article contains a graphic briefly describing the various methods. But even if CO2 removal works as best hoped, consumption of coal, oil and gas must fall by 95, 60 and 45 per cent respectively between 2019 and 2050 for even a 50-50 chance of staying under 1.5C.
To keep warming under 2C (not even 1.5), public and private funding for mitigation needs to be 3-6 times higher in 2030 than now. Staggeringly, more public and private money is still going to support fossil fuels than climate mitigation and adaptation. Governments must create policies that push the financial transition to renewable energy.
The WRI's first point provides the measure of the task we face. The average annual increase in global emissions between 1990 and 2025 will be almost 2 per cent (see figure below from the IPCC report). This must be turned into a decrease of 9 per cent every year between 2025 and 2030. It seems highly unlikely that many national governments or global inter-governmental organisations have either the will or the capacity to make this happen – despite their public rhetoric and their approval of the Summary for Policymakers of all the IPCC's reports.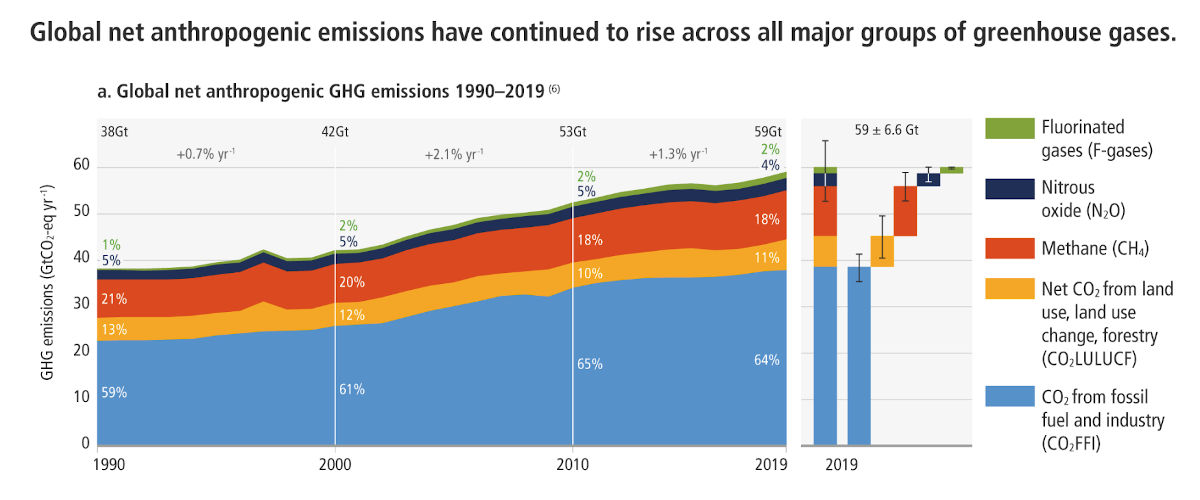 The combined national commitments to limit greenhouse gas emissions (NDCs) that were made before last November's COP meeting in Glasgow made it 'likely' that global warming would exceed 1.5C during this century, probably causing warming of 2.8C. Some countries have increased their commitments during and since the COP and the current commitments provide a slightly better than 1 in 2 chance of limiting warming to 2C by 2100. However, the national policies that were actually being implemented at the end of 2020 are leading to warming of 3.2C by 2100.
To add to the tragedy and frustration of inadequate climate action, the IPCC report states with 'high confidence' that the evidence indicates that regardless of whatever mitigation action is taken, the global GDP will at least double between 2020 and 2050. This will be reduced by only about 2 per cent if action is taken to give us a greater than 2 in 3 chance of keeping warming under 2C. And this is without accounting for the reduced costs from avoided climate-related damage or the reduced adaptation costs.
Killing the people to protect the forest
"I will never leave his forest. This is not a park, this is our forest. The Batwa were the first to live in this forest. My great grandfather died in this forest. My father's father died in this forest. And now my father has been killed in this forest. I will die in this forest. Even if they kill us all, if they want to wipe us all out. Let them. I'd sooner die than leave. We will never leave the place where they buried my father. We are sitting here in front of my father's grave now. I will never leave the land where he was buried."
This is the final paragraph of an article about state-sanctioned home-burning, torture, rape and murder inflicted on Indigenous peoples in the name of conservation by armed park rangers. The focus of the article is the Kahuzi-Biega National Park in the Democratic Republic of Congo. The Batwa people were originally expelled from the park in the 1970s and have been seeking to return ever since. In 2018 some communities began to return and that has prompted the recent violence.
However, the practice of 'fortress conservation', the militarisation of conservation parks, also occurs in other countries in Africa and southeast Asia. It often involves the exclusion of Indigenous and other local communities from their traditional, spiritual homelands and prevents them living according to their cultural practices. Unfortunately, it is sometimes supported and funded by Western governments, philanthropic organisations and environmental groups.
The laudable intent of governments to take strong action to stop illegal mining, logging and poaching in their national parks, and the desire of foreign governments and agencies to support action to mitigate global warming and protect biodiversity, are sometimes leading to well organised violence and severe human rights abuses that are sanctioned by the highest levels of organisations and governments. Wilful blindness and plausible deniability characterise some of their responses to well documented reports of such violence.
Minority Rights Group International produced 'To Purge the Forest by Force', a well-researched 90 page report, that was the basis of the linked article. The report includes recommendations for the government of the Congo, the Congolese Institute for Nature Conservation, international conservation NGOs, donors to the Kahuzi-Biega National Park, and intergovernmental organisations such as the UN Security Council, UNESCO and Parties to the Convention on Biological Diversity. The author concludes:
"The events detailed in this report have been made possible by a culture of impunity that devalues indigenous life in service of a highly militarized conservation apparatus designed to maintain an 'unpeopled' wilderness to be accessed and enjoyed by foreign tourists and international conservationists to the exclusion of the land's original inhabitants in violation of international law."
Imported assassins
About 1.7 million foxes and about 6.6 million cats (2.8 million feral and 3.8 million pets) inhabit mainland Australia. Cats are widespread across the whole of the continent but foxes mainly occupy the cooler southeastern and southwestern zones and temperate forests. Between them they exact a terrible toll on our native fauna, knocking off about 3 billion reptiles, birds and mammals every year.
Each year foxes kill 88 million reptiles, 111 million birds and 368 million mammals. The figures for cats are 609 million reptiles, 399 million birds and 1067 million mammals. The vast majority of the reptiles and birds are native species but a third to a half of the mammals are native, although it must be noted that all these estimates have pretty wide margins of error. The greatest predation pressure occurs in and around our cities where the densities of both foxes and cats are highest. And don't let anyone tell you that their adorable 'Tiddles' is completely innocent. Pet cats are responsible for a quarter of the cat killings. On average, every pet cat kills three native animals each week.
The effect of these two killers on our native reptiles, birds and mammals is devastating, with significant reductions in population sizes and increasing risks of species extinctions. The recovery of the populations of native species in areas protected by feral-proof fences and where populations of foxes and cats have been rigorously controlled provides good evidence of the success of and need for more widespread application of effective control measures for imported domestic and feral killers.
Colder is better
There are an estimated 3.8 million pairs of breeding Adélie penguins in Antarctica but an individual pair's fortunes are very dependent on where they choose to live. On the western side of Antarctica global warming is happening faster than the global average and populations are in serious decline because of a lack of ice and krill, which is all Antarctic Adélies eat, in the warmer-than-usual water. Gentoo penguins have a more catholic diet and are taking over. On Antarctica's eastern side, in the Weddell sea adjacent to the Antarctic Peninsula that juts out towards South America, warming is slower and colonies of Adélies are doing OK, for now. As the seas get warmer though, these colonies also are likely to suffer. Even if you don't read it all, the pictures are worth making the trip to the article.