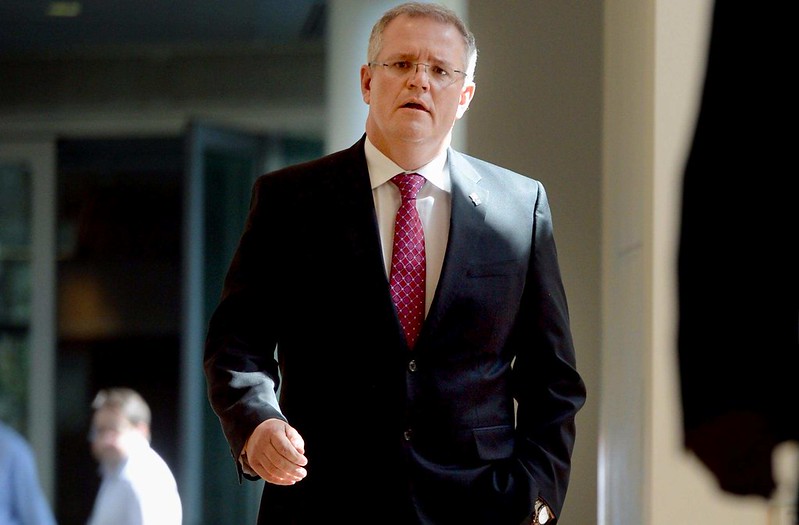 Since television arrived (and probably a bit before) it has become commonplace to describe Australian federal elections as presidential. All the focus is on the party leader. We talk about the Morrison government, the Albanese opposition. And when people go to the polls they are urged to vote for one or other of the party leaders to become Prime Minister.
And this despite the fact that when they get their ballot paper, voters are faced with entirely different names, the names of the candidates for their particular electorate. Their only aid (other what has been provided outside the polling place by the party spruikers handing out how to vote cards and other material), is that the prospective MPs are labelled with the names of their respective political party.
This is not to say there aren't some voters who recognise the names of their local MP (and perhaps other candidates) and vote for or against them according to their merits (or otherwise). It has been long established that most MPs build up a personal following that defines the way some people will vote. But it is not a large vote – between one and three percent in most cases.
For most people, it is the party leader who wins or loses the election.
In a true presidential system, the person who is standing for election and wants your vote is the person who then becomes president, if they win the election. Its the same here, one step removed. The leader of whichever party leads it into the election and wins becomes prime minister.
But that process is not inevitable. It is always possible that a political party, having won an election, can decide to ditch its leader, the presidential figure who led it to victory and thus, most people would consider, earned the right to be Prime Minister.
Possible, but extremely unlikely. But this year, if Scott Morrison's prayers were to be answered and he achieved a second miracle win, it is not all that unlikely that he would create history by being deposed before his party rather than confirming him as Prime Minister.
His problem is that a large number of Liberal MPs dislike him, intensely. An even larger number believe he is responsible for the Liberal Party's relatively poor standing in the polls. And most think he has badly handled the factional disputes within the party, particularly in his home state of NSW, and consequently has undermined the standing (and threatened the survival) of the NSW Liberal government.
What's worse is that some of the Liberal Party critics have made public their criticism and disapproval of the Prime Minister – exacerbating the political damage surrounding his leadership. Mr Morrison has glossed over it all, including for example, the speech in the Senate by Concetta Fierravanti-Wells who chose budget night to blast Morrison as an 'autocrat, a bully who has no moral compass' who was 'not fit to be Prime Minister' and had 'destroyed the Liberal Party'.
Some, like the unnamed federal Liberal minister who in a text exchange with former NSW Premier Gladys Berejiklian called Morrison a 'psycho', have kept their criticisms within the Liberal family (until they are leaked). Others waited until they were out of parliament or the Liberal Party or both, before denouncing him.
But even his close colleagues appear to have decided that his presence won't help them retain their electorates. His campaign itinerary appears to have been designed to keep him away from places where he might alienate voters.
Were the Liberals and Nationals to win on 21 May, the successful Liberal MPs would give little if any credit to Morrison. Most would regard a win as having been achieved despite Morrison's performance in the campaign and in the last three years of his government.
Victory by several of the 'teal independents' would further damage Morrison's ability to hold on even if he could scrape together a majority without them. His absence from their campaigns against his moderate Liberal MPs has been one of the lowlights of the election campaign. On all sides it was thought that if he tried to intervene in those electorates it would only boost the prospects of the independents and damage his own MPs.
But in the event that the Liberal-National coalition needs to talk to the independents to form a government (or booster a fragile majority) Morrison's departure would be one of their first demands.
If potential challengers needed any excuse for testing his leadership it was provided by Morrison himself at the beginning of the campaign (and repeated numerous time in various ways during it) when he effectively admitted his own lack of appeal by declaring the election was 'not a popularity test'.
Historical footnote: It is not whimsical to suggest that a Liberal Prime Minister who has just won an election might have his leadership immediately challenged in the party room, at the first post-election meeting. It happened to John Gorton, after he had won the 1969 election. He survived the ballot (his challengers were not the most likely of his Liberal ministerial colleagues to successfully depose him) but he held onto the position for another year or so before his party – not the electorate – deposed him.