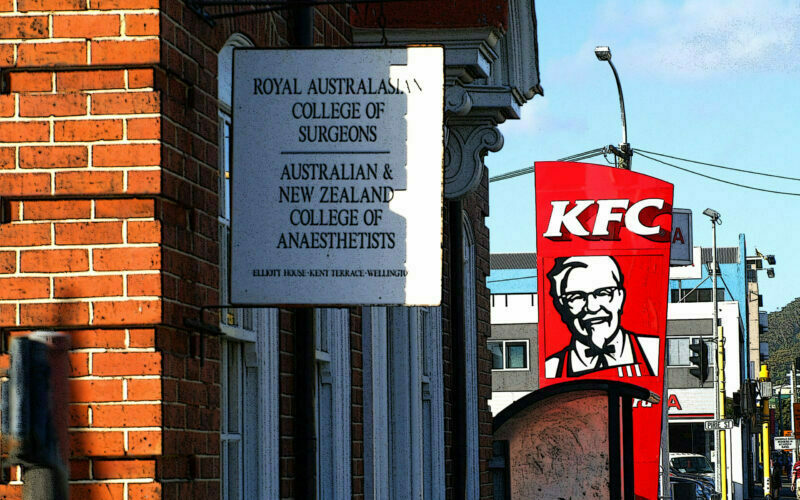 JobKeeper for dentists? Fair enough. But more public subsidies for doctors' lobby groups? Callum Foote reports on Australia's medical colleges refusing to pay back millions in JobKeeper payments.
Australia's specialist medical colleges already rake in enormous government funding. The bulk of college revenue comes from doctors' membership fees, and doctors continued to pay them during the pandemic — people continued to "visit the doctor". Then there is the enormous system subsidy, some $24 billion spent by Medicare annually.
On top, there is the cherished charity tax status of these wealthy colleges — such as the Royal Australian College of Physicians (RACP) and the Australian & New Zealand College of Anaesthetists (ANZCA) — and further state and federal government subsidies given to the colleges directly.
Many doctors were hit by the pandemic individually, particularly the wealthier doctors, but not their lobby groups and professional associations.
Diagnosis: greedy
When Michael West Media asked why they took JobKeeper when they did not suffer the requisite fall in income to deserve it, a general refrain from medical lobby groups was that everybody was taking it. The "others were taking it too" explanation reflects exactly the rationale expressed in corporate Australia, a rationale which led to the largest transfer of wealth in history from ordinary Australians to wealthy Australians.
Although many of their members, working doctors, were appalled at the cash grab, many "royal colleges" did not to bother to respond at all.
The Royal Australian College of Physicians (RACP) pulled in the most in JobKeeper at up to $4.9 million in 2020. The college's JobKeeper haul contributed to a $3.8 million surplus that same year.
RACP refused to engage with questions put to them by Michael West Media as to whether the college would consider repaying the subsidy.
After RACP, the three highest JobKeeper earners were the Royal Australian College of Surgeons at $4.4 million, the Royal Australian College of General Practitioners at $3.7 million and the Australian and New Zealand College of Anaesthetists (ANZCA) at $3.4 million. They each made millions in surplus.
ANZCA is a standout, having grown its surplus from $310,000 in 2019 to $6.3 million in 2020 with the aid of its JobKeeper take. Many anaesthetists themselves have queried the legitimacy of their college's JobKeeper earnings.
A member of ANZCA asked the college's leadership in an annual general meeting whether the $4.4 million would be paid back now that "the dust has settled". The response at the time was that the college would be doing what other similar organisations were doing.
The ANZCA has since confirmed that they would not be repaying their JobKeeper, with a spokesperson saying: "The college's 2020 financial position was due largely to a temporary reduction in operating expenditure with many costs deferred, and increased returns on investment income."
So much for leadership
If the anaesthetists were waiting for leadership from their fellow colleges, or from similar bodies such as the Australian Medical Association (AMA), they would be waiting a while.
An AMA spokesperson responded to questions put to them by Michael West Media by saying, "JobKeeper's role in other organisations is a matter for them".
Of the 25 specialist colleges operating in Australasia, only the Royal College of Pathologists of Australasia has informed Michael West Media it did not apply for nor receive JobKeeper. Just as well, the pathologists were very busy.
No college came forward to return their JobKeeper take and many refused to respond to questions put to them.
While lockdowns did significantly affect the income of Australian doctors, according to the ANZ–Melbourne Institute Health Sector Report it is not clear that this extended to the colleges themselves.
According to the report, "20 per cent of GPs and 42 per cent of other specialists reported losses in income of 30 per cent or more, while 20 per cent of surgeons and anaesthetists reported their income had fallen by 50 per cent or more".
However, it was the richest doctors, particularly GPs, who were hit hard, "GP practices in the wealthiest areas were hardest hit in terms of income losses and fall in patient numbers, most likely as a result of the substitution of bulk-billed telehealth consults in place of the usual full-fee face-to-face consults," the report states.
Beyond their JobKeeper take, Australia's specialist medical colleges are already significantly reliant on government funding. The bulk of college revenue comes from doctors' membership fees, significantly subsidised by the $24 billion paid out by Medicare annually, while state and federal governments provide further millions in grants to the colleges directly.
Currently, independent Senator Rex Patrick, Labor and the Greens are demanding the Australian Taxation Office reveal which organisations were paid JobKeeper. A total of $4.6 billion dollars from the program is believed to have flowed to firms that saw revenues rise in the first three months of JobKeeper according to new data published by the Parliamentary Budget Office.
This article was first published by Michael West Media.