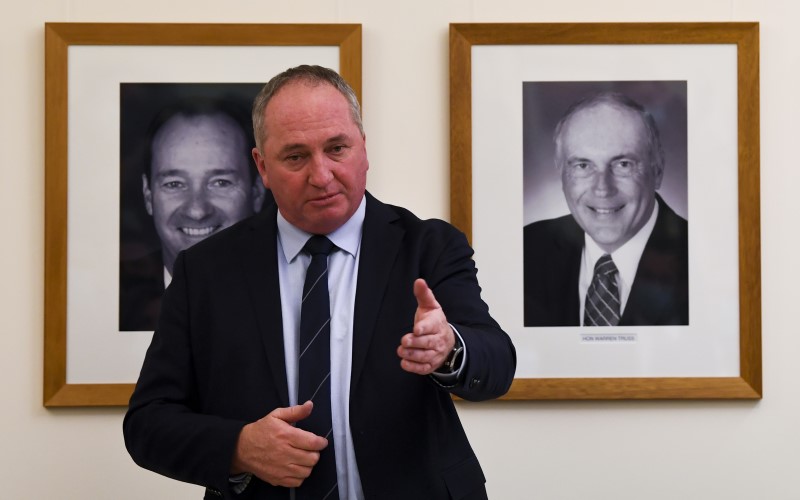 The modern Liberal Party created the conditions where the Nationals can threaten the Coalition at any time in pursuit of its own agendas.
The National Party rewards failure, not success — a reason that farmers are well ahead of National Party thinking, with boosted productivity as a result.
While the National Party cannot be forgiven its banditry simply on the basis that it is, after all, the National Party, to which rorting and cheating, and turning of public dollars into private account comes naturally, it cannot be given most of the blame.
National Party venality is learned behaviour, and it is the modern Liberal Party, particularly under Scott Morrison, which has created the conditions by which it can threaten the Coalition at any time in pursuit of one or another of the bees in the bonnet of Barnaby Joyce, or some of the other National Party robber barons, some on the backbench, who have prospered from the party's indiscipline and disloyalty.
No longer, indeed, does the party act collectively with a pre-caucused will; now any number of "characters" — some of whom are ministers — can try it on at any time. Indeed, it has been made clear in the past two weeks — as the Nationals have effectively walked out of the Coalition — that even the leader of the party cannot assert that he represents the views of a majority of his party. Nor can he pretend to his own party, in attempting to push some cohesion behind Morrison's climate action plan, that he can deliver on any part of the deal that he subsequently wants to reinterpret.
The Liberal Party might also be said to have wished some of the pestilence upon itself.
National Party is extorting the government for money and favours on climate change
There were powerbrokers in the Liberal side of the ministry — some, oddly, close to Morrison and Josh Frydenberg, who were, at that time, affecting to be "right behind" Malcolm Turnbull — who encouraged National Party dissenters as a way of ultimately bringing down Turnbull.
Turnbull had worked himself into an awful lather, first by performing every moral and mental gymnastic to accommodate the doubters behind him, then, later, in pretending to the world that his solution was the appropriate one. Now that Turnbull is right out of elective politics — indeed has become fiercely opposed to the Morrison government — he has become pure again.
He denounces every concession, and points, accurately enough, to attempts to present the worst possible proposals at Glasgow, or, worse, to have COP26 participants think Australia regards them as fools.
The real villains are in the Liberal Party leadership, and their failure to stand up to the Nationals, or to use evidence as the basis of policy necessary in Australia's long-term interests.
Morrison, by contrast, has never been much of a climate change action enthusiast, even if he has affirmed that he understands climate change science and believes it is happening.
But he has long pandered to sections of the party that have opposed much in the way of action — witness his intervention in parliament with a lump of coal, and he has kept a close eye on internal opponents (Peter Dutton, for example) with no great enthusiasm for comprehensive action.
He has been entirely guided by pragmatics, and short-term political advantage, and his failure, for so long, to act in Australia's interests reflects seriously on his moral, mental and practical fitness for the highest office in the land.
All the more so his flat refusal to use any of the political opportunities he has had to build a better, more robust and strong economy. All the more so given his strange aversion to manifesting any sort of vision, and his preference that the fiscal opportunities created by massive borrowing be dedicated to restoring things to the way they were, rather than as a springboard to what could be.
Here in Australia, most likely, much of the debate will involve petty point-scoring, claims of virtue-signalling and dedicated parsing of slogans, and positioning for an election soon.
There's a very good chance that most of the mass media platforms will swing behind Morrison and declare his Glasgow mission a great success, with the years of inaction redeemed by a few marketing phrases suggesting that Australia is now to the fore on one of the world's most pressing problems.
Don't believe it.
The leaders of most nations will not, even if some, for their own purposes, may mute their criticism for the time being. The divides at Glasgow will not be between left and right, or political philosophy, but about responding to deep global challenges with action rather than talk.
Australians have a wistful view of the proceedings. For more than a decade, Australia, like the United States, has been walking away from the company and parliament of the world.
We have heavily cut aid. We have repudiated treaties and other obligations we once freely embraced as a good world citizen. We have busied ourselves in the affairs of China, but been all too remote from international crises in our own backyard, and on other sides of the Indian Ocean.
Our prime minister has arrogated to himself the right to declare that our failure to be a leading citizen of the world — as our standard of living suggests — is a matter of our sovereignty.
Actually, it's a matter for the almost unlimited sense of shame most Australians will feel as the prime minister and his colleagues trash our international reputation, belittle our friends and irritate others.
At the climate change summit, we could do the hard thing, the right thing, and the things within our power that could make a difference. But not, I fear from these moral pigmies.