Politics
Faith leaders say Jan, 6 committee report downplays role of Christian Nationalism
Jan 10, 2023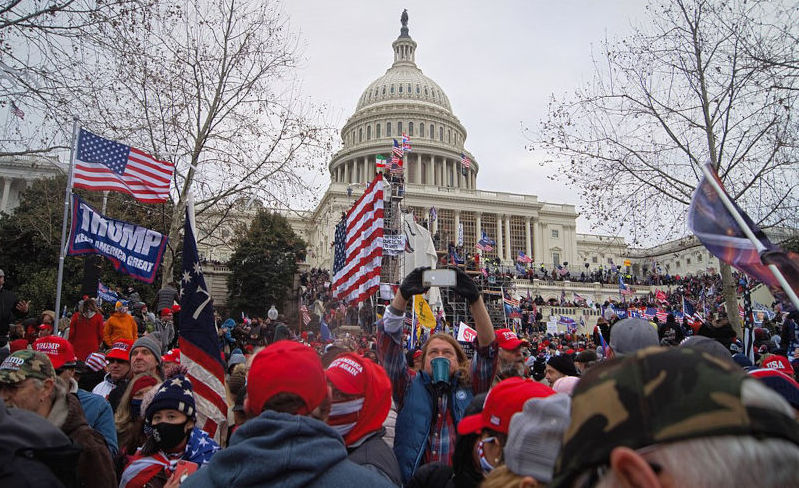 "If we don't confront Christian nationalism then we are leaving ourselves open to future attacks, like what we saw on January 6," said one critic.
In an effort to fill in what they say are critical gaps in the U.S. House select committee's report on the January 6, 2021 attack on the U.S. Capitol, faith leaders are pushing the corporate media and the American public to confront the role Christian nationalism played in the insurrection, warning that ignoring the link could make similar violence more likely in the future.
The committee's report, released last week, laid out extensive evidence showing that former President Donald Trump was the driving force behind the attack aimed at stopping lawmakers from certifying the 2020 presidential election results, but mentioned Christian nationalism just once, despite the fact that many of the Trump supporters who stormed the Capitol openly expressed Christian nationalist beliefs before, during, and after the attack.
As Religion News Service reported last week, some Trump supporters who attempted to overthrow the government carried flags displaying a so-called "Jesus fish" painted red, white, and blue like the American flag along with the words "Proud American Christian." Hundreds took part in what they called a "Jericho March" and prayed for the election results to be overturned the day before the insurrection, and some were heard chanting, "Christ is king" in Washington, D.C. on January 6.
"The symbols of Christian nationalism were on full display not only on January 6 itself, but at numerous rallies leading up to the attack," Amanda Tyler, executive director of the Baptist Joint Committee for Religious Liberty (BJC), told Alicia Menendez on MSNBC on Wednesday.
The report, however, only noted that supporters of white supremacist Nick Fuentes, who was in Washington on January 6 but has not been accused of breaching the Capitol, have "repeatedly promoted white supremacist and Christian nationalist beliefs."
The inclusion of just a single reference to Christian nationalism—the belief that the government should actively ensure that the U.S. is a Christian nation—was something faith leaders warned against earlier this year when they called on lawmakers to closely examine the role the belief system played in convincing thousands of people to storm the Capitol and continue to question the 2020 election results long after January 6.
In June, Christians Against Christian Nationalism, a project of the BJC, wrote in a letter to the House committee that "Christian nationalism helped motivate and intensify the insurrection" and that lawmakers should "thoroughly investigate the role that Christian nationalism played in the attack."
"This seditious mob was motivated not just by loyalty to Trump, but by an unholy amalgamation of white supremacy and Christianity that has plagued our nation since its inception and is still with us today," wrote Robert P. Jones, president of the Public Religion Research Institute (PRRI), at the time.
As Religion News Service reported last week, a spokesperson for committee member Rep. Liz Cheney (R-Wy.) suggested weeks before the report was released that the congresswoman objected to focusing seriously on Christian nationalism, telling The Washington Post that Cheney "won't sign onto any 'narrative' [that] suggests every American who believes God has blessed America is a white supremacist."
Lawmakers including Cheney, who leaves office next week, "fear that confronting Christian nationalism might be misconstrued as an attack on Christianity or Christians, and nothing could be further from the truth," Tyler told MSNBC. "We are trying to draw attention to what Christian nationalism is… Christian nationalism turns Christianity's gospel of love into a false idol of power. It turns John's gospel teaching us that God so loved the world on its head, saying falsely that God has a special plan for the U.S. or that God loves the U.S. more than any other country, or that God has preordained election results."
Faith leaders are working to explain "why that's not the case," added Tyler, "because if we don't confront Christian nationalism then we are leaving ourselves open to future attacks, like what we saw on January 6."
First published in Common Dreams December 30, 2022