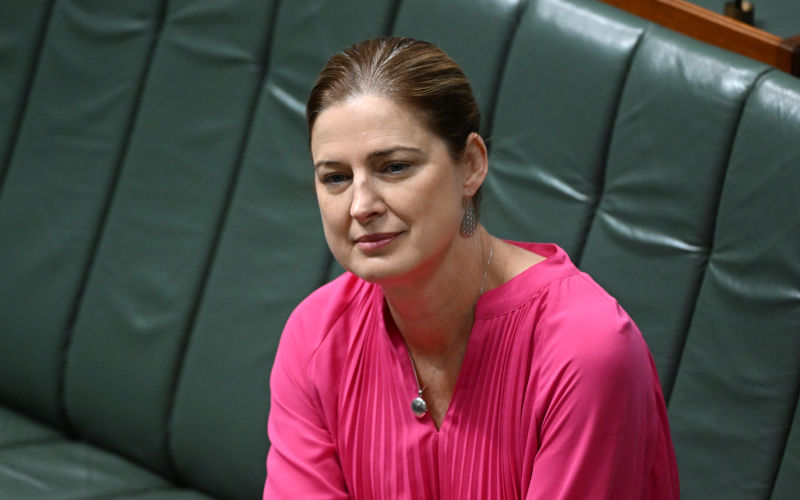 Federal member for Franklin, Labor's Julie Collins, is the Minister for Housing and Homelessness. Her current plans to fix the housing crisis look like putting a Band-aid on a broken leg. And breaking the other leg for good measure.
Call me old-fashioned, but you can't fix problems unless you identify the causes – both immediate and underlying. The underlying cause of the housing crisis is successive governments' ignorance of sustainability, including the fact that all our major problems are interrelated. We won't fix the housing crisis without addressing all our other crises at the same time, including our environmental crisis and private-sector debt crisis. Excessive growth is the common denominator. This interrelatedness is the lesson of system dynamics.
The current mismatch between available dwellings and those struggling to get, or keep, a roof over their head has a lot to do with turbo-charged immigration, especially since the Howard years.
Our net migration since about 2000 has been well above our long-term average (see below) and more than twice the OECD average for most of that time – the pandemic migration hiatus has not been enough to realign demand and supply.
On 21 February 2023, real estate experts LongView and PEXA released research showing that Australia's unusually high population growth is mostly responsible for our real estate being some of the most expensive in the world. It confirms a common-sense view of supply and demand.
Interest rates had only short-term effects.
This has had consequences for home ownership, private-sector debt, the rental market, homelessness, and general spending in the economy.
The Albanese government's response to a range of problems has been to ramp up immigration when a cautious approach would be appropriate – especially given the links between population growth and environmental destruction, including greenhouse gas increases.
Permanent migration has been increased by Labor from 160,000 to a record 195,000 for 2022-23.
However, the more import figure of net migration is likely to be more than 300,000 in both 2022 and 2022-23, according to former Immigration Department deputy secretary Abul Rizvi (2022 figures will not be released until June 2023).
That's unusually large, given our net overseas migration was just over 100,000 in the early 2000s, although it was briefly just over 300,000 in about 2009.
I don't remember the Albanese opposition going to the last election with a promise to dramatically increase immigration – nor the Morrison government for that matter.
One likely reason for parties soft-pedalling on immigration is that they know it's political poison, if research from The Australian Population Research Institute is any guide.
Meanwhile, Minister Collins is boasting about her plan for the Commonwealth to build 30,000 social and affordable houses over five years.
While the states also have a role to play, 6,000 new dwellings a year is a pimple on a pumpkin if the shortfall is more than 500,000.
Moreover, the problem can only get worse if you pour petrol on a fire by significantly increasing demand for housing via high migration (be it permanent or temporary).
As for homelessness, peak body Homelessness Australia says the Australian government plans to cut $65.5 million in funding from homelessness service from 1 July 2023.
Maybe it has to save up for nuclear-powered submarines, the next revamp for the War Memorial, or more subsidies for fossil fuel companies.
Mission Australia, quoting the latest ABS census data from 2016, put our homelessness figure at more than 116,000.
The next ABS release on homelessness, due on 22 March 2023, might provide a sleepless night for Minister Collins, if not a homeless one as she and her husband own three dwellings according to the parliamentary register of interests.
That's 50% more than the average of two dwellings per federal parliamentarian.
Also, I assume Minister Collins is entitled to claim $299 a night travel allowance when staying in her Canberra dwelling on parliamentary business.
I wouldn't be surprised to learn that the minister works hard for her comforts and has empathy for battlers, but hard work and empathy does not automatically translate into good policy.
The problem with the government's immigration settings is that it fails to properly account for the costs and benefits of population growth.
That is, it exaggerates the benefits and ignores many costs, including infrastructure forever chasing a receding target.
This lack of full accounting has its origins in the primacy that politicians and most economists place on gross domestic product, where both good and bad production are added together to reach a magical sum of 'national income'.
If we subtracted the bad from the good, especially environmental destruction, a different picture would emerge. That's exactly how good economists derive the figure known as the Genuine Progress Indicator.
Australia could use some genuine progress about now.