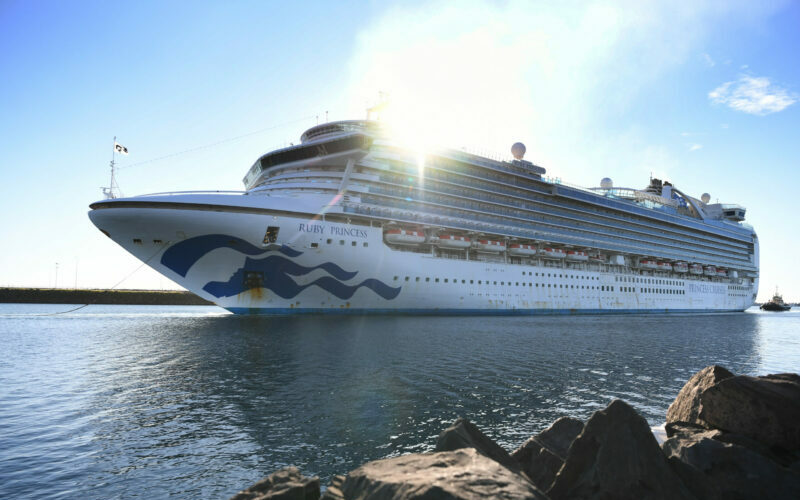 Gladys Berejiklian's petulant leadership and disregard for the rest of the country undermined national efforts to control the virus.
As NSW premier, Gladys Berejiklian became well-liked by the Australian public during the pandemic. She was easy to relate to because she displayed commitment and determination, and a human side with hints of frailty. Her decision-making, however, was erratic and in the end would have major consequences for Covid management in Australia — especially in Victoria and the ACT — and New Zealand.
She had an infectious and engaging nature but at the same time seemed to spend her life walking on egg shells. Frequently displaying more than a degree of self-confidence, she still seemed less solid and grounded than other leaders. She always seemed to think she was right and others wrong, with mini-tantrums that said so. Admitting errors or that there might be a better way was not her style.
If we needed a single word to describe her Covid leadership it would be "petulant".
NSW has been the outlier in our pandemic fight — the one out of eight states and territories so often wanting to do things differently. We saw the cold disregard she and fellow NSW colleagues had for the rest of the country, uninterested in the flow-on impacts of their decisions. Unlike other states and territories, acting fast and hard was not the NSW way, and the word "lockdown" was verboten. Berejiklian's leadership thus impacted hugely on other Australian leaders, making their tasks so much harder.
It was disappointing to see our most senior state (in age and population size) show such arrogance and disdain for fellow Australians, following policies with the encouragement of the prime minister that had too high a risk of leading the country into crisis mode.
The Bondi outbreak in June would lead to more than 15 million people in two countries being in various stages of lockdown by October. Residents of Melbourne have a right to be angry with NSW. However, bitterness is rarely displayed. In contrast to "go it alone" NSW, Victoria is a team player with the national good at heart.
NSW's history of Covid recalcitrance
Readers of Pearls and Irritations will know that I closely tracked Covid data from the start of the pandemic. I noted many times the problematic side to the former NSW premier. Disaster of some sort seemed inevitable.
Yes, all 2700 may disembark now:
The Ruby Princess debacle was the first time Australians really met Berejiklian. While there is some suspicion of federal government responsibility, this fateful decision would be attributed to the NSW government. North-west Tasmania was forced into lockdown for a fortnight.
We can't possibly do what Victoria did:
Victoria's lockdown from June to October 2020 provided the perfect case study for problems that could occur, how to solve them and how to mitigate them, and how to return society to one of Covid-free safety. Six other states and territories in Australia would learn from the Victorian experience. NSW didn't, wouldn't or couldn't.
Acting fast and hard is not our way:
Preferring to go easy on constituents, an extended outbreak in August 2020 lingered well into September. On P&I we wrote how NSW was barely managing to keep the virus "suppressed" and  "with cases popping up unpredictably, and with lack of strong action, one fears a serious outbreak will occur in NSW any moment".
Zero-community status is impossible:
Infections were persisting and in a moment of frustration or belligerence, Berejiklian would bizarrely declare that it was not possible to eliminate Covid from the community — even while five states and territories had been there for months, Queensland was tantalisingly close and Victoria was determinedly chasing the daily numbers down to the horizontal axis.
Our way is the gold standard:
NSW, with the PM's emphatic encouragement, pressured other states and territories to adopt the weaker suppression model over the elimination model (zero community cases). It seemed it wanted the successful jurisdictions to forgo the hard yakka put in to get where they were.
We are sick to death of being lectured to by other states:
Other leaders were frustrated by the way NSW was handling the virus, which led some to criticise or to offer suggestions or assistance. With this "don't lecture us" rail against other national cabinet members, the now departed former deputy premier John Barilaro demonstrated how NSW leadership was substandard across the board.
The NSW economy is more important than anything:
Was Berejiklian cognisant of the fact that protecting the NSW economy would have flow-on effects around the country for weeks? From October 2020, Australia had an excellent six-week run of close to zero community cases. Then, predictably, it was broken with a failure in NSW with an outbreak on Sydney's Northern Beaches on December 16.
You can't blame NSW. It was Tasmania's decision to cancel the Sydney-Hobart yacht race:
With the failure to impose tough restrictions on Greater Sydney following the December outbreak, the Tasmanian premier had no option but to impose travel restrictions, resulting in the cancellation of Tasmania's most important annual event. The Melbourne cricket Test, the Australian Open tennis and Adelaide's cycling Tour Down Under would also be jeopardised. An outbreak attributed to Sydney in a Black Rock restaurant impacted Melbourne over New Year.
What's good for the goose is not good for the gander:
I recall at one point Berejiklian wanted the border with Queensland reopened, but Premier Annastacia Palaszczuk declared that opening the border to NSW would be "economic disaster". Some weeks later, when asked about reopening the border with Victoria, Berejiklian declared it would be "economic disaster".
There is no need for remote quarantine facilities in NSW:
NSW did do the "heavy lifting" of accepting the lion's share of international arrivals into its quarantine system, with the inherent risk of outbreak. And the premier frequently reminded her interstate colleagues of that. It was puzzling therefore that she was not interested in establishing a remote quarantine facility.
Bubble trouble:
Most Australians had assumed that last October's travel bubble meant NZ arrivals could not stray outside NSW or the Northern Territory. Yet many of the first arrivals in Sydney took onward flights to other states, much to the shock of some premiers, possibly even Berejiklian, who presumably had helped set it up.
Thus, we see that NSW had form of being contrary when it came to working with other states and territories. They became over-confident that their contact tracing system would also work for Delta. Being constantly praised by the PM, and by the treasurer and health minister (bizarrely, both Victorians), created division. Uncoordinated decision-making meant no true national approach. Eventually Berejiklian's leadership style would impact on Australia's health systems and economies.
Our stumbling vaccine rollout, the Delta variant and NSW stubbornness
In June this year we noted on P&I: "The first week of June will be significant in Australia's Covid story. Victoria had entered lockdown on Thursday 27 May after a case of community infection arrived via Adelaide. Another more dangerous variant would also appear."
The faster spreading and far more contagious Delta variant had indeed appeared in Victoria, albeit briefly. The strict lockdown conditions quickly imposed smothered any outbreak, and from June 10 restrictions were gradually eased.
Then, Australia was way behind comparable countries on vaccinations. On P&I we explained how we could still achieve a good vaccine uptake by the end of 2021 because tens of millions of mRNA doses would be arriving in the last quarter. We wrote that the "three months before October will be a challenging time for Australia as we have to make it through without a major outbreak".
With the appearance of the Delta strain, there was a significant shift in the Commonwealth government's andnational cabinet's objectives. Quoted as up to 70 per cent more transmissible than the Alpha variant, Delta had put the country on alert.
Well, except perhaps for NSW.
So much for making it to October! On June 16 it was reported that a limousine driver from Bondi transporting air crew had tested positive for the Delta variant. While Berejiklian claimed there were strict guidelines he had to follow, he was never charged; there was insufficient evidence to establish that he had breached any public health orders. It raised concerns that the NSW government did not have sufficiently strict guidelines and oversight to ensure the safety of the public.
Under conditions that Victorians would describe as "lockdown-lite", the Bondi cluster would burgeon over the coming weeks, spreading around Sydney. NSW's acclaimed gold standard contact tracing could not cope.
By the end of July NSW was regularly reporting 200 cases a day, and by the end of August over 1000. Without a ring of steel around Sydney, or even compulsory mask-wearing in many places, infections made their way around the state and into Indigenous communities. Then they made their way across borders, causing months-long lockdowns in Victoria and the ACT and short lockdowns in Queensland. By mid-August Delta had reached NZ via Sydney.
Eventually the NSW premier did buckle to the pressure, gradually implementing stronger measures. But despite Delta being much more virulent and difficult to control, overall those measures didn't seem as strict as those implemented by Victoria in 2020 with a significantly less dangerous variant.
The Australian newspaper included this report on a recent speech by Palaszczuk when she provided a scathing summary of the impact of the former NSW premier's intransigence:
"Our last lockdown lasted eight days," the premier said. "Eight days after the start of its current outbreak, NSW was yet to enter lockdown. It's been in one now for three months at a cost to business of $100 million a day. Its first case in June has spread to 68,837 cases in Victoria, the ACT and New Zealand and tragically over 333 people have lost their lives. Ms Palaszczuk said the devastating comparison with NSW acts as a reminder to the possible destruction that spreads from 'just one case'."
It would be nice to be able to say "and the rest is history". But we can't, as there is still some way to go.
In the ACT, Victoria and NZ the infection numbers are persistently high, with lockdowns firmly in place. Their governments have had to abandon the zero-case elimination model and move to a suppression model, three months earlier than anticipated. The ACT Chief Minister expressed concerns about NSW attitudes. On 20 August he said 'The only two jurisdictions  that can conceivable protect themselves from NSW's decision to a certain degree are WA  and Tasmania'.
NSW infections are gradually diminishing, possibly due to the state being allocated a disproportionately high share of the extra Pfizer doses sourced from other countries. Had they been shared evenly, Victoria might not be recording almost 2000 cases a day, perhaps with weeks of lockdown still ahead of it.
Unconscionable disregard for the rest of the country
In Australia's greatest challenge since World War II, what we need is outstanding leadership and cooperation. Fortunately we have mostly excelled in these areas. However, NSW — with federal support through the PM — consistently failed the rest of the country.
Australia has had four major Covid outbreaks, with nationwide impacts. The 2020 Victorian outbreak is one. The other three involved NSW outbreaks, each lasting weeks or longer. There were dreadful flow-on consequences for other states. The then NSW premier acted as if it was everyone else's problem.
No one is saying Berejiklian did not do her best. But sometimes one's best is not good enough (she can't be blamed for the federal government not ordering enough mRNA vaccines).
The other leaders saw her as the problem. At one point The Age reported that the WA premier "has again criticised New South Wales for its approach to managing COVID-19. There's five states and [two] territories doing one thing, and one state doing something different."
Surely when you are so out of step, it should make you reflect on and question your tactics.
We citizens can only call it as we see it. Who knows what went on behind the closed political doors? Was Berejiklian a pawn in a puppetry play managed by other NSW politicians, the PM, the treasurer and health minister?
I personally believed the vaccine uptake by Australians, because of who we are, would exceed 90 per cent by the end of 2021. It could have been achieved in a fair and safe manner. But it depended on no major outbreaks. NSW blew the chance of us becoming "fully" vaccinated while relatively Covid free and ready to transition to living with the virus.
It could be argued that Berejiklian did us all a favour by putting a bomb under Australians, compelling us to get vaccinated, tout suite. It might also have pinged the PM to pick up the phone to see if he could source some surplus Pfizer somewhere or other, such as Poland.
The vaccination rate around the country has been phenomenal and we can be optimistic of reaching a great uptake, and soon. However, Australians would have preferred to reach the light at the end of the tunnel under full control, rather than be careering towards it. And we would have preferred being spared the indignity of our country putting out the begging bowl for vaccines, sending footage of hideous street riots around the world and claiming the lockdown capital of the world.