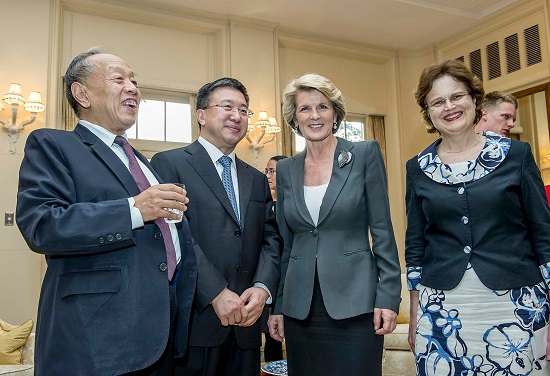 Frances Adamson, outgoing Secretary of the Department of Foreign Affairs and Trade (DFAT), gave a wide-ranging speech at the National Press Club (NPC) on 23 June, revealing that little if anything was achieved during the five years of her term as departmental head and that her leadership was lacking, or at least, seriously limited by other forces in Canberra.
Frances Adamson will now take up up her appointment as Governor of South Australia. Her speech is available here.
The role of departmental secretary is complex. I should only judge Adamson by the goals that she outlined in her speech to the audience of ministers, shadow minister, departmental colleagues and the press.
DFAT itself states that its role is "to promote and protect Australia's international interests to support our security and prosperity." Adamson put an activist spin on this role, proposing that Australia could "shape our region to better suit our interests" through "action, implementation and influence to deliver results." It is not however obvious what gains have been made in international relations since 2016, particularly with regard to our region. With regard to China, losses have certainly outweighed gains.
Adamson's speech set out four agendas that applied to her time as Secretary. She implied that she, the Government and the Department, deserve credit for having made progress on these. The first agenda was "How the world, and more specifically our near region, recovers from COVID-19." The second, "How we and others respond to China's growing power and ambitions." The third, "How we deal with climate change, including via the dramatic energy transition underway." The fourth, "How international rules, standards, and institutions evolve and on what basis."
Each agenda is important, but it is too early to reach a judgment on three of them.  The fourth, China, was accorded equal status with the other three by Adamson. She said that it "represents the single most influential variable in our external environment." Since she has some personal expertise on China, having served there as ambassador, I will focus on this and ask whether any results at all have been achieved.
In 2016, when Adamson returned from her posting in Beijing, relations were sound. The China Australia Free Trade Agreement had just been signed. DFAT described it as "an historic agreement that is delivering enormous benefits to Australia, enhancing our competitive position in the Chinese market, boosting economic growth and creating jobs." A major cultural and trade promotion titled Australia Week in China was held in twelve cities in April 2016. The largest ever Australian trade mission, comprising around 750 companies, visited to strengthen trade, investment education and tourism links and signed many significant deals.
Five years later, all those achievements have been negated. Relations have fallen to rock bottom. Adamson told the NPC that this was China's fault. China had changed. "The clock has been wound back."
This is a very partial explanation of the unwinding of the relationship. One early sign that it was Australia that re-oriented its foreign policy was a speech by then Foreign Minister Julie Bishop in Singapore in March 2017.  In this speech she called for greater US engagement in Asia and gave a blunt message to China about their need to adopt "liberal values and institutions." Tom Switzer noted at the time that this was the first time for decades that an Australian government leader had been "lecturing Communist leaders about the merits of democracy or calling for the containment of China." It was not a throwaway remark. Then Prime Minister Turnbull followed Bishop with similar remarks to the Shangri-La Dialogue, again in Singapore.
Shortly afterwards, in June 2017 Adamson told the Crawford Asian Leadership Forum at the Australian National University that, while Australia was concerned about transparency and rules in relation to China's actions in the South China Sea and its Belt and Road Initiative, "That's more around roles, I think, more than rules and we want to be welcoming of China's rise." It seems she has changed her mind since then, but not because of changes in China, as she told the NPC.
I do not need to go into details.  Max Suich argued cogently in a series of articles published in the Australian Financial Review in May this year that for years Australia had been out front in needling and confronting China. No wonder then that by now China has developed what Adamson described in her National Press Club address as a "siege mentality."
Much of the provocation from the Australian side, although not all, has come from DFAT under Adamson's leadership. Ambassador Graham Fletcher for instance on 25 March this year told the Australia China Business Council that China was "quite unreliable as a trading partner and even vindictive." Either his remarks were intended to be heard by the Chinese side, or else ACBC members leaked them to the press.
These negative comments certainly do not "support our prosperity and security," to quote the DFAT banner-head. Sure, Adamson told the NPC, "We want to understand and respond carefully – for shared advantage. Not to feed its insecurity or proceed down a spiral of miscalculation." Sure, she called for "beneficial co-existence," but without a modicum of trust on both sides, prospects for dialogue will be elusive.
China has indeed changed in the last five years. Its economic growth has been spectacular.  It has gained great results from its investment in education and technology.  It is more active in international organisations. Pearls and Irritations published a useful series of papers in late 2019 summarising some of these aspects of Chinese politics and society. Australia has woken up to the fact that China is a global player and exerting more influence in this country and in the region.
Foreign policy naturally must adjust to these new realities. As Adamson remarked, the 2017 Defence White Paper needed to be updated. That should not lead to media-hyped warnings of the likelihood of war, an impossible scenario. Diplomacy is the art of the possible, and the skills of diplomatic representatives should be judged by their ability to resolve problems not to exacerbate them.
If Frances Adamson's speech were a graduation presentation, I would grade it conditional pass.