Religion and Faith
FRANK BRENNAN. A planet to heal (Hiroshima Remembrance Ecumenical Service, Adamstown Uniting Church, Newcastle, 5 August 2018).
Aug 7, 2018
I join with you in acknowledging the traditional owners of the land on which we meet. This weekend at the 20th Garma Festival held on Yolgnu lands in Arnhem Land, the acclaimed Tasmanian author Richard Flanagan spoke. Having disclosed his own potential Indigenous heritage for the first time, he told the audience:
'Australia as a nation, after 200 years, is faced with a fundamental truth. We are now entwined peoples; by custom, by humour, by friendship, by love, by work and by sport, in art, in music, in words, and through the land; in all these ways we have over 200 years found ourselves in each other. Black and white, we have become kin. We cannot be selfish. And because we are kin it is not possible for white Australia to pretend that it is not damaged by the war that so damages black Australia, that it is not crippled by the same wounds, that it too is not rendered oddly mute by the same silence.'
This declaration had me mindful of the recent review by my own sister Bernadette Brennan of Draw Your Weapons by Sarah Sentilles. Sentilles cites Judith Butler: 'We are undone by each other. And if we're not, we're missing something.' Bernadette says, 'This book calls us to be present to, and responsible for, our fellow human beings.' The book's epigraph from Bertolt Brecht reads: 'In the dark times / Will there also be singing? / Yes, there will also be singing / About the dark times.' Sentilles knows that, 'Words can take away humanity, and words can give it back.' Bernadette says that Sentilles' contribution to unmaking the darkness is to write. Ours is to be attentive to the signs of the times, lighting a candle wherever and whenever we can.
We gather on the eve of the 73rd anniversary of the bombing of Hiroshima. Two atomic bombs were dropped back in August 1945, the first on Hiroshima on 6 August and the next on Nagasaki on 9 August.
I have entitled my remarks this evening, A Planet to Heal. This is the name of the book of essays published by Pedro Arrupe in 1975 30 years after the life changing event of his life. Arrupe was a bright Spanish medical student. He was a Basque. Towards the end of his medical studies, he decided to follow the footsteps of his fellow Basque Ignatius Loyola. He joined the Jesuit order. He was assigned to assist with the formation of young Jesuits in Japan. He was living in the Jesuit House on the edge of Hiroshima on that fateful day, 6 August 1945. In the Christian calendar, it was the feast of the Transfiguration commemorating the occasion when Jesus was on the mountain in the company of his closest companions who were blinded by the light of revelation.
Arrupe later recalled: 'On the morning of August 6 something happened to break the monotony of the previous months. At about 7:55 in the morning a B-29 appeared. The air raid alarm did not cause us any undue worry since we had grown accustomed to seeing squadrons of a hundred planes flying over our heads. There seemed to be no reason to be concerned. Ten minutes after the alarm began to sound we were sure the enemy had left the city. We then resumed our usual activities in peace. I was in my room with another priest at 8:15 when suddenly we saw a blinding light, like a flash of magnesium. Naturally we were surprised and jumped up to see what was happening. As I opened the door which faced the city, we heard a formidable explosion similar to the blast of a hurricane. At the same time doors, windows and walls fell upon us in smithereens.'
Then came the challenge:
'But from a missionary standpoint, they did challenge us when they said: "Do not enter the city because there is a gas in the air that kills for seventy years." It is at such times that one feels most a priest, when one knows that in the city there are 50.000 bodies which, unless they are cremated, will cause a terrible plague. There were, besides, some 120.000 wounded to care for. In light of these facts, a priest cannot remain outside the city just to preserve his life. Of course, when one is told that in the city there is a gas that kills, one must be very determined to ignore that fact and go in. And we did. And we soon began to raise pyramids of bodies and pour fuel on them to set them afire.'
Arrupe then spent years travelling the globe speaking about 'A Planet to Heal'. He became the superior general of the Jesuits and was in that position when I joined the order in 1975. He described the atomic explosion as 'a symbol of our era. It expresses the hope and fear of modern man. Yes, the hope. Hope in the possibilities offered by the discovery of such energy, a standing proof that man is capable of using any and all means within his reach to achieve his ends.
'And fear. For who can guarantee that no nation will unleash an atomic explosion to obtain its political or national ends? Given our experience of man, there can never be a guarantee that atomic bombs will not be used so long as they exist in the arsenals of some countries. The only trustworthy guarantee of their non-use will be their non-existence.'
Just last month, the Jesuit superiors of South East Asia gathered at Nagasaki for a meeting. They visited the Nagasaki Peace Park where they saw the 'Tree of Life: Gift of Peace', a sculpture in bronze by Indigenous Australians, John Turpie and Stephen Harrison from Maralinga, the Aboriginal community in South Australia which was used as a British nuclear test site between 1956 and 1963. Our Department of Foreign Affairs website notes: 'The sculpture stands as a stark reminder of the close ties between Australia and Japan, two nations who have survived firsthand experiences of nuclear weapons, albeit from very different perspectives. The torn, roughly cut tree embodies the post-nuclear landscape of the land on which it sits. A uniquely shaped piti dish, an Aboriginal symbol of peace, with the tree as its donor, perches at the top. The work embodies the resilience of both its donors and its recipients and stands as a symbol of friendship.'
How are we to honour the commitment to peace of these Japanese and Maralinga survivors of nuclear conflagrations unleashed maliciously or negligently last century? We need to renew our commitment to painstaking negotiation of international treaties and agreements designed to ensure peace and security for all, insisting on the dignity and human rights of all. We need to commit ourselves afresh to breaking down the divisions in society and the widening gap between 'the haves' and 'the have nots', whether the divide be income, education, access to the digital revolution, health care, employment, or cultural and religious nourishment. We need to commit ourselves afresh to right relations and reconciliation in our own relationships, families, communities, and neighbourhoods.
In this uncertain era of Brexit, Trump and disruption, we need to take particular account of our commitment to international agreement making, and we need to hold our governments to account. Australia's leading international lawyer James Crawford who is a judge of the International Court of Justice warned us recently: US President Donald 'Trump is obviously challenging the whole post-1945 system as put together by the United States. Trump, for trade and environment has been damaging. In the area of peace and security, his bark has been worse than his bite. But that may not last.'
The world is on the cusp with the uncertain nuclear potential of both Iran and North Korea. Tearing up the Obama administration's agreement with Iran, Trump decried the 2015 Iran nuclear accord as the 'worst deal ever'; 'horrible' and 'one-sided'; a 'major embarrassment'; 'defective at its core'.
Antony Blinken who was one of the chief advisers to Obama on the Iran deal says, 'If Mr. Trump were to abide by his own critique of the Iran pact, any deal with North Korea should eliminate the material, warheads and missiles it already has and, just as important, its ability to produce more — forever. That deal should be verified by an indefinite, intrusive inspections regime. And it should contend with Pyongyang's other egregious activities, like providing weapons and technology to unsavoury regimes like Bashar al-Assad's in Syria and maintaining the world's worst gulag state. In the end, there will be a straightforward test for success: Does Mr. Kim still have nuclear weapons or the means to quickly produce them? Does he retain nuclear-capable missiles or the ability to rapidly reacquire them? Promises to denuclearise won't cut it: North Korea repeatedly has made and broken them before.'
We need to insist on transparency, verifiability, and accountability with all nation states which arrogate to themselves the capacity to develop armaments able to wipe out humanity. What's sauce for the goose has to be sauce for the gander, whether it be Iran or Israel, North Korea or the USA.
We need to further our efforts in seeking international agreement, breaking down the walls of inequality and the borders which deny the human dignity of so many. This year we have the opportunity for the community of nations to sign on to international compacts on migration and on refugees.
In December all governments will have the option of signing on to the Global Compact for Safe, Orderly and Regular Migration. At the moment the Turnbull government is thinking about joining with the Trump Administration and Hungary boycotting the migration compact, all in the name of national sovereignty. The agreement's final draft, released this month, says countries should agree to 'review and revise' laws that sanction irregular entry and allow the use of immigration detention 'as a deterrent'. The compact provides: 'We commit to ensure that any detention in the context of international migration … is carried out by authorised officials, and for the shortest possible period of time.'
In February, Foreign Minister Julie Bishop held a joint press conference with Mr Szijjarto and said Australia and Hungary shared a concern about the pact recognising the importance of national sovereignty. Bishop said, 'The circumstances are quite different, but I think we agree on the issue of sovereignty being paramount.'
In the most recent round of negotiations on this compact, the Holy See submitted; 'All persons, regardless of their migration status, enjoy the same human rights and have the same fundamental freedoms. All States have the obligation to respect, protect and fulfil the human rights of all, without discrimination. While we recognize the sovereign right of States to determine national migration policy and to distinguish between regular and irregular migration status, they must do so in accordance with international law.'
And here we have our government wanting to white ant such a splendid international initiative, articulating ideals which though not legally enforceable provide the language for engagement about the preconditions for peace: the dignity and rights of all persons no matter what side of a national border they may be, and no matter what their nationality.
In his world speaking tours after Hiroshima, Pedro Arrupe often suggested that 'atomic physics confronts us with the limits of the material universe' and then asked, 'When will the day come on which man reaches the final stratum of matter and is able to glimpse as if through a delicate tissue a new reality encased in all being — the divine reality?' He answered:
'On that day, when man discovers through the light of faith God in himself and in his fellowman, and sees that this God does indeed live and is a God of love, wars and violence will cease and hatred will be no more. God will be seen as the cause of true union and human happiness. On that day will be born a new humanity, that of the children of God.'
We are indeed entwined peoples, nationally and internationally. We have become kin. We cannot be selfish or indifferent. Peace is our passion. Peace is our mission. We have a planet to heal. For this we pray this evening. Peace be with you. Amen.
This sermon first appeared in Eureka Street and was initially presented to the Adamstown Uniting  Church ,Newcastle on 5 August 2018
Frank Brennan SJ is the CEO of Catholic Social Services Australia.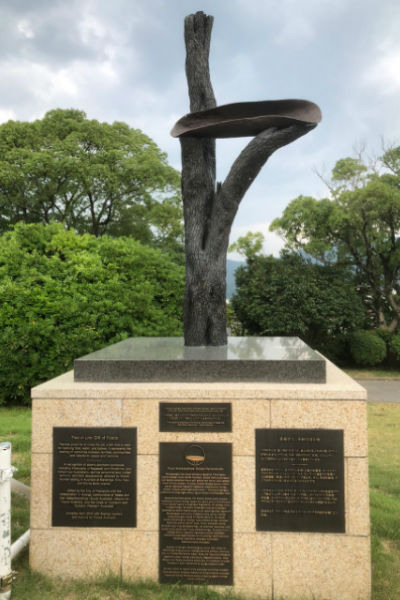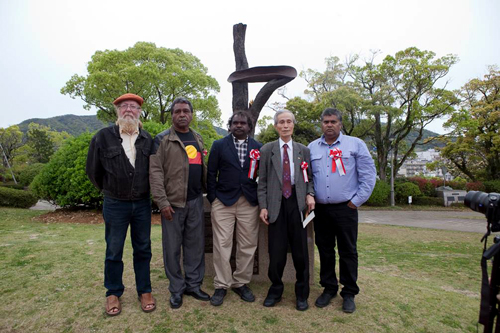 Main images from top: The memorial in the Nagasaki peace park (credit: Brian McCoy SJ); Anangu Artists and Leaders from Yalata, Oak Valley and Maralinga, with Nagasaki Hibakusha (nuclear survivors) representative (credit: Nuclear Futures)