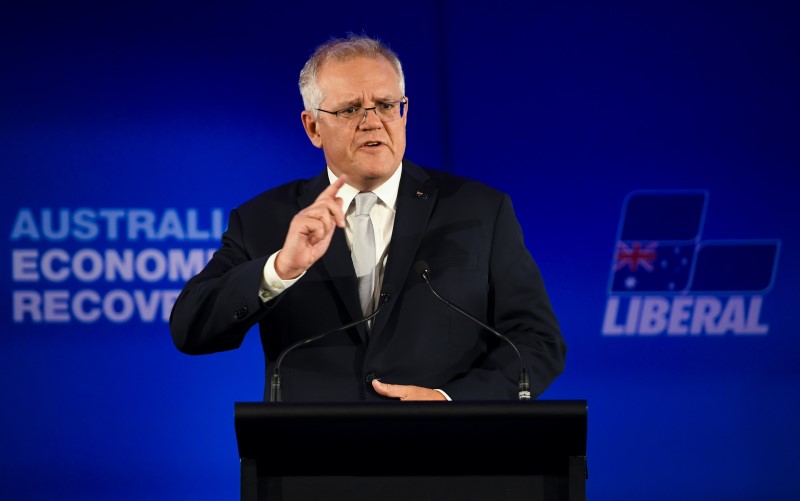 Morrison is always scheming for political advantage, and he rode the wave of anti-vax and anti-lockdown rebellion cynically, until Omicron hit us. 
Scott Morrison and his lieutenants, Josh Frydenberg and Peter Dutton, are betting the house on the Omicron variant being little more than a cold. They have created such a climate of faux "freedom from government" that the premiers of New South Wales and Victoria have blindly followed the flawed rhetoric.
By January 10 we could reap the consequences of ignoring scientific advice, and common sense. Our hospitals could be bursting at the seams.
Daniel Andrews and Dominic Perrottet have been shamed into putting the economy ahead of lives, with their own versions of betraying their own populations, by going along with the most dishonest government ever seen in this country.
Morrison is always scheming for political advantage, and he rode the wave of anti-vax and anti-lockdown rebellion cynically, until Omicron hit us. He dared the premiers to open up, too early, and he has them backed into a game of chicken. Who will blink first?
The AstraZeneca vaccine is about to lose its efficacy against the new variant. The other vaccines are marginally better, but not enough to protect the community. So boosters are strongly recommended.
There are a couple of problems with boosters. The first is that there is a limited supply available, and no adequate supply will arrive in Australia until after the New Year. Considering the monumental mess created by the first (st)rollout, who has faith we will have adequate supplies this time around?
By shortening the time gap between second and third (booster) shots, the number required by eligible people by December 31, rose from 2.3 million to 3.8 million. There are fewer than 1 million doses in the country now, and going by the empty shelves in most stores, international logistical problems will play a big part in whether we get our boosters in time, or not.
Put an executive from Toll in charge, or at least someone who knows about logistics. Not a lightweight politician!
Secondly, Morrison, or Health Minister Greg Hunt perhaps, has reduced the fee payable to pharmacists for delivering vaccines into arms. Pharmacists received $16 per jab when administering the first dose, $26 for the second, and will now drop back to $16 per booster, which is less than the $24 paid to GPs. So pharmacists, who run businesses, not rorts, are pulling out of the program. So we have a shortage of doses, and a shortage of those prepared to deliver them. Some of the squandered cash from JobKeeper might have encouraged the pharmacists.
Morrison in campaign mode is different to Morrison the bad-tempered and "shoot from the mouth" leader of the country. When he sniffs an election he morphs into the "miracle worker" he thought he was in 2019. He plays in the moment, there is no past, just the news cycle and the headlines, day after day after day, until he falls over the line.
This time around you can almost script his response. It will be the fault of logistics organisations, or overseas countries, or the Omicron variant was nastier than he thought, or the AdBlue diesel additive supply ran out, or people were reluctant…
The vulnerable were left till last during the last rollout. Aboriginal communities are even now still getting their first or second doses. Nursing homes and disability residential services have also missed out, as have many of their staff. Imagine what it will be like for them, adding another five months onto their already ridiculous waiting times.
A sobering thought. Even if Omicron proves to be mild, its ferocious transmissibility will probably overwhelm our hospitals, and all classes of patients will be exposed to further delays in their medical treatment. The death toll will rise, and we will have our leaders to blame.
As we head into Christmas it is clear that no mainland Australian politician has the guts or the integrity to tighten up the rules, and to impose whatever limits it takes to keep us all safe. And we will be forced to watch their disgraceful attempts to shift culpability.
In 2019, Morrison gave a speech to the Lowy institute:
As a politician, my instincts and passions have always been domestic. Despite my activity of the past year, I am not one who naturally seeks out summits and international platforms. But as prime minister you must always be directed by the national interest. As has been the case for prime ministers past, so much of Australia's future right now is being shaped by events and relationships beyond our borders.
There is not enough time left this year, or next, to analyse the sheer emptiness and fatuousness contained in the statement above. Verbal fairy floss, spun out of a desperate search for respect, and plausible deniability.
Of course there is a percentage of the electorate which automatically respects the office of prime minister, no matter the quality of the incumbent. But even those trusting souls who believe in the institution of government are about to be betrayed.