South Australia's Labor government has doubled down on its commitment to renewable energy, promising to increase the share of renewables to 75 per cent by 2025 if re-elected at next month's state poll, and announcing plans to install 750MW of "renewable storage" to go with it.
The decision to lift the 2025 target to 75 per cent (it is currently 50 per cent but that level has already been reached) represents by far the most ambitious target by a major grid anywhere in the world.
But it also reflects the extraordinary investment spree that is already taking place in South Australia, with many new large scale wind and solar farms under construction, and several key storage projects, which Labor is now looking to expand with its Australia-first  25 per cent renewable storage target.
"Renewable energy means cheaper power for all South Australians," said Premier Jay Weatherill.
"Our projects with Tesla's Elon Musk have generated global headlines. The world is now looking to South Australia, and we're sending yet another signal to renewable energy leaders that their investment is welcome in our state."
The move may also be designed to turn the upcoming poll into a de-facto referendum on renewable energy, which is popular with voters – more so than Labor itself.
The Opposition Liberal Party has vowed to scrap the state's renewable energy target, even though the target stands in name only because there is actually no state-based mechanism, unlike Victoria. But the intent is there.
Weatherill's vision attracted the predictable mixture of bouquets and brickbats, the latter notably from the Coalition, led by energy minister Josh Frydenberg, who just happened to be in Adelaide. See our story, Frydenberg fumes as Weatherill does the vision thing on renewables and storage.
But the clean energy industry's response was probably best summed up by Bloomberg New Energy Finance chief analyst Kobad Bhavnagri, who tweeted: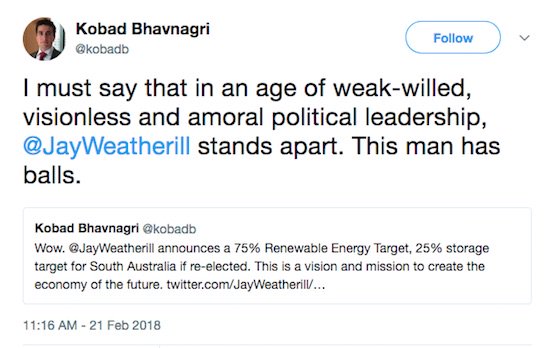 South Australia says it already generates 48.9 per cent of its energy production from renewable energy, although some estimates put the level at slightly above 50 per cent.
This will be boosted with the 220MW Bungala solar farm, the 117MW Tailem Bend solar farm, and the 212MW Lincoln Gap wind farm – all under construction. And there is another 2GW of wind and solar proposed, including by the new owners of the Whyalla steelworks, as well as DP Energy, and others.
"A re-elected Labor Government will increase South Australia's Renewable Energy Target to 75 per cent by 2025, accelerating the transition from fossil fuels to renewable energy to deliver cheaper power for all South Australians," it said in a statement.
"South Australia is leading the world in renewable energy technologies, with the world's biggest battery at Jamestown, the world's biggest solar thermal plant at Port Augusta and the world's biggest Virtual Power Plant," Weatherill added.
Labor's new commitment – to renewables and a storage target – also indicates it will give short shrift to the federal government's proposed National Energy Guarantee, which seeks to impose an emissions and a reliability obligation on to electricity retailers.
The NEG has been criticised because it will not increase emissions reductions targets, at least under the current government, could reinforce the power of incumbent retailers, and could stifle new investment in renewables.. Its details remain vague, but are likely to be highly complex.
Weatherill used the announcement to contrast his position with that of both Opposition Leader Steven Marshall, who wants to scrap any state-based initiatives and whose rhetoric is anti-renewable, and former Senator Nick Xenophon, the leader of SA Best.
The new party, which appears to be matching both Labor and the Coalition in a three-way contest, has yet to release his energy policy. Weatherill focused on Xenophon's past criticism of wind turbines, particularly his claim that wind turbines could give people "brain damage".
In an accompanying statement Treasurer Tom Koutsantonis focused on the increased competition that would come from more renewable energy generation, more batteries and more pumped hydro.
"The Liberal's privatisation of our electricity assets was the worst policy decision in South Australia's history," he said.
"We now have a situation where powerful companies make huge profits from the limited competition in the system, to extract massive profits out of customers for their shareholders."
Local environment groups had urged Labor to go the whole hog and aim for 100 per cent renewables by 2025, but they seemed satisfied by Weatherill's announcement.
"Building more solar, wind and storage is the cleanest and lowest cost way to power South Australian homes and businesses," said Dan Spencer, from Solar Citizens.
"It's fantastic that Premier Weatherill has committed to increasing our state renewable target and funding Australia's first renewable storage target."
See also our story: S.A. Labor commits to 750MW "renewable storage" target
This article first appeared in RenewEconomy