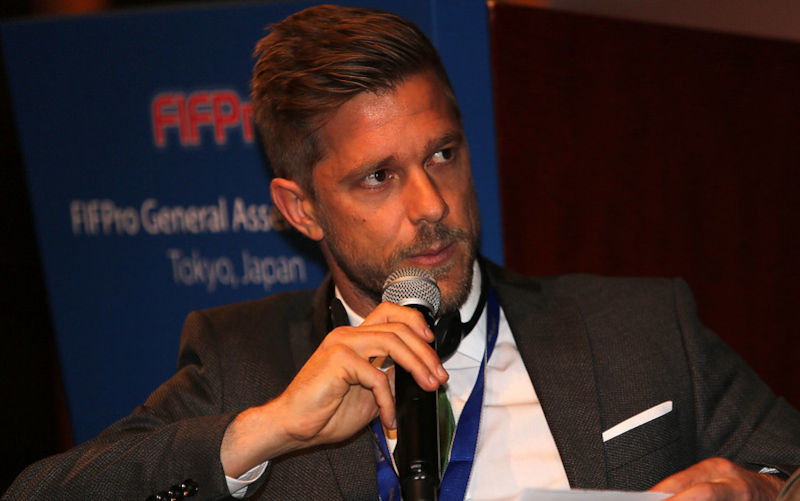 Australians aren't tops for geography, often promoting Bali to nationhood. Likewise, Indonesians shifting Perth to the East Coast. But they can locate Manchester, the gritty industrial centre in northwest England. Curiously that could enliven the equatorial archipelago's yawning (both meanings) relations with its neighbour, as proved in the latest Lowy survey.
'Manchester' remains in our lexicon as household linen, but in Indonesia, it's synonymous with soccer.
In a country where it's badly played but furiously followed, games in distant Europe can score front-page coverage, capping inflation, natural disasters and corruption scandals.
Indonesian shops sell overseas club paraphernalia stencilled with the logos of English Premier League teams. It's wanted wear.
Connecting with that enthusiasm through 'sports diplomacy' could waken the she'll-be-right relationship. However the Australian Embassy in Jakarta and the Department of Foreign Affairs and Trade concentrate on the STDs – Security, Trade, and Defence. All important, but have no emotional impact on ordinary folk.
In Indonesia, there's no separation of sport, state and politics. Soccer is a conduit to the top. President Joko Widodo's youngest son Kaesang Pangarep has bought Persis Solo with Erick Thohir, the Minister for State-Owned Enterprises.
The US-educated Thohir, who is also into TV and print, used to hold a majority stake in Italy's Inter Milan and shares in US outfits. Entrepreneur cum media tycoon Raffi Ahmad owns Rans Cilegon FC – E-Sports and a basketball team.
Despite this clout Indonesia is 159 in the Fédération Internationale de Football Association (FIFA) men's world rankings – Australia is 42nd. The world game is dominated by Europeans and South Americans.
'Sports diplomacy' sounds woke but it's recognised by DFAT with a strategy of the same name – a 24-page document taking us to 2030. Indonesia gets just one mention; it seems the goal is to keep Pacific Islanders playing with Aussies and not signing up with Beijing.
While we're looking east the Brits have invaded the Indonesian pitch. An international co-ed school has started running soccer classes with Manchester City.
The British School Jakarta has around 1300 students from 63 countries. Kids don't get onto the sumptuous 14-hectare campus if their parents aren't in the Croesus class.
The median salary in Indonesia is Rp 12 million (AUD 120) a month, but the stats don't reveal a bell-shaped curve, more a near-flat line with a sharp spike at one end. The minimal monthly wage in Jakarta is almost Rp 4.5 million (AUD 416), but anecdotally many are paid less.
Oxfam Research shows the four richest men in Indonesia own as much wealth as the country's poorest 100 million citizens.
BSJ's term fees rise to Rp 124 million (AUD 11,500), plus Rp 5,750,000 (AUD 535) for 13 coaching sessions.
While the golden kids are dashing across the school's five full-sized football fields guided by coach Chris McCarthy who spent 12 years with MC, millions of barefoot hopefuls across 6,000 islands are kicking plastic balls on narrow potholed roads with thongs as goalposts.
It's not known if BSJ is offering scholarships to the talented poor as it didn't respond to queries, but there are other opportunities on offer. The Arsenal Foundation with the Save the Children Fund runs Coaching for Life 'to improve the lives of children and in particular girls, in Jakarta.'
The Italians opened their Inter Academy with a permanent coach in 2018 in Bandung (West Java) – a deal involving Internazionale Milano. Other foreign clubs, including Manchester United, have run occasional schools.
Australian businessfolk trying to hit it off with their Indonesian counterparts should get a selfie with Robbie Gaspar and flash it during negotiations. Flicking through pics of Ambassador Penny Williams, Trade Minister Dan Tehan or Foreign Minister Marise Payne will excite no reaction, but Gaspar's grin can help unclip pens from pockets.
Perth-born Gaspar was the first Australian to play professionally in Indonesia, and did so for almost eight years, including with the prestigious Persib Bandung. He became a household name not just through his skill as a midfielder; he speaks Indonesian fluently and is at ease in a culture where personality counts for everything.
A few academics who understand the realities are starting to rethink the 17th century model of diplomacy – suave polyglots playing word games in private suites. Last month Monash University's Herb Feith Indonesian Engagement Centre ran a forum on statecraft using the osmosis of raucous crowds at public events, with Gaspar as the drawcard and this preamble:
'This immense passion for sport in Indonesia offers Australia a valuable platform to build long-lasting people-to-people links by breaking through cultural misunderstandings and leveraging our sporting interests, associated social values, and geographical location.'
Indonesian fans' dedication hasn't been matched by management. Disputes over who ran the game led to FIFA booting the national team out of the joint 2018 World Cup and 2019 Asian Cup qualifiers.
Gaspar reckons some club owners are frustrated footballers who see players as hobbyists undeserving of respect, proper pay, rests after long trips and good tucker. So he became an advisor to the players' union, FIFPro Asia, further enhancing his appeal and offering a better image than the paunchy boozers in Kuta that Indonesians recognise.
Since retiring Gaspar, 41, who has a post-grad degree in International Relations and is a director of the Indonesia Institute, lobbies for sports diplomacy to be treated seriously. He's kicking into the wind. The last burst of enthusiasm from the Embassy was in 2008 when the Ambassador barracked at a game between WA and East Java.
At the time Bill Farmer said the right things – 'playing sport together is a great opportunity to foster a spirit of friendship between our countries', then returned to selling wheat and thwarting people smugglers, as though DFAT can't juggle many balls at the same time.
Gaspar can and is tackling DFAT with ideas, including working with the Indonesian Women's National Team and the FIFA U20 World Cup. Indonesia will be hosting next year with games across Java and Bali:
'Here's a great opportunity for us to work with Indonesia with coach education, sports science and e-sports. Setting up programs in leadership, health and wellbeing, stressing the importance of exercise, healthy eating and less screen time. Also, educating the parents, which I think is the most critical part.
'Governments are fine with handshakes but little happens later. This has to change; we can make it change. Playing sport together is a great opportunity to foster a spirit of friendship between our countries.'
And here's proof from a South China Morning Post report this January:
'Australia women's captain Sam Kerr was mobbed by excited Indonesian players despite them suffering an 18-0 demolition in their AFC Asian Cup group opener in Mumbai.'
The story included 'a wholesome photo' of winners and losers sharing joy of the game. Not a caption applied to ministers' line-ups following a round of legacy diplomacy.