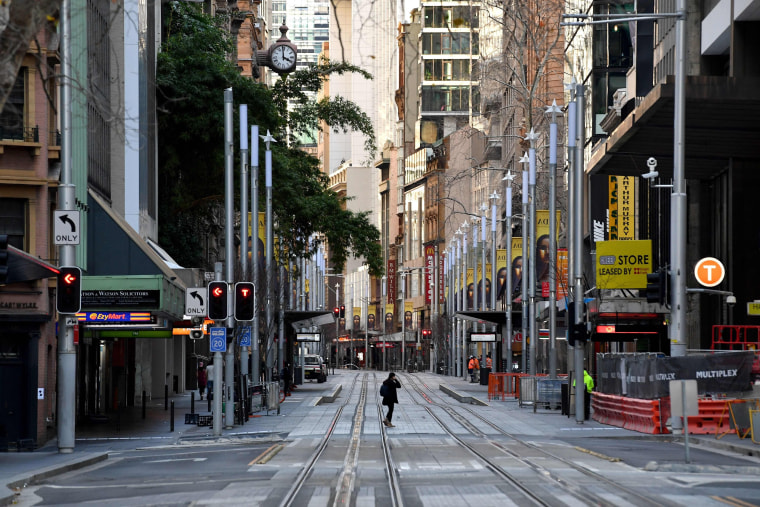 Intransigence is experienced by many of us daily. It may even dominate our own emotional repertoire. Now, though, as NSW Premier Gladys Berejiklian announces rising Covid infections and accumulating deaths, this unhelpful trait seems increasingly endangering.
Wherever it is displayed, intransigence should not be mistaken for strength of mind or purpose. Nor is it an admirable quality in anyone who wishes to lead effectively. In a public crisis, it's essential that a leader can question their favoured assumptions and perspective. This is particularly so in the tense struggle between familiar economic priorities and less familiar prioritisation of community and individual health.
Most of what follows here was written in January of this year.  Premier Berejiklian and her Health Minister, Brad Hazzard, had survived the 2020 Ruby Princess debacle (900 Covid cases; 28 deaths) despite a report that "…[NSW] state health officials made 'inexcusable', 'inexplicable' and 'serious mistakes' in the Ruby Princess handling."
We did not then know that what could arguably be called their "Gold Standard" complacency, richly spiced with self-congratulation, could lead in June 2021 to an unvaccinated, mask-less airport driver being permitted to pick up US air crew from Sydney airport, inadvertently bringing into Sydney the truly frightening Delta strain of Covid19.
The Bondi cluster within days became NSW's biggest to date.  But despite the evidence of Delta's reach, on 30 June Berejiklian stated, "…the health advice has been on the money…"  Bathed in that confidence, the "go hard, go fast" measures that Victoria, in particular, learned the most painful way, were largely ignored by the NSW Premier.
 Berejiklian is, above everything, a Liberal. Individual "freedoms" rather than the common good; support for business at almost any cost; "development" trumping environment; hard work overcoming structural disadvantage: these are the shibboleths she lives by. Without Covid, and with increasing cynicism about governments' behaviour, she might have survived… But now?  As the remarks below from eight months ago attempt to show, those Liberal/libertarian traits seem increasingly unsound. In some cases, along with the intransigence that drives them, they will be fatal.
Where intransigence comes from – as well as what it leads to – is a depth of satisfaction with your own perceptions that shuts you off from new or potentially more convincing information. It's a version of stonewalling, an aggressive/defensive insistence on one's own perspective that silences the most reasonable of differences. "It's my way or the highway," cuts all parties off from a simple mutuality based on empathy, interest and respect.
In 2020 we saw the extreme illogic that intransigence fosters (and festers) in some of our least adroit politicians, especially those Federally stridently supporting narrow vested rather than national, global or plain common-sense interests. This had significant effects on what's come to be called the "vaccine stroll-out", with Australia ranked 35/38 OECD nations as at 11 August.
Barely more surprisingly, we saw endangering examples of intransigence in State politicians like Michael O'Brien, Victorian Liberal leader whose behaviour during the painful but resoundingly successful Victorian lockdown was worse than undermining, particularly when it was raucously amplified by the Sky-after-dark crowd and print journalists who themselves favoured propaganda over enquiry.
More worrying because she has far more power, we also saw emerging patterns of strikingly unhelpful intransigence in the Premier of New South Wales. Yet Gladys Berejiklian's embrace of science and medical evidence has long been subjective and conditional.
The prolonged grief and frustration of those who begged her to shift on pill testing to save the lives of young Australians is on the public record. Despite this, in October 2019, Berejiklian dismissed a coronial investigation urging pill testing at music festivals and the like on the basis that it, "gives people a false sense of security".
That's her opinion and she's entitled to it. Dangers multiply when she extrapolates from her limited expertise and, as the most powerful person in the most populated State in Australia, imposes that on the rest of us.
She's displayed intransigence, too, in other areas of her private thinking and public performance. Keeping on a dodgy visa-salesman lover after he was already politically compromised seems odd, particularly when she would later claim he was no one important to her. Pulling down a serviceable multi-million-dollar stadium when it can't be rebuilt without unaffordable cost, turning much of Greater Sydney into Road Toll Central benefitting private capital, defending indefensible vote-buying to the tune of quarter of a billion dollars, destroying not just evidence of that but also, and far worse, precious native habitat even while her State remains socially and environmentally scarred from bushfires, failing repeatedly on addressing the iCare scandals or tackling or reducing homelessness and food and housing insecurity: this all shows an adherence to ideology, rather than a careful reading of public needs or responses.
Is such intransigence driven by ideology? Perhaps. And perhaps primarily. But it is also a character weakness. Or perhaps a failing of emotional literacy.
Observing Berejiklian's body language, it seems she does allow herself a degree of uncertainty that many of her Federal colleagues do not. Bathed in self-righteousness, they evade accountability, even scrutiny, invariably finding someone else to blame. Berejiklian's behaviour is less aggressively defensive, and that's relieving.
However, when it came to her January 2021 handling of what was then NSW's largest Covid-19 outbreak, the consequences of her "stuck-ness" were significant nationally. Her now-familiar cries of working from the "best health advice available", while ignoring the pleas of Australia's leading epidemiologists to mandate masks and end all large public events without exception, were worse than frustrating. They were then, and are now, endangering.
A day or so before Berejiklian had "pivoted" on the masks issue, Melbourne specialist and former AMA Vice-President, Dr Stephen Parnis, surely spoke for many Victorians when he wrote on Twitter: "…It beggars belief after all we have learned & endured that NSW is still not going harder in suppressing the current outbreak. You don't play games with #COVID19Aus." You don't either play games with Delta. But that, then, lay in the frightening future.
Political veteran Bruce Hawker commented in January, again on Twitter: "The slow moving @GladysB mob have allowed this virus to spread from quarantine to Avalon to Wollongong to Croydon to Berala to Queensland and Victoria…Masks have been mandated 3 weeks after the outbreak. Too little too late."
We knew then that when Premier Daniel Andrews mandated masks in Victoria, their use went up from 43 per cent to almost 97 per cent. Berejiklian, though, spoke repeatedly of not "adding a burden" by mandating masks. Yet the burden was felt nationally as hard borders returned, as family plans fell apart, as front-line health workers were again at greater risk, and as the misery of grave uncertainty was spun out rather than faced honestly and dealt with.
In August, 2021, NSW has a Premier still unwilling to mandate masks effectively – or to give out high quality masks free to citizens of all ages, as advocated by epidemiologist and health economist, Dr Eric Feigl-Ding. She is still equivocating about shutting down Greater Sydney effectively. She's still failing to offer clarity and support about public health measures that must, must co-exist with a still-faltering supply of vaccines.
Back in January, in the Northern Territory, strong, informed Indigenous leadership, especially from Patricia Turner of the National Aboriginal Community Controlled Health Organisation (NACCHO), saw the nation's most vulnerable so successfully protected that life could seem confusingly "normal", other than a credible fear of what might still come from the only State where the Premier remained "unconvinced" for far too long about those most basic protections. They continue to be needed, for the nation's sake.
What's also needed from the NSW Premier is the openness of mind it takes to follow a braver direction – even when it means defying her own claim: "I've always been very determined to do things my own way and people can expect that from me."