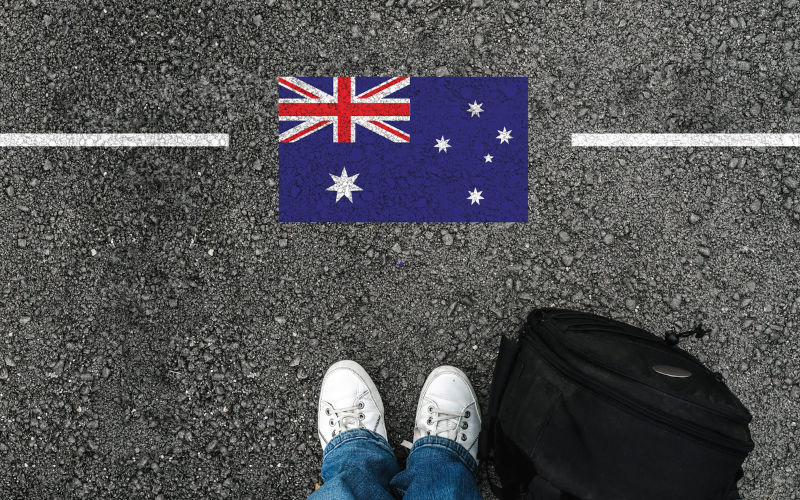 Primary level asylum applications fell marginally in September 2023 to 2,005 from a post-pandemic peak of 2,164 in August 2023. With the Government having announced a $160 million package to get the asylum system back under some control, can we now expect primary level asylum applications to have peaked?
After the labour trafficking scam abusing the asylum system from 2015-2019 that created the current problem, primary asylum applications fell while international borders were closed. The re-opening of international borders saw asylum applications again steadily rise (see Chart 1), with many taking advantage of the massive backlog and slow processing times.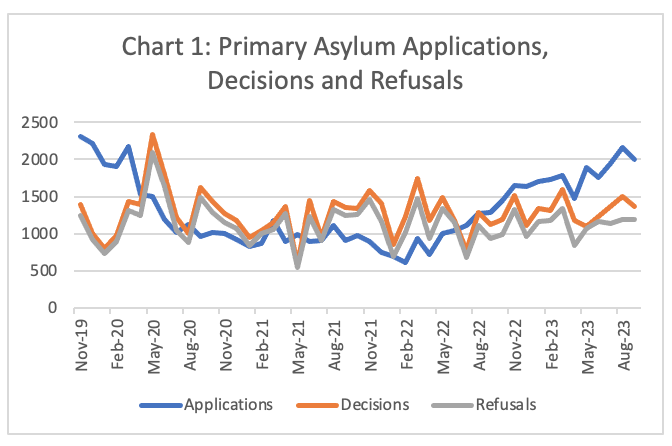 While primary asylum applications in September 2023 fell, the number of decisions made also fell from 1,507 in August 2023 to 1,371 in September 2023. That is not good as the Government should be targeting around 3,000 asylum decisions per month to start making significant in-roads into the backlog.
The key feature of processing in September 2023 was a large increase in processing of asylum applications from Myanmar nationals (104 with an approval rate of 99.05 percent) as well as processing of asylum applications from Timor Leste (175 with a zero approval rate), Vanuatu (96 with a zero approval rate), Tonga (82 with a zero approval rate), Fiji (66 with a 1.1 percent approval rate), Solomon Islands (47 with a zero approval rate) and Samoa (38 with a zero approval rate).
This highlights the Government's dual strategy of targeting those parts of the caseload where rapid approvals can be made as well as those parts of the caseload where there is a large number of unmeritorious applications. The Government is clearly intent on discouraging unmeritorious applications from nations participating in the Pacific Australia Labour Mobility (PALM) Scheme. The Governments of those nations will not be happy about the high rate of asylum applications from their nationals.
Unfortunately, the poor design of the PALM visa and the new permanent residence Pacific Engagement Visa (PEV) is not helping. Very few PALM visa holders can expect to get a PEV and hence will continue to look at an asylum application as the best way to run away from exploitative employers and retain a lawful status with work rights.
It is highly likely the Government will in coming months target rapid processing of new applications from Vanuatu, Tonga, Fiji, PNG, Solomon Islands and Samoa. In the period since November 2019, there have been well over 8,000 primary level asylum applications from Pacific Island nationals with the current application rate at well over 300 per month.
Asylum applications to the AAT from Pacific Island nationals is also now rising rapidly.
Another area of emerging concern in terms of unmeritorious applications is Vietnam which in September 2023 hit a record monthly high of 352. Only 86 primary asylum applications from Vietnam were processed in September 2023 with a zero approval rate.
Reducing the rate of unmeritorious primary asylum applications is only a small part of the needed strategy. The Government also needs to ensure there is a similar processing strategy at the AAT, accompanied by a targeted increase in removals.
But there is a long way to go with this as the total number of asylum seekers in Australia at end September 2023 was 105,631 with 29,769 at the primary stage, 41,374 at the AAT and another 34,488 having been refused at both the primary and AAT stages but still living in the community.
The hardest part of the strategy is removals which are likely to increase only very slowly and from a very low base (see Chart 2).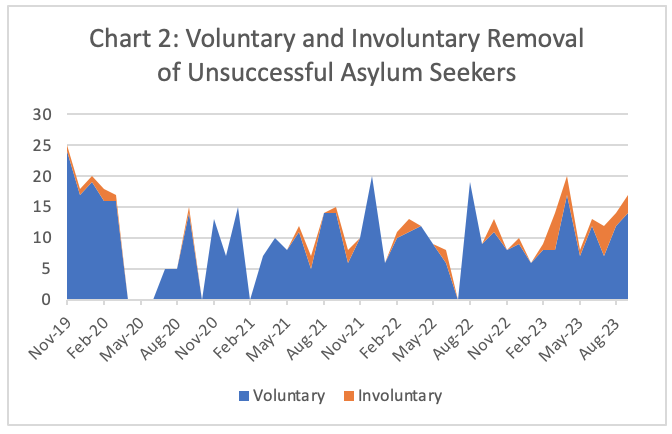 Despite allocation of an additional $50 million over four years for immigration compliance and return of this function to the immigration area of the Department of Home Affairs and out of Australian Border Force (where it was a very low priority despite the Dutton/Pezzullo rhetoric), there simply aren't enough resources for the significant increase in removals that is required.
This will mean the number of unsuccessful asylum seekers living in the shadows of the Australian community and subject to ongoing exploitation will continue to rise.