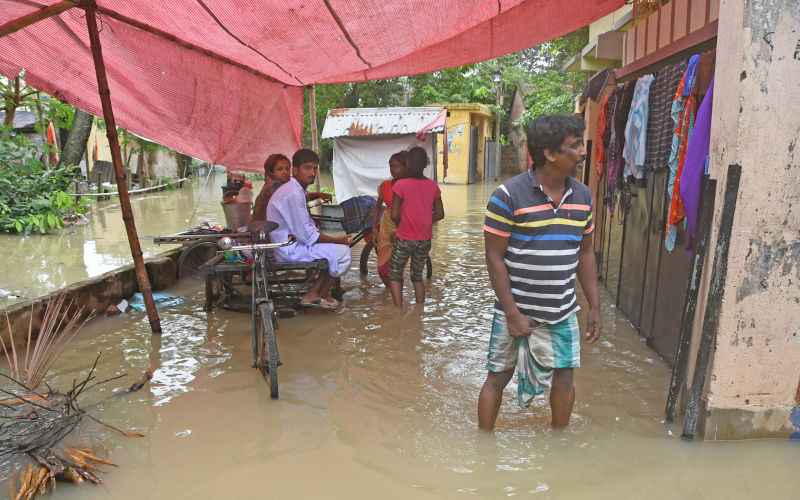 In Asian media this week: Urban poor the worst climate victims. Plus: Pakistan goes to the polls, without Imran Khan; China blocks Philippine ships near Spratly shoal; Alliance changing Asia-Pacific peace and stability; International currency changes on BRICS agenda; Barbenheimer memes not harmless fun.
Climate change – its differing and devastating effects and concerns about how to mitigate them – has been prominent, if not dominant, in Asian media.
Stories and images of heatwaves and floods recur but India's The Hindu newspaper offers a reminder that those who lives are most damaged by climate disasters are the urban poor.
"Households in urban areas, particularly in less developed parts of a city such as slums and urban settlement colonies, are likely to be the most vulnerable groups," a commentary in the paper says.
As people struggle to get back to life after floods, there is another looming challenge: water and vector-borne diseases, such as typhoid, cholera, dysentery, leptospirosis, malaria and dengue fever.
Bangkok Post also focuses on South Asia. This is an expansive region of more than a billion and a half souls, says a feature article.
"As downpours, droughts and scorching temperatures become recurrent nightmares, this area nestled between the Hindu Kush and the Himalayas faces vulnerability on an unprecedented scale," the article says.
Closer to home, the paper reports on an unusually prolonged period of water crises in Thailand. "Dry seasons are becoming longer and drier, while the rainy seasons are shorter but with more intense rainfall," an article says.
"This oscillating pattern of droughts and floods has become harder to predict and is causing more serious impacts."
In South Korea, the papers report on how heat and rain ruined the World Scout Jamboree, attended by teenagers from more than 150 countries. The Korea Times says the jamboree was held on a huge land reclamation project that became, at first, a vast sunbaked site. According to the organisers, as many as 400 heat-related illnesses were reported.
The area had also been flooded by heavy rainfall. It was described by one British scout as looking like Shrek's swamp.
The Korea Herald reports the site Scouts had limited shade to protect against the unrelenting heat. Scouts from Singapore, Britain and the US left early.
The remaining scouts followed shortly afterwards, as a typhoon approached.
An opinion piece in The Korea Times says a seemingly irreversible climate crisis is unfolding globally. The article, by Kim Won-soo, a former UN under-secretary-general, says this imposes injustice in two ways: between rich and poor countries and between generations.
South Korea, he says, is listed as one of the main climate villains. "It is time for Korea to make decisive changes to its climate policy," Kim says. "They are needed not only for Korea's self-interest in mitigating fast-rising climate risks but also for its international reputation."
The sentiment is echoed by an editorial in The Asahi Shimbun newspaper. Japan, it says, has just had the hottest July on record. Scientists have shown this northern summer's heatwaves would have been virtually impossible without global warming.
Japan urgently needs effective systems to store power generated by clean energy and to boost the capacity of transmission and distribution networks, the editorial says. "All-out efforts should be made to ensure rapid expansion of renewable energy," it says.
Hong Kong's South China Morning Post reports on the floods the followed a long summer heatwave in northern China, bringing the heaviest rainfall in 140 years. A Chinese climate expert is quoted as describing the increasingly frequent weather events as nature's revenge on humanity.
The massive flooding has exposed the gap between Beijing's vision of becoming a world city and the reality, the SCMP report says.
There has been widespread public anger, it says, over the official response to the disaster – human error, poor rescue and relief efforts and the diversion of floodwaters to protect Beijing and Tianjin. Flood storage zones were opened to serve as a moat for the capital.
China Daily, an official newspaper, says Hebei province, which encloses Beijing and Tianjin on three sides, diverted 1.8 billion cubic metres of water to flood retention basins. The law requires regions that benefit directly from flood retention to pay compensation.
"While flood diversion plays a vital role in safeguarding larger cities… such actions must be accompanied by effective compensation mechanisms," the paper says.
SCMP carries a strongly worded commentary by University of Hong Kong astrophysicist Quentin Parker. He says he felt a mixture of incredulity, fear, anger and despondency when he read that winter temperatures in South America were higher than those usually recorded in the northern summer.
"We keep hearing about the latest climate extremes as a 'wake-up call'," Parker writes. "There have been many wake-up calls lately… that I am surprised we can get any sleep at all."
Imran Khan arrested, convicted, imprisoned, disqualified
Pakistan is to go to the polls soon but the elections will take place without former prime minister Imran Khan, who was arrested last week and imprisoned for three years on corruption charges.
Dawn newspaper reported Khan was automatically disqualified from holding public office for five years after being found guilty of concealing gifts he had received. The Islamabad court ruled that his dishonesty had been established beyond doubt.
Pakistan President Arif Alvi dissolved the National Assembly on Wednesday. The national elections are due by November but might be delayed by the need to process the results of the latest census, Dawn said.
The Hindu newspaper said Khan was being held in a small, bug-infested cell with an open washroom in a high-security prison.
It quoted his attorney, Naeem Haider Panjotha, as saying Khan had been provided with C-class facilities.
In an editorial, The Hindu said the legal battle Khan faced was formidable but he was hardly the first Pakistani prime minister to face prison time and disqualification. When Khan was in office, his government pursued former prime ministers and other opposition figures. All arrested appeared to follow problems with Pakistan's powerful military.
Khan's arrest and conviction in the latest case did not lead to mass protests. This showed how effectively the establishment silence public opposition.
Author and journalist Zahid Hussain said in a commentary in Dawn the politics of confrontation and revenge had shrunk Pakistan's democratic space.
"It is yet another episode of 'from power to prison', a tragicomedy long played on Pakistan's political stage," he said. "[Khan], too, has been charged with corruption, like his predecessors. It is irrelevant whether one is guilty or not; the 'monster' has to be culled."
David-v-Goliath in South China Sea stand-off
China has challenged the Philippines in the South China Sea, demanding that it remove a grounded navy ship from a reef in the Spratly Islands.
Last weekend, China fired water cannon at Philippine ships supplying troops there.
The reef, known as Second Thomas Shoal but which the Philippines calls the Ayungin Shoal and China calls Renai, is controlled by Manila but falls within the area that China claims. In 1999, the Philippines grounded an old warship there, to assert its control.
Hong Kong's South China Morning Post said Chinese coastguard ships fired water cannon to try to block Philippine ships. China said it used water cannon as a warning, to avoid collisions that might be caused by direct blocking.
It urged the Philippines to remove the warship but Manila said it would not leave.
"We will never abandon Ayungin Shoal," National Security spokesman Jonathan Malaya said.
Singapore's The Straits Times, said eight Chinese vessels fired water cannon at two small supply boats and two coastguard escorts. It quoted Malaya as saying the encounter constituted a blockade.
"This was a concerted effort wherein our ships were effectively corralled," he said. "So, this was like a David versus Goliath situation."
The Philippine foreign ministry summoned Chinese ambassador Huang Xilian to deliver a formal protest. The paper said this was the 35th protest Manila had filed against China this year for aggressive actions in the region. Since 2020, it had filed 445 protests.
Global Times, one of Beijing's official English-language papers, said the Philippines had promised to tow away the grounded warship but instead had tried to repair and reinforce it for permanent occupation.
"The Philippine vessel has been grounded for 24 years and suddenly became an issue when the US seeks a stronger presence in the region," the paper said.
Frontline base for Washington's aggressive stance
Australia and the US are set to change drastically the balance of peace and stability in the Asia-Pacific, says an article in Hong Kong's South China Morning Post. This is clear from the recent AUSMIN defence and foreign policy meeting in Brisbane.
Foreign affairs commentator Imran Khalid said the concern flowed from the US pledge to boost troop rotations at Australian bases and nuclear submarine visits to Australian ports, plus its agreement to help Australia make guided missiles.
There was no doubt Australia had become Washington's preferred Asia-Pacific partner in countering Chinese influence, Khalid said.
"Ironically, while Australia has not encountered a genuine external threat for many decades, it has been involved in nearly every US-initiated war overseas," he said.
"This raises concerns about its habitual support for American adventurism.
"By serving as a frontline base for Washington's aggressive stance towards China, Australia seems to be tethering itself to a volatile path and placing the lit fuse in the hands of American policymakers."
Currency system should serve emerging economies' interests
The BRICS grouping is to hold a summit meeting in South Africa later this month and a prime topic will be developing alternative payment systems to the US dollar.
In an article published in China Daily, an official English-language newspaper, consultant Dan Steinbock says the international currency debate is one reason for the Global South's rising interest in BRICS (a bloc consisting of Brazil, Russia, India, China and South Africa).
Steinbock, head of a firm called Difference Group and an advocate of a multipolar world, says much of the world's trade is settled in US dollars and central banks have a big share of their reserves in dollar assets.
"The assumption [has been] that, a bit like diamonds, the US dollar is forever," he writes. "In reality, no dominant reserve currency has had an indefinite life-span."
US Treasury Secretary Janet Yellen had said there was no alternative to the dollar-based monetary system. "Similarly, the British, too, touted the blessings of their sterling pound until 1914," he says. "That primacy ended with the overstretch of the UK economy in 1945."
Some 22 countries have applied to join BRICS and a similar number have expressed interest informally, he says. The growth of BRICS would make possible the network effects that would be crucial to setting up an alternative global financial system.
The goal, Steinbock says, is not to eliminate the dollar. Rather, it is to diversify.
"Global currency arrangements must not just [suit] the interests of Americans," he says. "[They] must also reflect the aspiration of the multipolar world economy in which global growth prospects are driven by the large emerging economies."
Americans ignorant about atomic war
Two very different movies – Barbie and Oppenheimer – were released on the same day in the US. The films have been joined together in the popular imagination as Barbenheimer, with moviegoers expressing what they think is humour by seeing both on the one day. Internet jokes and memes, with some showing Barbie and Oppenheimer against a backdrop of atomic explosions, have gone viral.
All good harmless fun? No, says American historian Don Carleton.
Writing in The Japan Times, Carleton says: "The resulting satire had led to deep offence and anger among Japanese."
Carleton noted the Warner Bros had issued an apology after an official US social media account had reacted positively to a Barbenheimer meme.
"These memes aren't harmless fun because atomic bombs are never harmless," he said.
"The Barbenheimer trend … glosses over the tragedy at the core of Oppenheimer and points to the fact that few Americans have ever fully grappled with the enormous devastation of atomic bombings."
If you liked this article you might consider making a contribution to the growth of Pearls and Irritations.
Choose from a regular contribution or make your one off donation here.