For more than nine years, Helen Coonan has been a non-executive director of Crown. More than enough time to get wise about this criminal organisation, one would have thought.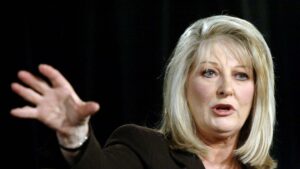 Helen Coonan is still hanging out with maneaters. The last time I saw her was in a lodge in Kenya. Honey blonde coiffure, marvellously tailored safari suit, ready for the maneaters of the Serengeti. 
Fast forward to the present. This time it is management sleaze at Sydney Crown. Patricia Bergin found that Crown is currently "not suitable" to hold a licence, despite having already built a $2.2 billion complex in Sydney's Barangaroo precinct, with the easy expectation that rolls with big money, that the jewel would be the Crown Casino on the top floor. 
Bergin leaves no stone unturned in her pursuit of law breakers. She exposed shocking corruption at the highest levels of the NSW RSL.
Inexplicably, Bergin left one stone unturned in her Crown investigation. 
For more than nine years, since December 2011, Coonan has been a non-executive director of Crown. More than enough time to get wise about this criminal organisation, one would have thought.
She was a member or former chair of Crown Resorts Foundation Limited, the Corporate Responsibility Committee, the Finance Committee, the Audit & Corporate Governance Committee, and the Brand Committee. Since January 2020 she has been Crown's chair. She was, in other words, an active executive. One can see her rushing from one committee to another with big bundles of documents and reports.
Yet she was suspiciously vacuous in her testimony to the Bergin Inquiry.  
Inquiry: Were you aware, in the period up to the China arrests that neither Crown Resorts nor any subsidiary had any licence or permission from the Chinese authorities to conduct any business activities in China?
Coonan:   No.

Inquiry: Was it you're understanding up to the China arrests that Crown Resorts did not, in fact, have any offices in China?
Coonan: No, I didn't have any knowledge of that.
Inquiry: And were you aware, prior to the China arrests, that this unofficial office contained computers, customer information and gifts and was used to process visa applications for VIP gamblers from all over China?
Coonan: No
Inquiry: Were you ever informed, at any time up to the China arrests, that the staff in China were expressing fears for their safety?
Coonan: Sadly, not.
Inquiry: Were you otherwise aware, at the time of Mr Packer's resignation in December 2015, that he'd made threats to a businessman in the context of the proposed privatisation of Crown Resorts?
Coonan: No. No. But I did know that there are times when he wasn't well.
These questions could have been asked of the cleaners at Crown and the same answers would have ensued. But Coonan was the chair, at the top. She used the old corporate chestnut to explain her operational ignorance. Senior managers below the board did not "escalate" matters, preferring to deal with them on the ground. Why Coonan rarely adopted a proactive search for information held by her managers could be associated with her busy corporate life. Maybe she just did not have time to fully exercise her responsibilities. 
As well a Crown Chair, Coonan is presently the Chair of the Australian Financial Complaints Authority; the Minerals Council of Australia; the Advisory Committee of Placemaking NSW; Supervised Investments Australia Limited; and GRACosway (a subsidiary of the Clemenger Group). She has previously served as a non-executive director of Snowy Hydro Limited and as the Chair of HGL Limited. 
Irrespective as to whether these are titular or substantive appointments, Coonan's leadership style requires total dependence on advice for below. So, when the guano hit the fan at Crown, Coonan had to come out fighting to downsize the accusations. Something she is more careful about now in this post-Bergin environment. 
On 27 March 2019, Coonan, as Chair of the Australian Financial Complaints Authority, said:
"Poor culture in financial institutions has been fingered as the main culprit that permitted a slew of bad practices, appalling treatment of consumers and small businesses and, in many cases, arrogant indifference to regulatory and compliance risk."
Crown chair Helen Coonan conflicted in role of ombudsman chair
That was followed by an interesting exchange at the Bergin Inquiry,
Inquiry: Can't this very same comment be applied to Crown Resorts in the lead-up to the media allegations made in July of 2019?
Coonan: I don't think we've ever given appalling treatment to consumers or small businesses, many of whom use our services. And arrogant indifference to regulatory and compliance risk; I think there were some shortcomings.  I certainly wouldn't describe it as arrogant indifference.
The media allegations referred to a joint investigation by the Sydney Morning Herald, The Age, and 60 Minutes that concluded Crown was turning a blind eye to money laundering and exploiting weaknesses in Australia's visa system, to fly in Chinese high rollers without appropriate vetting. Eighteen months later Bergin would vouch for the voracity of these allegations. 
Coonan and the Crown Board fought against the allegations at the time. It composed a defensive ad but The Age and The Sydney Morning Herald refused to run it. 
On Coonan's watch:
Crown paid a member of a criminal syndicate $200,000 to arrange junkets of high rollers from China, where gambling casinos are banned

Macau based Sun City Junket, the world's largest recruiter of Chinese high roller gamblers, continued to be a major partner with Crown. Intelligence reports refer to Sun City as posing "tangible and well as reputational risk".

James Packer remotely manoeuvred many aspects of Crown operations, despite not being on the Board. Bergin said Packers involvement had "disastrous consequences" for Crown.
Coonan must go. If there is to be any chance of reform at Crown, and that's a big "if", then she should follow James Packer, Ken Barton, Guy Jalland, and Michael Johnston, Andrew Demetriou, and, if Independent Liquor and Gaming Authority chairman Philip Crawford gets his way, Harold Mitchell and John Poynton, to the door.