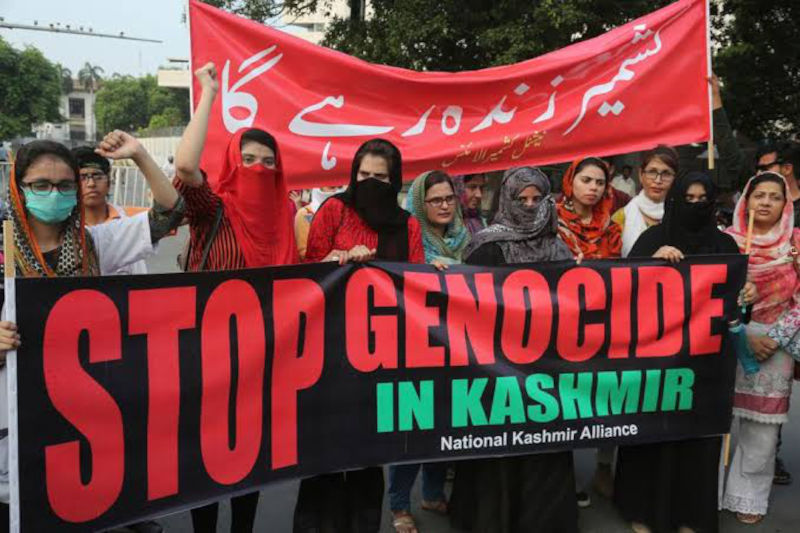 The people of Jammu-Kashmir are at a critical juncture in their struggle for justice. Despite the fact that they live in the most militarised region on earth, experience shocking human rights abuses, and have been given a genocide warning by Genocide Watch, few Western countries have acted.  It's time for the Australian government to speak up about the crimes of the Modi government.
It is just over 1000 days since Prime Minister Narendra Modi spoke to the people of India about why his government unilaterally repealed sections of the nation's constitution to end the limited autonomy Jammu-Kashmir had won.
Modi spoke of "a bright future ahead" for Jammu-Kashmir. He emphasised that these changes would ensure the region reaped the benefits of "development" – a word that he used 11 times in his speech.
Three years after this speech was given, the evidence is overwhelming that what is happening in Jammu-Kashmir is one more example of the ugly policy of Hindutva currently being enforced across India by the governing Bharatiya Janata Party.
Hindutva is an exclusionary ideology promoted by extremist Hindus. In India and in Australia there are numerous examples of how proponents use hate speech and violence in their quest for a Hindu only society. Hindutva is not Hinduism.
It is widely understood that Jammu-Kashmir has been targeted by the Modi forces as it is the only state that has a majority Muslim population.
Modi's speech was pure propaganda designed to disguise the reality of the crimes being perpetrated against the people of Kashmir. That reality is brutal. The constitutional changes shifted control over Jammu-Kashmir to Delhi. The damage caused by the 2019 lockdown of the region, enforced by 38,000 additional India troops, and cuts to internet and phone services are still being felt today particularly in terms of the impact on education and health services, as well as domestic and overseas trade.
Doctors and government workers were under threat of punishment if they criticised the government's handling of the pandemic. The Health and Human Rights Journal reports that the large Indian military presence in the region seriously impacts on the physical and mental health of locals. The decision of the Supreme Court of India to reject a petition calling for the restoration of 4G internet services during the COVID restrictions so students could continue their classes at home has set back education standards.
Prior to the 2019 lockdown business in Kashmir was described as "booming" and the region had a low poverty rate of 10.3 percent compared with the national average of 21.9 percent. The Kashmir Chamber of Commerce and Industry found that for the first four months of the lockdown the state suffered a loss of about $2.4 billion. The personal cost was huge as jobs disappeared. Unemployment soared to 17.9 percent, nearly double the national average at 9.5 percent.
Throughout all this Kashmiris continued to protest, often at great personal cost. Thousands of Kashmiris were arrested. Many have been killed by Indian military, police and security forces. The level of persecution was on display last year when three Kashmiri students spent more than three months in gaol for doing nothing more than celebrate Pakistan's win over India in the T20 Cricket World Cup.
These young men were arrested under a so-called anti terrorist law, the Unlawful Activities Prevention Act. This law is popular with the Modi forces as it enables them to readily gaol opponents. Under the UAPA authorities can designate anyone as a "terrorist" and detain them without any evidence. As it is almost impossible for most detainees to qualify for bail many people have been gaoled for years without being found guilty. Increasing numbers of Kashmiri journalists and activists are being arrested and detained under the UAPA.
The United Nations high commissioner for human rights Michelle Bachelet has described the use of this law as "worrying". She said "hundreds of people remain in detention in India for exercising their right to the freedom of expression"; and has named Jammu and Kashmir as "having among the highest number of cases in the country". Indian police and security forces use this law to take male teenagers and young Kashmiris off the streets and out of their homes. Most are sent to gaols across India where it is next to impossible for family members to visit.
Indian authorities are well placed to use these bias laws to harass and detain Kashmiris as the region is occupied by nearly one million Indian army, paramilitary units, special forces and air force personnel.
One of Modi's hopes for Jammu-Kashmir has been honoured. His prediction of "new heights of development" is attracting investments in infrastructure, tourism and agriculture, particularly from the Middle East.
This prompts the question – who benefits from Modi's version of "development". The answer is easy to determine as the influx of capital goes hand in hand with massive demographic change – recognised as settler colonialism by many Kashmiris. It is not dissimilar to what Israel is doing to Palestinians on the West Bank.
The law that facilitates the influx of foreigners into Jammu-Kashmir, was introduced at the height of the pandemic. It makes it possible for Indian nationals, who have studied for seven years and sat certain exams or who have lived in Kashmir for 15 years, to become a permanent resident. TIME Magazine estimates that in a little over one month, around 400,000 people received domicile certificates. The increase in "settlers" is expected to be quite rapid as any official in Jammu-Kashmir who delays the process can be fined and have 50,000 rupees, the equivalent of $670, deducted from their salary.
Further, it is alleged by locals that Delhi is appointing people to senior jobs in Jammu-Kashmir. For the Modi forces this serves the dual purpose of maintaining control over various government and non-government establishments in addition to further facilitating demographic change. Many of these people exercise arbitrary control over local economic activity by prescribing business operating hours purported to be based on the "prevailing security conditions" and undisclosed "threat alarms". For example the fruit export industry has been adversely affected due to the imposition of restrictions leading to severe economic consequences for owners and workers alike.
The population shift in Jammu-Kashmir is highly significant as these outsiders become voting residents once they receive their domicile papers. Within a few years this could mean that Kashmir is no longer a majority Muslim country. This suits the Modi forces. Non-Kashmiri settlers dilute the region's ethnic and religious makeup and if the long promised United Nations plebiscite about the future of Kashmir ever occurs they could well swing the vote to favour India retaining control of Jammu-Kashmir.
Recently the Modi government opened up another plan to build a supportive voting block by granting voting rights to any Indian citizen temporarily living in Indian Occupied Kashmir. This would capture Indian military personnel, government and private sector employees and migrant workers. This would add about 2.5 million voters to the 7.6 million existing voters in Jammu-Kashmir – a 30 percent increase in the Kashmiri voting population. These changes are seen by many Kashmiris as another attempt by extremist Hindu forces to decrease the number of Muslims in India.
The people of Jammu-Kashmir are at a critical juncture in their struggle for justice. Despite the fact that they live in the most militarised region on earth, collectively experience shocking human rights abuses and have been given a genocide warning by Genocide Watch few Western countries speak up about the crimes of the Modi government.
Amnesty International in their recently released report, "We are being punished by the law", comprehensively documents the crisis of systemic human rights violations in Jammu-Kashmir. It calls for the international community to hold the Indian government accountable for the human rights crimes it has been committing. This is a call that must be heard and acted on by the Australian government.