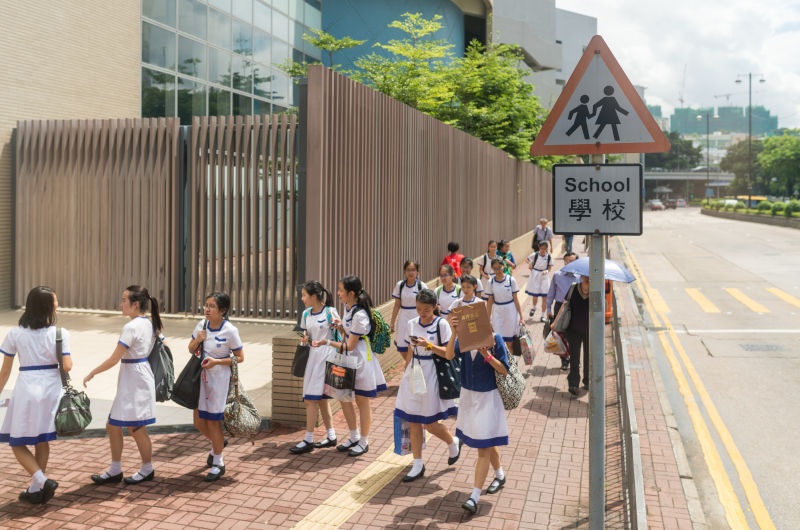 Is Hong Kong's world class education system really seeing an exodus of teaching staff?  Are reductions in staffing levels linked to political crackdowns and the COVID 19 Pandemic?  Not so fast.  Let's correct the record.
Hong Kong's broad education system could be improved in many ways. Yet, it still does a better job of educating the broad spectrum of students than most systems operating outside East Asia – notwithstanding any recent, supplementary turnover and departure stresses. Better still, it remains well placed to continue doing so.
There has been a steady stream of reports (both within Hong Kong and offshore) stressing how Hong Kong's education sector has been hit by an exodus of talent. This argued brain drain is said to be linked to both radical political changes in Hong Kong and the ongoing COVID pandemic. The fall in student numbers is also highlighted.
These reports regularly have the feel, however, of a selectively incomplete weather bulletin: strong head winds are stressed but the broad elemental context is missing or hard to find. And that context is important. A wider perspective needs to include a review of the varied factors driving the changes highlighted and it also needs to consider how these patterns may develop over coming years.
One recent edgy report told us that over 4,000 (public and private sector) teachers had left their jobs in the past (2021-2022) school year, which was a five-year high. This report suggested that the political crackdown and the pandemic were important in accounting for this figure. As it happens, this report implicitly confirmed that the departure levels were higher in 2016-2017 – well before the 2019 political insurrection and the pandemic struck and some years before radical political reforms were applied.
But why do public sector teachers, in particular, leave their positions? According to a Legislative Council response from the Education Bureau the main reasons are: retirement; moving to private sector schools; moving to other jobs outside of education, taking up further education and for other personal reasons. In other words, a significant degree of turnover is normal.
Another factor is the ongoing structural reduction in the number of students in Hong Kong. With a birthrate of around 1.13 births per woman Hong Kong has one of the lowest fertility rates in the world. The birthrate has been subdued for many years. One regular commentator recently argued that the current educational system design is still shaped by the era when significantly more new students were starting school every year: there is, he says, built in over-capacity, which needs to be eased. There are, thus, important structural reasons why the demand for teachers is ebbing in Hong Kong.
According to a research paper published in 2018, around 28,000 Mainland-based students were crossing into Hong Kong each day to attend school in that year. These were mainly children born in Hong Kong to Mainland mothers. These children became Hong Kong residents by birth. Due to the pandemic, all such cross-border daily transits have been suspended for over two years. Some of these children have been able to move to Hong Kong and live with relatives but many remain absent from face-to-face contact with their Hong Kong schools. This, also, has reduced overall student numbers in Hong Kong, for the time being.
Each year, government figures show that around 5% of the 50,000 (approximately) public sector full-time teachers are replaced due to regular turnover. Let's assume, though, that the number of teachers leaving teaching in Hong Kong has now risen beyond the usual annual departure figure. The question then becomes, is there a problem with finding good teachers to replace them?
The average pay for a primary teacher in Hong Kong is almost A$80,000, per annum. Bearing in mind the very low Hong Kong tax rates, to earn the same take home pay in Australia, you would need an income of over A$100,000. From an economic perspective, teaching is, thus, a steady, attractive employment option. This is one reason Hong Kong has a very good Education University which specialises in educating new teachers. Moreover, there are a significant number of experienced part-time teachers in Hong Kong who are also always looking for full-time positions.
Next, it is useful to reflect on where we may be headed over coming years.
It is likely that any abnormal departure-levels of teachers and students from Hong Kong will have been abetted by the notably easier migration-path to the UK, implemented in early 2021, for many Hong Kong Chinese residents. According to the South China Morning Post, over 120,000 Hong Kong residents had applied to use this new BNO (British National Overseas) passport pathway by May, 2022.
There is growing watchfulness about relocating from Hong Kong too hastily, however. And it is not hard to see why. Dr Jonathan Sullivan, Director of the China programme at the University of Nottingham recently noted that the UK faces "a generational crisis in terms of cost of living, breakdown of public services, including a National Health Service on its last legs, strikes and poverty". He might also have added, a very high level of public debt, which will, in due course have to be reduced significantly. It now stands at over 2.3 trillion pounds, just under 100% of the annual UK GDP figure. It has risen notably since the COVID pandemic struck and yet more debt-funded spending is promised by the new Prime Minister, Liz Truss. Very recently the Economist reported that 69% of Britons "agree that the country is in decline", while the Telegraph said the UK faced "the biggest threat to living standards since 1945".
A good way to apply a serious measure to the medium-term impact of the claimed education exodus from Hong Kong is to consider a multi-year time-frame. It is reasonable to expect, frankly, that a number of those who have left or may leave Hong Kong could return within the next 5-10 years, or even sooner. This is the leave-and-return pattern we saw in the years after Tiananmen Square in 1989.
And what sort of Hong Kong might they return to? Hong Kong has zero net public debt (in fact it still retains massive fiscal reserves), it currently has electricity prices which remain well below 20% of those applying in the UK (where they look set to rise further) and comparatively low inflation. Moreover, its long-term economic prospects look measurably more promising than those across most of the Anglosphere, albeit in a geopolitically uncertain world (made so, most of all by that same Anglosphere, as it happens).
We know that, in global comparative terms, the HKSAR education system performs remarkably well, including in the PISA (Programme for International Student Assessment) reviews run by the OECD. Consider, too, the latest global results in the International Baccalaureate (IB) Diploma Programme. The average IB score for Hong Kong students in 2022 was 38.36 compared to a global average of 31.98. Some 93 students in Hong Kong achieved a perfect score of 45.
Both reduced enrolments and higher teacher departure levels likely have been augmented by recent responses to violent political turmoil (and remedies) and the pandemic in the HKSAR. Falling student enrolments in Hong Kong are, however, structurally driven, above all, by Hong Kong's low birthrate and steady annual teacher turnover levels have long been the norm, for a variety of regular (non-acute) reasons.
Hong Kong's broad education system surely could be improved in many ways. Yet it still does a better job of educating the broad spectrum of students than most systems operating outside East Asia – notwithstanding any recent, supplementary turnover and departure stresses. Better still, it remains well placed to continue doing so, long-term.