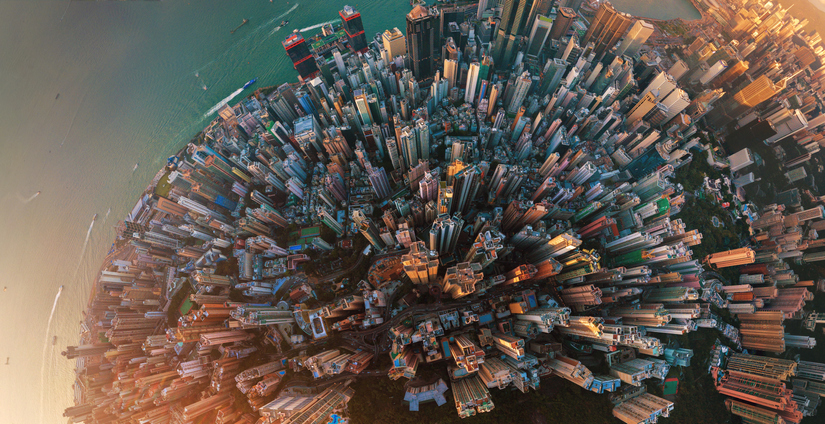 A multipolar world is being forged by the Global South. Tectonic shifts are taking place between the "collective West" led by the United States and the "Global South" with China in this camp. Hong Kong's predicament is that it lies on a fault line of the geopolitical plates.
Political transitions are never easy for the people who go through them.
Chinese families hold memories of wars, civil wars, revolutions, extreme poverty, and China's rise. Hong Kong is a political experiment as a special administrative region since 1997 when the city reunified with China. Migration increased during uncomfortable times. Many Hong Kongers left prior to 1997 because they were unsure about life under Chinese sovereignty. The current wave after the passage of a new national security law (NSL) in 2020 could be seen as part of that experience. Migration is a part of Hong Kong's DNA.
Tough public order and security laws are not uncommon around the world. Hong Kong migrants have relocated to countries that all have them. Countries in the "liberal" West criminalise treason, sedition, public disorder, official secrets, insurrection, and some jurisdictions outlaw secession.
Hong Kong is often compared with Singapore, a competitor for business investments. Its Internal Security Act is among the toughest in the world – it grants powers to the authorities to enforce preventive detention, prevent subversion, suppress violence, and do other things incidental to internal security.
The presence of security laws is likely not what truly drives people away. Hong Kong migrants relocating to Britain under relaxed emigration arrangements appear unconcerned about its tightened public order laws giving the police greater powers to crackdown on "disruptive" protesters.
Is it that they no longer have faith in Hong Kong's justice system? They might point to prosecution and jailing of people who participated in violence in the protests in 2019 as reasons why they have lost trust in the system.
In the United States, the authorities showed no tolerance for the participants of the one day "insurrection" on 6 January 2020, and the judiciary have imposed heavy jail sentences ranging from 10 to 14 years. The "protests" in Hong Kong persisted over months, were violent and caused enormous damage. This was an insurrection on a much larger scale.
The latest World Justice Project Index 2022 ranked Hong Kong in 22nd position out of 140 jurisdictions, ahead of Spain (23rd), the United States (26th) and Italy (32nd). Britain is ranked 15th, and Singapore 17th.
The real concern of the Hong Kong migrants has to do with how they feel about "China" – not wanting to be a part of it. The detention and arrests of people commemorating Tiananmen in Hong Kong – a longstanding annual event – on 4 June 2023 was the sort of event that confirmed to them that freedoms have been lost.
They might also point to public libraries in Hong Kong removing books by pro-democracy activists as another nail in the coffin, overlooking large swaths of books are being banned in schools in various states in America as a result of long-running battles between different political factions on what young people should be allowed to read.
It may be argued those are not the right comparisons. But they are examples of changing political environments including in the liberal West over issues of different and opposing values, as well as threats to the governing authorities. Politics may become more divisive still, especially during elections as parties contend with each other.
The presidential election of 2024 in the United States is a case in point. Domestic politics cannot be more fractious. However, the parties are united in bashing China, including Hong Kong.
A multipolar world is being forged by the Global South. Tectonic shifts are taking place between the "collective West" led by the United States and the "Global South" with China in this camp.
Hong Kong's predicament is that it lies on a fault line of the geopolitical plates. The city used to be a British colony and thus seen as a bit of the West in the East that provided a useful foothold for their interests. Hong Kong is described by the collective West as less "free" than before. Perhaps this is just euphemism for less convenient.
For international business, the concern is not whether Hong Kong has national security laws or not. Businesses are not there to disrupt Hong Kong's or Mainland China's security interests, but it is becoming ever harder to navigate US-China conflicts in an era where anti-China actions affecting investments would likely grow.
Beijing is on high alert that the United States wishes to raise tensions over Taiwan to provoke China, and as the collective West continues to use the Russian-Ukraine war to create a narrative that Taiwan would soon become China's Ukraine.
In the words of Singapore's diplomat, Kishore Mahbubani, at a speech on 12 May 2023, Hong Kong should be prepared to be "kicked around" like a "football" over the next decade. His advice to young people in Hong Kong is that they should prepare for "Geopolitics, Global Governance and Good Governance" so that they could cope with US-China relations, embrace globalisation, and change the current mindset relating to sovereignty.
Overall, Hong Kong must spread it wings to engage Global South countries; they are more interested to use Hong Kong to connect with Mainland China. Plans for Hong Kong's development involve strengthening connectivity with the mainland. Its immediate neighbourhood across the border in Guangdong is home to many hi-tech and advanced manufacturing industries, which together with Hong Kong's capabilities as an international finance centre, is being supported by national policies to scale its capacities, including in green innovations, as China aims to achieve carbon peak by 2030 and carbon neutrality by 2060.
It is noteworthy that Hong Kong is slated to be an international centre of arts and cultural exchange, which requires a high degree of tolerance for different ideas. In other words, Hong Kong will have to find ways to enable the exchange of ideas and deliberation for a multipolar world.
Hong Kong's future is tied to China's development. It continues to function outside the mainland Chinese system and thus remains a place of convenience for many interests. Hong Kong's predicament pushes it to find and create new openings to connect people, ideas, technologies, and capital.
The authorities in Beijing too can learn to relax after it has established the laws and structures in Hong Kong to thwart challenges to national security. The pendulum will likely swing back-and-forth causing unease from time to time but will hopefully settle down in the foreseeable future.
Article update June 29, 2023.