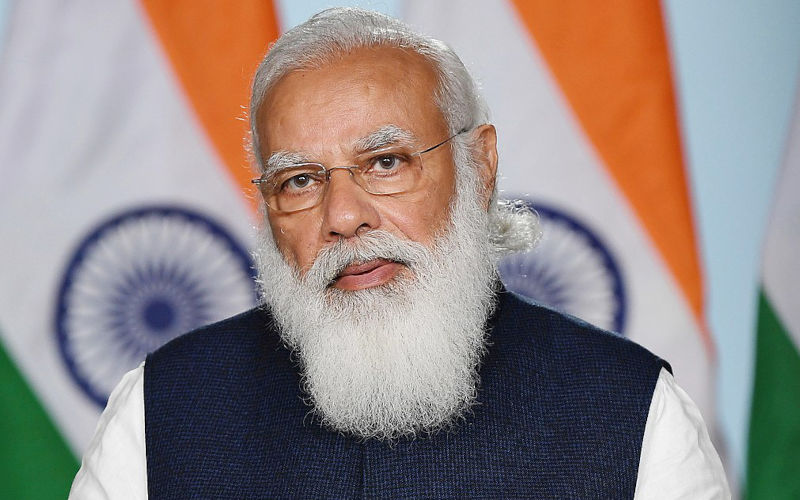 The comparison between Australia's response to China's treatment of Uyghur Muslims with India's treatment of Kashmiris highlights that a commitment to human rights is not the driving force in determining Labor's position on foreign affairs matters.
Last September when Prime Minister Anthony Albanese was in Bali for the G20 Summit he tweeted "So wonderful to see my friend @narendramodi, Prime Minister of India". Modi returned the compliment and confirmed that Albanese will visit India twice in 2023.
The first of those visits occurs this week. It is a fair assumption that Prime Minister Narendra Modi will be confident that there will be no awkward questions from Albanese on the many human rights scandals swirling around Modi's leadership.
It is only just over a month since the BBC screened a two part documentary about Modi's role in the 2002 anti-Muslim riots in Gujarat and other scandals engulfing the leader of the Bharatiya Janata Party. When asked at a press conference, about the serious allegations aired in these documentaries, the Australian Prime Minister did not engage with the substance of the question, choosing to emphasise that there would be "positive discussions" with his counterpart.
Australia's Foreign Minister Penny Wong, in India last week for the latest G20 Summit, when questioned about the same matter used similar soft, non-committal language.
The Gujarat riots that resulted in the death of more than 1000 Muslims is only one of many human rights abuses that Albanese and Wong should be taking up with their Indian counterparts.
Modi's BJP government is vigorously pursuing a Hindu nationalist agenda that now dominates the nation's judiciary, media and government agencies. Muslims, Dalits and other minorities are targeted through official policies. They also have to contend with violence, including rape and killings. Many attacks result in members of minority groups being evicted from their homes. In some cases homes and businesses have been burnt down.
Last year a report by United Nations Special Rapporteurs stated that some of the house evictions had been carried out as "a form of collective and arbitrary punishment against the Muslim minority and low-income communities for alleged participation in inter-communal violence, while authorities reportedly failed to investigate these incidents, including incitement to violence and acts of intimidation that contributed to the outbreak of the violence".
Kashmir, the only majority Muslim state in India, has been a focus of these discriminatory policies. Dr Gregory Stanton, the founder and president of Genocide Watch, has warned that "the Indian government's actions in Kashmir have been an extreme case of persecution and could very well lead to genocide … So many of the early stages of genocide are already present."
If similar statements had been made about the Chinese government, Wong would have quickly raised the matter publicly and through numerous diplomatic channels.
The comparison between Australia's response to China's treatment of Uyghur Muslims with India's treatment of Kashmiris highlights that a commitment to human rights is not the driving force in determining Labor's position on foreign affairs matters.
In 2018 when Wong was the Shadow Minister for Foreign Affairs she called on the Coalition government to increase pressure on the Chinese government over the reported mass detention of Uyghur Muslims. In 2022 Wong, now Australia's Foreign Affairs Minister, spoke with her Chinese counterpart about Uyghur human rights on a number of occasions.
Over the same period Wong has not spoken publicly with any level of detail about the status of the human rights of Indian Muslims and other minorities or the abuses occurring in Jammu and Kashmir.
One has to go to reports from human rights groups to ascertain information on the disturbing rise in discriminatory practices and human rights abuses occurring in India.
Human Rights Watch 2022 India Report states "The government's Hindu majoritarian ideology was reflected in bias in institutions, including the justice system and constitutional authorities like the National Human Rights Commission." This report details how the Modi forces have stepped up their attempt to curtail the work of civil society activists and independent journalists. Politically motivated criminal charges are regularly used to silence those who expose or criticise government abuses.
It is time that the Australian Labor government adopted a consistent approach in its dealings with countries where human rights abuses are on the rise. This would help ensure that Australia adds its voice to the increasing number of countries speaking up to protect the rights of Indian minorities.
Wong and Albanese should note the frank exchange at the Universal Periodic Review of India's Human Rights record held at the end of last year. For example Italy, the Netherlands, Britain, Canada and Angola raised concerns about the worrying increase in hate crimes in India. Ireland, Mauritania and Greece called for India to develop a "culture of religious tolerance".
South Africa was more specific calling on India to "hold accountable public officials who advocate religious hatred". German, South Korea and the USA reiterated their concerns about how the UAPA is being used to limit public engagement. The UN Human Rights Council is now waiting to hear from India on what recommendations made during the Periodic Review they will adopt.
These developments come at a time when the Modi government's policy of Hindutva that promotes religious supremacy in a nation populated only by Hindus is becoming more discredited. The pressure on India through bilateral and multilateral channels, to reform discriminatory laws, is building.
None of this is written to criticise Albanese for talking up his friendship with Modi. But the rising tide of opposition to the policies of Modi and the BJP within India and globally clearly demonstrate this needs to be an honest relationship where the Australian Prime Minister has the courage to speak out publicly and loudly for human rights for India's minorities.