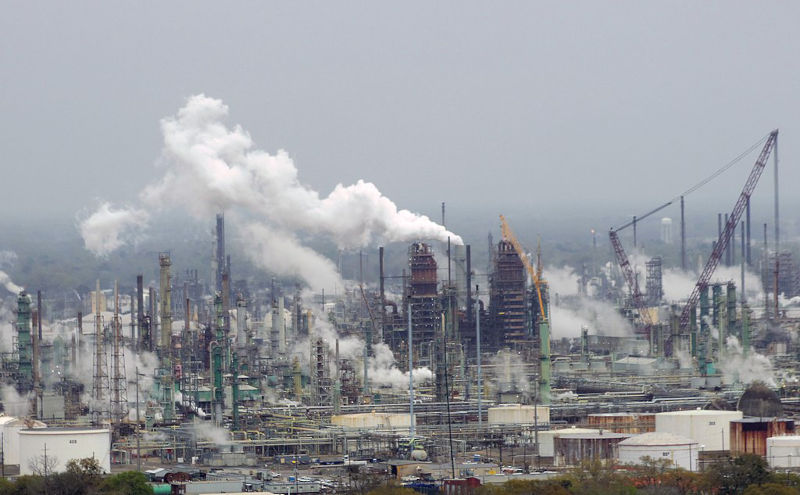 "These companies know their climate pledges are inadequate, but are prioritising Big Oil's record profits over the human costs of climate change," said Rep. Carolyn Maloney.
A trove of internal documents from companies including BP, ExxonMobil, and Chevron reveal how the fossil fuel industry has continued to make massive long-term investments in oil and gas extraction even as the corporations have publicly claimed to be committed to aiding in a transition to a renewable energy economy.
Rep. Carolyn Maloney (D-N.Y.), chair of the House Oversight and Reform Committee, joined Rep. Ro Khanna (D-Calif.), who chairs the panel's Subcommittee on the Environment, in releasing a roughly one million pages of documents uncovered as part of the committee's yearlong investigation into the fossil fuel industry's role in spreading climate misinformation.
While fossil fuel giants have made highly publicised pledges to achieve net-zero carbon emissions in the coming decades—pledges that climate experts have found are rife with loopholes that will keep the companies from actually helping the global community to limit planetary heating beyond 1.5°C above pre-industrial levels—the documents reveal that executives have privately continued planning future investments in oil and gas extraction.
"These documents demonstrate how the fossil fuel industry 'greenwashed' its public image with promises and actions that oil and gas executives knew would not meaningfully reduce emissions, even as the industry moved aggressively to lock in continued fossil fuel production for decades to come—actions that could doom global efforts to prevent catastrophic climate change," the committee wrote in a memo.
Maloney noted that the documents were published 14 months after Big Oil CEOs admitted to the committee that "their products are causing a climate emergency."
"Today's new evidence makes clear that these companies know their climate pledges are inadequate, but are prioritising Big Oil's record profits over the human costs of climate change," Maloney said.
The documents released Friday include:
A strategy slide presented to the Chevron board of directors explaining that while Chevron sees other companies retreating from oil and gas, "Chevron's strategy" is to "continue to invest" in fossil fuels;
An internal email from the American Petroleum Institute (API) showing that the trade association's 2021 Climate Action Framework was organised around the purpose of "the continued promotion of natural gas in a carbon constrained economy";
An internal email from a BP executive saying the company had "no obligation to minimise GHG [greenhouse gas] emissions" and that it should only do so where it makes commercial sense," adding, "The benefits of any proposal to adopt a lower GHG option needs to be balanced against the cost to do so";
A file in which a BP executive said its plan to divest fossil fuel assets was "an important part of our strategy" even though the company's method of doing so "may not directly lead to a reduction in absolute global emissions"; and
Internal company documents showing how Exxon's accusations against a journalism student for misrepresenting the company were false.
"They're basically saying, 'We're going to increase production, we're going to increase emissions, but we're also going to be able to claim being this clean tech company, this green company, because we can take some symbolic actions that make it look like we're in the climate fight,'" Khanna told NBC News.

"The cynicism was breathtaking, and unfortunately, it was quite successful," he added. "It's been a successful PR strategy."
The documents showed how aggressively the companies, particularly BP and Shell, are working to reshape public opinion around natural gas—which the fossil fuel industry has called a "bridge fuel" to be used as the world transitions toward renewable energy but which accounted for more than a third of U.S. energy-related carbon emissions last year.
The documents reveal that the companies have never seen natural gas as a "bridge" to clean energy, but rather as a destination itself, wrote Fossil Free Media director Jamie Henn in an op-ed for Common Dreams Friday.
"What the 'bridge fuel' fantasy always ignored was the terrible impacts that gas has up and down its supply chain," wrote Henn. "From the fracking needed to produce the gas (which contaminates water and poison communities), to the leaking pipelines that transport it (which spew planet heating methane into the atmosphere), to the burning of it in our homes and power plants (which releases dangerous chemicals like nitrogen dioxide, carbon monoxide and formaldehyde), gas has always a climate wrecking poison."
In a statement, Henn added that the documents reveal how fossil fuel companies are resorting to tactics used by the tobacco industry when it faced pressure to address the health risks posed by cigarettes—assuring the public that its products were safe by manipulating data as companies continued to market cigarettes to younger and younger potential customers.
"The key revelation in this report is that Big Oil has no intention of actually following through on its climate commitments," said Henn. "It isn't transitioning to clean energy, it's doubling down on methane gas, and it's actively lobbying against renewable energy solutions. This is the Big Tobacco playbook all over again: pretend you care about a problem, but continue your deadly business as usual."

"Just like Big Tobacco," he added, "it's time to hold this industry accountable for their lies."
Greenpeace USA climate campaign director Anusha Narayanan noted the release of the release of the documents comes as right-wing Sen. Joe Manchin (D-W.Va.), who has close ties to the fossil fuel industry, aims to pass his permitting reform proposal—which would make it easier for fossil fuel companies to build new infrastructure—as part of the National Defence Authorisation Act (NDAA).
"Big Oil doesn't want the public to know that efforts to reduce emissions without phasing out oil and gas production are not enough to keep our planet livable," said Narayanan. "They aggressively work to silence critics and show zero accountability even to our own government as evidenced by their attempts to obstruct the House Oversight Committee's investigation."

"Yet, Sen. Manchin and other oil-backed politicians continue to try to force handouts to these same companies that show no remorse for the millions of deaths they cause every year," she added. "This stops now and Congress must reject any of the oil and gas handouts that Manchin tries to force into the NDAA."
First published in Common Dreams December 9, 2022