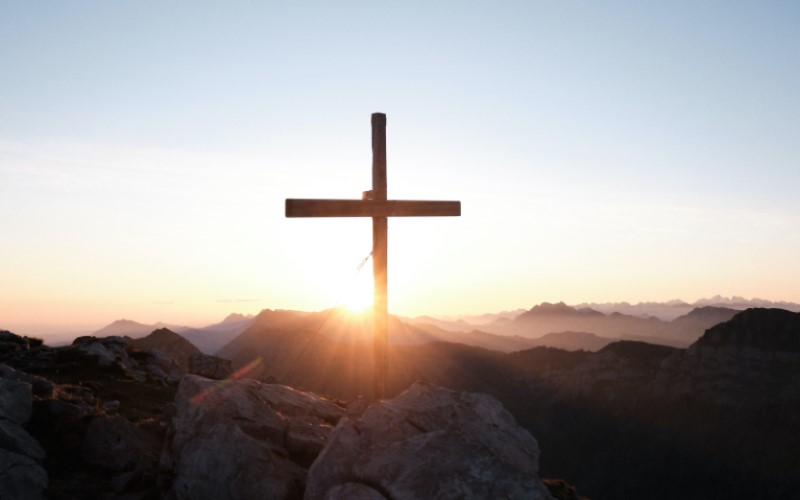 Many Christians are honouring the message of December 25 and the teachings of Christ from beyond the institutional church.
Christmas has been celebrated by billions of people across the world since the fourth century when, while the exact date of Christ's birth was unknown, the church fixed Jesus' birth date at December 25.
The traditional image of Christmas is simple: a mother, father, shepherds and farm animals, gathered in a stable in awe and gratitude around a babe in a manger with arms extended with the message that "a child is born".
For the Gospels this was a special child and they present Jesus as the much-awaited Messiah in a time of great inequity.
The message "a child is born", the unadorned image of a new babe in a stable and the wonder of birth and new life, immediately disarms and shifts our consciousness to new possibility and humility.
It gives a message that, even now centuries on, stands in stark contrast to the dominant images of life in Christ's time, images of oppression, discrimination, greed, poverty and abuse of power.
History tells us Jesus grew into a radical reformer who was condemned to death at an early age, but who in his short life left a legacy of love and justice that has endured for 2000 years. In a highly stratified culture, Christ's command to love was revolutionary and even subversive of social order, as was the call to care for each other. Christianity inspired wonderfully transcendent music, fine art and architecture and a theology that demands respect, dignity and care for all.
So, what does Christmas mean in 2021 in Australia? It's been a terrible year following the worldwide outbreak of the pandemic, which is causing grief and disruption to thousands, in a period of very unstable national and international politics and critical environmental deterioration. It's a world in which differences rage and passions flare, driven by an inequitable sharing of resources, inappropriate use of power at individual, institutional and government levels and an increasing lack of respect for human dignity and the environment.
I speak as a Christian, a believer, born and raised as Catholic. As such I have participated in Christmas ceremonies all my life in which Christ's message of love and justice is reiterated. It is a practice that provides precious moments of reflection and reminds me of how I want to live my life, the standard of integrity I aspire to and too often don't achieve.
Living the Christian message is not easy. I am not talking about attending church, but rather how we interact in life with others and the world.
We all know that there has been an enormous commercialisation of Christmas. That aside, Christmas is still regarded as a time of gift giving and care with families and friends gathering and eating together. Some may attend church services or choral and music performances. There is nothing quite as transcendent as being in the Sydney Opera House with the city's combined choirs singing Handel's Messiah.
The dark side of Christmas is the loss for whatever reason of not being able to participate in some of these ways. It is a time of terrible loneliness, grief and sorrow, that is evidenced by increasing demands on services for the homeless, mental health and domestic violence, and rises in tragic suicide events.
The majority of people though do not connect any of this to the Christian narrative of Christmas and the messages of the historical Jesus. This saddens me and millions like me who believe that our world needs the humanising message that Jesus bought to the world.
In 2021 people have lost respect for religion and Christianity, particularly Catholicism. This is not surprising. Catholic Church leaders in Australia, despite the progressive leadership of Pope Francis and the recommendations of the National Royal Commission into Institutional Child Abuse of Children, still cling to a monarchical model of church governance that perpetuates the destructive clerical culture that Pope Francis calls a "cancer in our midst".
This governance model, in which only celibate males can be involved in decision-making, impacts dramatically on women, LGBTQIA+ and families. It precludes women from ministry and impacts on sexual and reproductive health. This does not reflect the Gospel message "In Christ there is no Jew or Greek, slave or citizen, male or female. All are one in Christ Jesus" (Paul to the Galatians 3:28).
In an attempt to communicate Jesus' message in Australian culture the Catholic bishops set up a Plenary Council largely in response to the royal commission's recommendations. It held its first session in early October this year. However, early signs do not give confidence that key issues that have been raised by the laity and church reformers will be effectively addressed. However, one of the pleasing outcomes is full support for the Uluru Statement of the Heart.
Reformist Catholics are seeking greater involvement of laity in decision making; an accountable church; an inclusive church in which all ministries are open to the baptised; a humble church and a church free of clericalism.
This all indicates that there is a real access issue for Catholics who wish to participate in a Christ-centred gospel and an inclusive practice of faith. It is hard to sit in the pews when there is so much in church culture and teaching that causes dissonance; it ceases to be authentic for many. Living the Christian message requires nurturance, regular contact with the Gospel message, Eucharist and the support of others of like mind and shared values.
Many are replacing regular Mass going with collective worship in the Catholic tradition in small groups with a greater focus on grassroots social justice, supporting a practice of faith that is authentic, not cloying or authoritarian, a faith that has the integrity of Christ's Gospel message. Many seek transcendence and hope in the awe and beauty of the environment.
The impact of Covid has prompted change and reflection. Others who have written on this blog have suggested economic models that ensure that all people have enough money rather than money for gain. These models reflect the values of Christianity.
All the great faiths humanise us and our world desperately needs such a balancing influence now, particularly when we are facing challenges such as environmental deterioration which is already impacting the world.
It is the message of respect, dignity and care for all, including the environment, that is Christianity's gift at this crucial time in history. It is the message that has guided and supported billions over the centuries and is more relevant now than ever.
On Christmas Eve when many of us are able to collectively gather across faiths or with our families, it is time to pause and quietly reflect on what our world has been; is now and what it could be into the future. It is time to consider the value, integrity and relevance of the historical Christ's message in today's world to inspire and unite us to live together more effectively driven by respect and equity, rather than wealth and power.