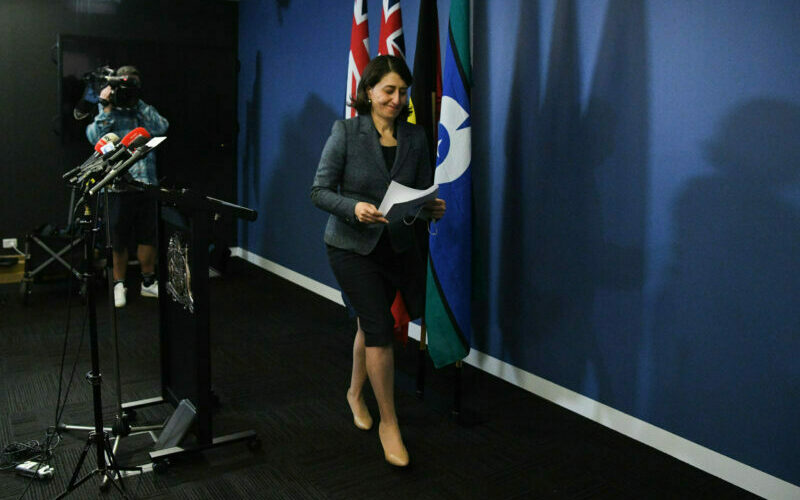 With NSW Deputy Premier John Barilaro's resignation — the third in as many days — the state government is in free-fall. The only surprising thing about Gladys Berejiklian's resignation is that it didn't come sooner.  
On Friday the NSW Independent Commission Against Corruption (ICAC) issued a statement that it was investigating whether NSW Premier Gladys Berejiklian had "engaged in conduct that … constituted or involved a breach of public trust" or conduct that "was liable to allow or encourage the occurrence of corrupt conduct by (former member for Wagga Wagga Daryl) Maguire".
One hour later Berejiklian resigned as premier and from Parliament.
What then transpired was the most remarkable media recasting of Berejiklian.
She went from resigning because of a corruption investigation to being the wronged party — whether by her "choice of partner", or by "the monster" of ICAC pursuing evidence of potential corruption, precisely as it is tasked to do.
On either count, the Premier was depicted as caught up in a scandal not of her making, as the passive victim of the actions of others rather than of her own choices and her own actions.
She was "heroic", in the words of Prime Minister Scott Morrison, "a person of the highest integrity" and, apparently, "wildly popular" — although on what measure is unclear since the latest polling shows that Berejiklian had "the lowest approval rating on the east coast" when it comes to handling Covid. Queensland's Labor Premier Annastacia Palaszczuk and Victorian Labor Premier Daniel Andrews had higher approval ratings on that score.
The necessary villain in this political pantomime was ICAC, the body whose very purpose is to act non-politically, without fear or favour, in pursuit of possible corrupt conduct in public office.
Geoffrey Watson SC, former ICAC assisting counsel, said ICAC's decision took some courage and was indicative of its independence, that it "is willing to take action against the most high, the most powerful, the most popular and operates without judgement".
The timing of ICAC's announcement was criticised as "political", suggesting that it ought to have waited until some other unspecified time, presumably one of greater convenience to both the premier and the pandemic, with no understanding that this would have constituted the very essence of a politicised decision.
Once ICAC had determined that there was an investigation to be made, it had no option but to announce it. To do otherwise would be entirely political.
Deputy Prime Minister and Nationals leader Barnaby Joyce floridly described ICAC as akin to "the Spanish Inquisition". At which an exasperated Stephen Charles QC, former justice of the Victorian Supreme Court of Appeal and long-time supporter of integrity commissions, said it was clear that there was "no prospect the present government will establish a national integrity commission that is effective".
None of which should come as any surprise for a coalition government which allows former minister Christian Porter to remain on its benches. Porter has brazenly treated the disclosure requirements for transparency and accountability as a legal riddle, to be read down to mean declaring the existence of a "blind trust", the anonymous high-wealth members of which are neither transparent nor accountable.
Within days of her resignation, senior Liberals had approached Berejiklian, with the knowledge of Morrison, to run for the federal seat of Warringah — a provocative and obvious insult to ICAC whose inquiry into her activities had not yet even begun.
Berejiklian had failed to divulge to her colleagues or declare any potential conflict of interest from her secret relationship with Maguire and her roles as treasurer and then premier.
Last year, Berejiklian told ICAC that she had failed to acknowledge her relationship with Maguire and therefore any potential conflict of interest, the most basic requirement of holders of public office, because she didn't consider their relationship of "sufficient substance" for it to be revealed.
Yet she later told News Corp's Daily Telegraph that throughout this apparently insubstantial five-year relationship she "loved him" and thought that "marriage was possible".
Perhaps even more concerning is that, as also revealed at ICAC hearings into Maguire last year, Berejiklian had been caught on tape telling Maguire that, "I don't need to know about that bit", when he spoke of his potentially profitable questionable dealings. It is this latter shock revelation suggesting a possible personal awareness that ICAC may be investigating under the catch-all clause of conduct "liable to allow or encourage the occurrence of corrupt conduct by Mr Maguire".
Former Liberal staffer-turned-political commentator Peta Credlin made the link between the post-resignation exaltation of Berejiklian and the partisan politics of the pandemic clear in her blunt assessment; "It stinks that a fine premier in Gladys Berejiklian is no longer NSW premier while Daniel Andrews remains in charge in Victoria".
Perhaps, after 18 months of blaming Andrews for everything from Covid outbreaks to lockdowns, hotel quarantine breaches and rioting thugs, a corruption investigation into the former NSW premier's behaviour was his fault as well.
It was as if we had entered a political otherworld where ordinary words were stripped of their meaning only to return as their opposite. Berejiklian's touted 'gold standard' success in handling Covid rested on her refusal to lockdown hard and fast, and her resistance to lockdowns continued to be vaunted even as Sydney entered the fourth month of its current protracted lockdown, which began in July 2021.
It has since seeded in the ACT, Victoria, SA, New Zealand, and Queensland in multiple incursions, with the failure to lockdown early apparent in that spread.
Palaszczuk slammed the delay and archly quipped this week, "Our last lockdown lasted eight days. Eight days after the start of its current outbreak, NSW was yet to enter lockdown".
It is impossible to separate out the overblown response to Berejiklian's resignation from the polarised political narrative played out in relation to the management of Covid in Victoria and NSW over the past 18 months.
The politicisation of the national public health emergency is one of the greatest failures of the Morrison government, one the prime minister stands condemned for as every state has had to deal with the global pandemic as best it could, in the absence of national quarantine facilities or adequate vaccine supply.
The divisive false dichotomy of "gold standard" NSW and "draconian" Victoria has been driven by Morrison, rightly dubbed the "prime minister for Sydney", and is as Jon Faine has described, fundamentally "Sydney-centric and so partisan in its unquestioning support for Gladys".
More than politically partisan, it constructs a distorted political and media environment in which nothing really happens unless and until it happens in Sydney — even when it doesn't.
Cue, the federal Minister for Education Alan Tudge, who last week lauded NSW for bringing its school return date forward to October 11 and called on Victoria to "replicate NSW" and do the same — apparently unaware that schools in Victoria were already returning the following week on October 6, before NSW. For the =minister of education, such ignorant stoking of artificial division between states is just appalling.
In this rancid politics of division Morrison has been eagerly joined even by his Victorian-based ministers, Josh Frydenberg and Greg Hunt, to their own political detriment.
No Victorian will readily forget Frydenberg's gloating, mocking, maskless photos from sunny Sydney, his outburst of what Katharine Murphy called "adolescent rancour" against the Victorian premier from the safety of Parliament, while Victorians worked through the long 2020 lockdown.
Nor will we forget that Victoria emerged from that arduous lockdown having succeeded in bringing Covid numbers to zero and returning to five months free of Covid and open again, until the repeated incursions of the impossibly infectious delta strain from NSW led to the current lockdown.
Absent from much of the commentary on Berejiklian's resignation is that two NSW ministers, Deputy Premier John Barilaro and Minister for Jobs, Investment, Tourism and Western Sydney Stuart Ayres, were last month called to give evidence to ICAC.
Neither is suggested as having any connection to the investigation other than as witnesses.
Barilaro has since abruptly resigned from the NSW Parliament, citing "vile racist attacks" and "social media".
As the NSW government teeters on its one-seat majority and faces three by-elections, Morrison's electoral strategy is teetering with it. A November election with the possibility that the ICAC hearings are still in progress, is a dire prospect that can't be risked.
A week ago Morrison thought he was riding high on AUKUS, the belated vaccine roll-out, and with his "gold-standard" favourite NSW soon to reopen. The electoral timing seemed perfect.
And then, as it does so often, politics turned on a pin. And the fall-out from this scandal is only just beginning.