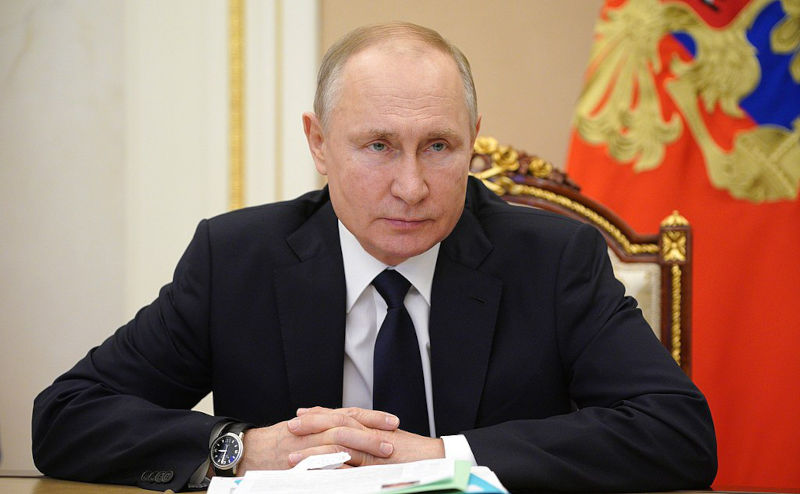 The International Criminal Court's conduct in the Ukraine-Russia conflict, characterised by unusual alacrity for an international legal institution, is in stark contrast to the feet dragging on alleged war crimes by Israel against the Palestinians in 2014.
The Chief Prosecutor of the International Criminal Court (ICC) Karim Khan has injected himself into the Ukraine-Russia conflict in a very public way. He has wanted to be seen as rolling up his sleeves and quickly moving to indict those he alleges are responsible for crimes against the Rome Statute, the law that the ICC enforces. On Friday he claimed his biggest scalp with the Court issuing an arrest warrant for Russia's President Putin. But Mr Khan and the ICC's conduct in this conflict, characterised by unusual alacrity for an international legal institution, is in stark contrast to the feet dragging on alleged war crimes by Israel against the Palestinians in 2014.
The arrest warrant against Putin identifies "the war crime of unlawful deportation of population (children) and that of unlawful transfer of population (children) from occupied areas of Ukraine to the Russian Federation." It comes after Khan has visited the Ukraine on 4 occasions since the conflict started. As noted below the closest he has come to flying to Palestine is to make it a 'goal' for 2023.
Each visit by Khan to the Ukraine has been accompanied by extensive media coverage. And Khan has shown himself to be a clever self-promoter. Images showing him walking with the military leaders, meeting Ukraine's President Zelensky, and inspecting war damaged sites are widely available.
But while Khan has been determined to inject the ICC into the Ukraine-Russia conflict, and what's more let the world know that 'justice will be done', when it comes to tackling Israel he has been dragging his feet, as has the ICC generally.
The ICC has taken seven years to approve the investigation into alleged war crimes committed in the context of Palestine since 2014 By contrast it took only a few days to allow investigation into Russian activities in the Ukraine.
In March 2021 Khan's predecessor Fatou Bensouda announced an "investigation [which] will cover crimes within the jurisdiction of the Court that are alleged to have been committed in the [Palestine] Situation since 13 June 2014." Both Israeli and Palestinian actions will be investigated.
A United Nations 2015 inquiry into the 2014 conflict found that there was "a huge increase in firepower used in Gaza, with more than 6,000 airstrikes by Israel and approximately 50,000 tank and artillery shells fired. In the 51 day operation, 1,462 Palestinian civilians were killed, a third of them children. Palestinian armed groups fired 4,881 rockets and 1,753 mortars towards Israel in July and August 2014, killing 6 civilians and injuring at least 1,600." It found that "[h]undreds of Palestinian civilians were killed in their own homes, especially women and children. Survivors gave graphic testimony describing air strikes that reduced buildings to piles of dust and rubble in seconds."
In keeping with its attitude of contempt for scrutiny of its appalling crimes against Palestinians, the Israeli government naturally said it would not cooperate with the ICC. And the United States, which has previously threatened to arrest and detain ICC judges if they dared to investigate war crimes committed by its military in Afghanistan, has also opposed the Palestine investigation.
But those in Israel and the United States hoping the ICC will succumb to pressure and keep out of Israel have been given hope by Khan's careful words about it and when he will visit Palestine. Unlike the Ukraine, Khan in December last year would only say it is his goal or objective to go to Palestine in 2023. Music to the ears of those in Israel who think the ICC should stay out.
The inactivity of Khan and the ICC on Israel's breaches of the Rome Statute is rightly earning the ire of human rights groups in the country. On 27 December last year ten groups wrote to Khan offering their support and confirming that serious war crimes needed investigation. The groups represent a vast swathe of Israeli civil society and includes Adalah – The Legal Center for Arab Minority Rights in Israel, B'Tselem, Human Rights Defenders Fund, Parents against Child Detention, Physicians for Human Rights Israel, The Public Committee Against Torture in Israel, and Yesh Din – Volunteers for Human Rights. They told Khan; "Justice delayed is justice diminished; and while one waits for the long arc of the moral universe to finally bend towards that delayed justice, crimes continue to take place, emboldened by the prevailing impunity. Thus, a nimbler court is, indeed, key."
The groups noted that their collective position is "that crimes, indeed, have been and are being committed and that Israel's blocking of independent examination of its policies towards Palestinians "makes [Khan's] visit – and the granting of access to [his] office – ever more important."
The Palestinian business on the ICC and Khan's docket is as urgent as Ukraine. So why the delay?
The ICC has, in the past been criticised for going after low hanging fruit. Sudan's brutal dictator Omar Bashir, charged with crimes arising out of the genocide of Darfur is a case in point, As was Libya's now deceased leader Muammar Gaddafi. Putin falls into this category. All were, or are leaders loathed by the West, and particularly the United States.
The ICC's credibility and that of its media savvy chief prosecutor are on the line. Not because of the Putin case, but in respect of their willingness and ability to arrest and have tried Israeli military and political leaders over the events that happened in the Gaza and elsewhere since 2014.
If Khan and the ICC do not visit Palestine within the next few months and commence proceedings against those alleged to have committed war crimes, then it will show it is only interested in publicity and the easy ride.