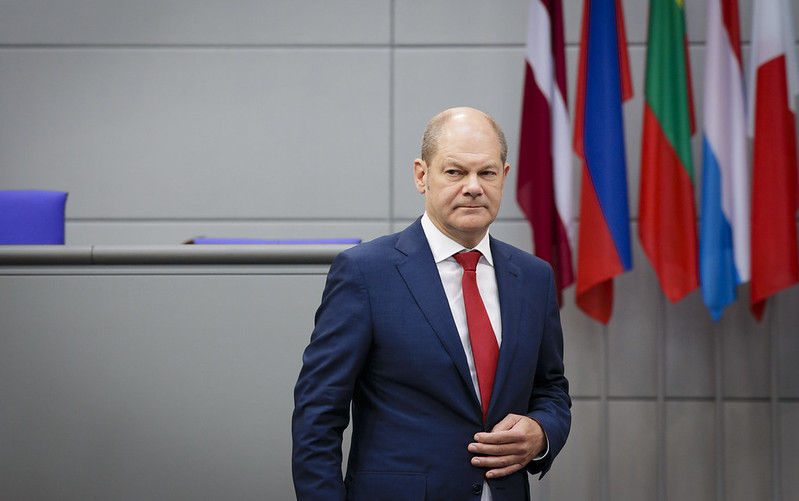 The German chancellor has made it clear that 'decoupling from China is not the answer', and other European leaders should remember this following his first state visit to Beijing.
German Chancellor Olaf Scholz's first state visit to Beijing for talks with President Xi Jinping was all over in less than a day, but that hardly reflected its symbolic and actual importance. It was the first visit to China by a Western leader since the 20th party congress last month cemented Xi's power and the first by a European leader since the outbreak of Covid-19 nearly three years ago.
It was long overdue. But German domestic critics would have been happy to see the prolonged blackout continue. Scholz resisted heavy pressure to stay home amid tensions between China and the West, led by the United States, declaring that "decoupling from China is not the answer". The presence in his party of 12 leading business representatives is testament to that sentiment.
Scholz made the right decision, for Germany and Europe, in a victory for pragmatism over ideology. It is in the best interests of the European Union to maintain dialogue with China. He needed to return home with something positive for a domestic audience. The most eye-catching takeaway from the talks was the two leaders' expression of opposition to the use of nuclear weapons, amid heightened European concerns about nuclear security. They also exchanged views on the war in Ukraine and Xi supported efforts by Germany and Europe to resolve the crisis.
But other outcomes are also welcome, such as a promise to work together to ensure the stability of the global supply chain. This is important given that the EU, China and the US are the three largest economic blocs, with US policy contributing to the disruption of the global supply chain and finance. While US monetary policy may make sense for its own economy, it is wreaking havoc in others.
Cooperation between China and the EU on supply chain and financial stability will go a long way. Xi urged Europe to maintain strategic autonomy and not be influenced by "bloc confrontations". In that regard Scholz's disavowal of any intention to decouple from China is timely, when many people are concerned that China might become inward looking. One way of encouraging China not to remain outward looking is to demonstrate that American allies are not actively seeking decoupling. It is also a good way to encourage reformist elements, who seem to have lost influence recently.
Scholz has shown pragmatism in effectively engaging China, including on issues of disagreement, such as reciprocal access for European investment in the Chinese market. This should encourage the other most influential European leader, France's President Emmanuel Macron, to follow suit. If Macron has been sitting on the fence, waiting to see the outcome of Scholz's visit, hopefully it will encourage him, too, to be pragmatic.
First published in the South China Morning Post Editorial Nov 10 2022