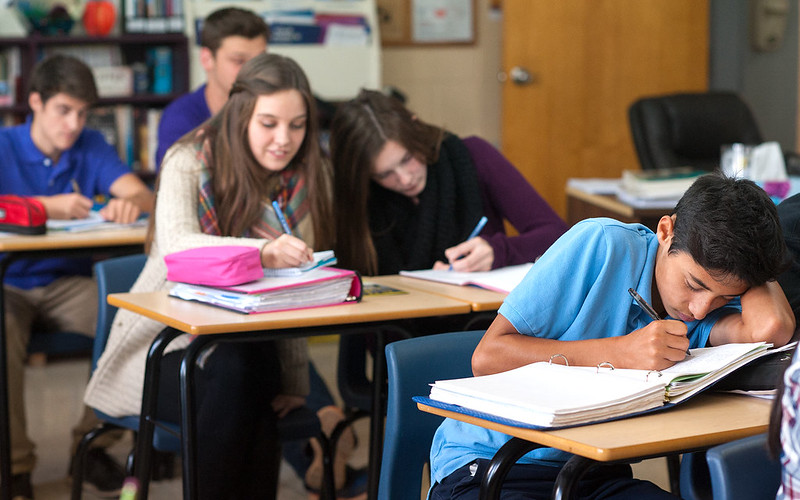 What should be the top priorities of any incoming Federal Government concerning tertiary education in Australia after decades of cost-cutting, restructuring and corporatisation?
We have discussed these issues with hundreds of colleagues over the last few years and have several decades of collective experience researching and writing about the Australian higher education system (AHES). We therefore have a relatively comprehensive understanding of what needs to be done. For those who are interested in tertiary education reform, we offer the following observations and recommendations.
Reversal of the Morrison Government's changes to university fees in 2020
The introduction of poorly conceived course fee changes by the Federal Coalition Government in late 2020 was widely condemned, with a commitment made by the Labor Opposition to reverse them when it returned to office. These fee increases have significantly reduced the proportion of tertiary education funding provided by the Federal Government and increased the burden on domestic students. Reversing these increases should be the top priority of any incoming government.
A direct result of government funding cuts and increased casualisation of the academic workforce over the last decade is larger class sizes, less face time with academic staff, and fewer opportunities to study a diverse range of subjects. Furthermore, most of these fee changes, especially those related to increased student fees for humanities, arts and social science degrees, have had, and will continue to have, a disproportionate and discriminatory impact upon women, Indigenous people and people from non-English-speaking backgrounds.
These fields open up the most job opportunities for the most significant numbers of people and provide an entry into higher education for those from disadvantaged backgrounds. If the policy goal is to increase overall employment, skills and productivity levels, increasing debt burdens for students in these discipline areas is socially regressive and counter-productive.
A national summit on higher education
Given the depth and breadth of the structural and ethical problems facing the AHES, the incoming government's first priority should be to hold a national summit on higher education within its first six months in office.
The AHES Summit 2022 would include all the stakeholder groups that currently have a prominent voice in the policy debate, including Universities Australia (UA), the Australian Vice-Chancellors' Committee (AVCC), the University Chancellors Council (UCC), the Regional Universities Network (RUN), the National Tertiary Education Union (NTEU) and the Community and Public Sector Union (CPSU). However, it should also include other groups, including the National Union of Students (NUS), the Council of Australian Postgraduate Associations (CAPA), the Australian Association of University Professors (AAUP), as well as any research centres, academic groups and professional staff involved in the TAFE, VET and for-profit sectors who have an interest in reform.
The national summit would have a broad remit and include discussion of a wide range of pertinent issues, such as:
• reining in the unchecked, opaque and unaccountable powers of vice-chancellors and senior management;
• reintroducing democratic accountability and transparency to financial expenditures by public universities;
• reinstating democratic governance of academic research and teaching by academics;
• placing caps on the ability of universities to casualise their workforces;
• questioning the trend towards commercial outcomes from research and instead making a clear differentiation between research that seeks to advance human knowledge and that which is focused on 'national benefit';
• creating a Universal Basic Research Fund that sequesters a significant proportion of current Australian Research Council funding for distribution in smaller amounts to a wider group of researchers with less onerous application and compliance processes
to encourage a much broader range of low-cost research;
• providing adequate financial support for full-time domestic students and support structures for international students;
• creating adequate opportunities for professional and career development for all university staff and higher degree research students;
• eliminating 'gag clauses' in termination contracts;
• setting national employment and education targets for Aboriginal and Torres Strait Islander people that are legally enforceable at an institutional level;
• coordinating the educational and research priorities of the VET and university sectors and providing them with sufficient funding to meet national benchmarks while acknowledging the different roles and functions of the institutions concerned.
To achieve the kinds of broad-ranging reforms required, we believe that a Royal Commission should be held into the behaviour of the governing councils of public universities. The terms of reference would focus on their undemocratic structures, lack of transparency and accountability, profligate expenditure on non-core activities (including profit-making), and their opaque relationships with senior management, external consultancies, the Big Four accountancy firms, and transnational corporations.
In order to institutionalise appropriate reforms that will enhance the national and international reputation of the AHES, we also believe that it will be necessary to create two new national higher education bodies:
a) an independent prudential advisory body, similar to the Australian Prudential Regulatory Authority (APRA), to oversee the financial performance of Australian public universities from a management and public policy perspective;
b) an independent tertiary funding and standards body, similar to the former Australian Commonwealth Tertiary Education Commission (1977-1988), to oversee and make determinations concerning national funding, education standards, research priorities and planning for the whole tertiary education system, including TAFEs, universities and private providers.
The role of the Prudential Authority for Higher Education in Australia (PAHEA) would be to assure accountability and transparency concerning the financial operations of Australian public universities, with a focus on their use of public funds and assets. It would oversee and make determinations concerning appropriate levels of funds held by universities as financial assets to be used for purchasing university infrastructure and equipment (e.g. laboratories, instruments, equipment, and software), as well as the upgrading and maintenance of existing facilities and the construction of new buildings and facilities. This body would also provide advice regarding the prudential management of enrolments by fee-paying overseas students and benchmarks relating to salaries and remuneration for vice-chancellors, senior executives and senior management.
The role of the new Australian Tertiary Education Commission (ATEC) would include safeguarding staff and student well-being, guaranteeing research autonomy from political interference, maintaining minimum national standards for academic teaching quality, and overseeing core course content and research ethics across all discipline areas following the development of transparent standards and principles. It would absorb the current role performed by the Tertiary Education Quality Standards Agency (TEQSA) and oversee the operations of all Australian public universities following publicly established standards and principles. This would include the ability to review and make recommendations concerning any financial and regulatory issues that affect these activities, including the allocation of research funding by individual universities and planning for national academic and professional skills and training needs.
Both PAHEA and ATEC would draw their executive committee members from a wide range of representative bodies in the tertiary education and research sectors. The mechanisms by which those members are selected should be open to public debate. However, the emphasis should be on diversity and openness, with membership broadly representative of gender, ethnicity, age, regional knowledge and disciplinary expertise. Both bodies would be responsible for advising state and federal ministers of education and be responsible for reviewing the justification for ministerial decisions.
Although resistance to these reforms can be expected from all those who benefit from the current arrangements, we believe these reforms are both necessary and long overdue.
Written by: Dr Adam Lucas, University of Wollongong, Emeritus Professor James Guthrie AM, Macquarie Business School, Dr Alessandro Pelizzon, Southern Cross University
Read more articles in our if I was a minister series.