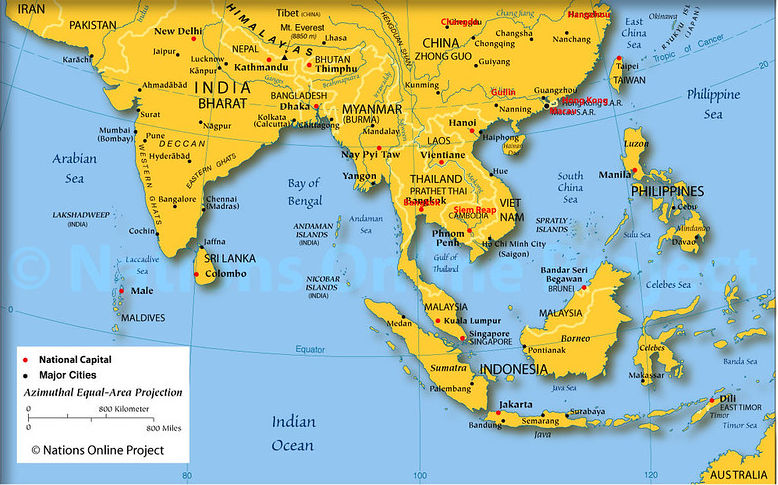 Myanmar's sickening political executions; a terrible 'new normal' in Sri Lanka; dictatorial democracies; 'bananas' a code for bribes; China hits out at ASPI; no consensus on Taiwan consensus; HK's latest status symbol.
Among the many millions sickened by the Myanmar junta's execution this week of four pro-democracy activists, there is one person whose deep sorrow is tinged with pride. She is Ma Thazin Nyunt Aung, widow of Ko Phyo Zayar Thaw, one of the victims.
She gave a long interview with Frontier Myanmar, a Burmese exile news site. "He walked the path he believed," she said. "He did what he believes This is the path he chose. That way is the right way. He was a brave young leader.
"That's why I'm proud of what he did until the end."
As well as her husband (a former lawmaker in Aung San Suu Kyi's party) those killed were activist Ko Kyan Min Yu and two men, Ko Hla Myo Aung and Ko Aung Thura Zaw, accused of killing a woman they believed to a junta informant.
They were the first judicial executions in more than three decades.
The Irrawaddy, also a Burmese exile news site, ran an AFP story to report the executions. It quoted intransigent military spokesman Zaw Min Tun as saying the four deserved "death sentences many times."
Aung Zaw, The Irrawaddy's founding editor-in-chief, said in a commentary that none of the four had received a fair and public trial. Aung Zaw called junta leader Min Aung Hlaing Myanmar's "murderer in chief."
Human right campaigner Benedict Rogers said in an opinion peace on the Asian Catholic news service, ucanews.com, that 114 people had been sentenced to death since the coup in Myanmar. "These executions may be the first," he said, "but without strong international action, they are unlikely to be the last."
Cambodia, the current chair of the Association of Southeast Asian Nations, condemned the killings. A Government statement said ASEAN was extremely troubled and deeply saddened by the executions. "This is an issue that ASEAN takes seriously," it said.
Author and journalist Sebastian Strangio said in The Diplomat magazine the statement's language signaled a possible shift in ASEAN's approach to its problem member.
Bangkok Post (and other papers) reported on Thursday the UN Security Council had condemned the executions and called for the immediate release of Aung San Suu Kyi. The statement was endorsed by China and Russia, two allies the normally protect Myanmar at the UN.
In economic news: Frontier Myanmar has a detailed analysis of the nation's foreign currency woes – a slow-motion train wreck. It reports on a series of decisions this month to shore up the country's foreign currency reserves – including ordering banks to suspend overseas loan repayments, possibly forcing their clients into default. "It's the billion-dollar question everyone seems to be asking," Frontier says. "Is Myanmar's military running out of money?"
Harsh 'new normal' for Sri Lanka
When COVID first struck, Australians spoke of a "new normal" that might have involved working from home and wearing masks. In Sri Lanka, the new normal involves the hardships people have suffered this year – petrol queues that stretch for days, shortages of food and medical supplies and soaring prices for everything – and will continue to suffer.
Luke Hunt, one of the most experienced Australian reporters in Asia, says newly installed president Ranil Wickremesinghe is confident a multi-billion-dollar International Monetary Fund bailout will give the country a functioning economy by 2024.
"But that's cold comfort and a long way off for the millions of people left stranded with few prospects," Hunt says.
Hunt has been reporting on Sri Lanka's economic and political crisis for the Asian Catholic news service, ucanews.com.
Underlining the people's plight, he says, is stagflation – prices soar while wealth declines.
"Sri Lanka's numbers – a 6 per cent economic contraction in 2022 with inflation at 70 per cent – are breathtaking," he says. "An IMF deal is expected to be hammered out next month but it will be a tediously slow process with harsh austerity measures, like tax hikes and spending cuts, attached.
"Wickremesinghe's 2024 target is sounding ambitious."
Hunt says protesters, opposition politicians, Buddhist clergy, the Catholic Church, journalists and lawyers are wary of the new president, a pillar of the country's political establishment.
"They want an independent inquiry into allegations that (former president) Gotabaya Rajapaksa, his brothers and their wives stole billions of dollars and an asset-recovery program but fear Wickremesinghe will protect a family that dominated political life her for 17 years," he says.
The Straits Times newspaper quotes Bandula Gunawardana, Sri Lanka's Cabinet spokesman, as saying Rajapaksa will return home. The former president fled Sri Lanka on July 13 and is now in Singapore. Gunawardana did not offer a timeline for his return.
Rohini Mohan, the paper's India Correspondent, says Rajapaksa will encounter a new wave of protests should be return to the country. Citing opposition leaders, she says he would likely face charges of graft and also of war crimes because of his role in cracking down on Tamil insurgents in 2009.
Dictatorial democracies paradox
The G-7, made up of democracies, is dictatorial. The G-20, with a fair sprinkling of autocracies, is democratic. This is what high-ranking veteran Singapore diplomat Kishore Mahbubani has dubbed the G-7, G-20 paradox.
Writing in The Straits Times newspaper, Mahbubani says the G-7 countries are democratic domestically but dictatorial globally. The G-20 group is more representative of the world's population.
'The G-7 represent about 10 per cent of the world's population," writes Mahbubani, a distinguished fellow of the National University of Singapore's Asia Research Institute. "Yet they make decisions and take actions that disrupt the lives of billions of people, including the world's poor, without factoring in their interests and concerns.
"This is what dictators do."
G-7 countries were right to impose sanctions on Russia after its illegal invasion of Ukraine, he says. European countries could have hastened the war's end by cutting all Russian gas supplies immediately – but they didn't because they didn't want their people to make sacrifices.
Yet the invasion and the sanctions led to massive rises in food and fuel prices, disrupting the lives of hundreds of millions, if not billions, of people.
As the G-7 countries did not want to make sacrifices, it was strange when they complained that China, India and other developing countries stepped up their purchases of Russia oil, sold at a discount.
This had led to two sharp responses from Indian Foreign Minister S. Jaishankar. One was that India bought less oil from Russia in a month than Europe did in an afternoon.
The other was: "Europe has to grow out of the mindset that Europe's problems are the world's problems but the world's problems are not Europe's problems."
'Bananas' play their part in Thai politics
How does Thailand's governing coalition, with coup-maker Prayut Chan-o-Cha at the top, manage to hang together? The answer is simple: bananas.
"Bananas" is a code word for payments to small parties in the coalition.
A week ago, the government survived a parliamentary motion of no-confidence. In the ritual of Thai politics, it was always expected to win. After the vote, Thamanat Prompow, once a Prayut loyalist and numbers man, said some small parties had pocketed monthly payments over the past three years. The amounts, Bangkok Post reported, were said to be Baht 100,000 (about $A 4,000) a time.
Thamanat was previously part of the ruling Palang Pracharat Party and a minister in Prayut's government, even though he had served four years in jail in Australia in the 1990s for conspiring to import heroin. He now heads the Setthakij Thai Party.
"Thamanat introduced a phrase comparing himself to a monkey keeper feeding 'bananas' to small parties to keep them loyal," Bangkok Post said.
Political commentator Veera Prateepchaikul said a social media message platform showed small parties had received payments of Baht 100,000. Thamanat hinted he had been supported several MPs financially and was seething with rage because he felt he had been double-crossed.
"These MPs usually see themselves as a saleable product," Veera, a former Bangkok Post editor, said. "But this time, however, their behaviour was too obvious and it may land them in hot water."
Under Thailand's anti-corruption law, an MP must not receive more than Baht 3000 (about $A 120). If they do, they must report it to the Speaker who will decide whether the gift is acceptable or should be returned.
The paper said in an editorial the National Anti-Corruption Commission must investigate the allegations.
"Despite the evidence being a screenshot of a Line chat from an unknown source, the NACC must be vigilant in pursuing the investigation to the end," the editorial said. "If left unresolved, the accusation will only corrode faith in our parliamentary system and further damage trust in our MPs.
"The case is not just a powder keg for the accused MPs and political parties, it's also a test case for the NACC which has faced a barrage of public criticism in handling probes into powerful politicians…The agency's credibility is at stake."
China takes aim at 'Liberal' ASPI chief
It is no surprise that the vigorously anti-China Australian Strategic Policy Institute draws some bruising attention from China's media. So it was this week when Global Times, the English-language news service under the People's Daily, attacked Justin Bassi, ASPI's new executive director.
It highlighted Bassi's Liberal connections, as national security adviser to former PM Malcolm Turnbull and chief of staff to former foreign minister Marise Payne.
And it hit out at Bassi for saying Australia had gained the upper hand in the renewed dialogue with China.
"It can be said that Bassi's remarks demonstrate the typical attitude of the Australian Liberals toward improving China-Australia ties," Global Times said…"The ASPI chief has equated policy adjustment with compromise and then urged Canberra not to pursue this line of action…
"The 'upper hand' rhetoric is simply an outright lie, trying to fool the Australian public and the international community. It also aims to instill blind confidence in Canberra that could mislead the Labor government's policy on China relations and allow bilateral ties to continue to deteriorate.
"This would work best for the interests of ASPI and Washington."
No agreement on Taiwan 'consensus'
This week marked the 30th anniversary of a sadly battered agreement called the 1992 Consensus – an understanding between Taiwan and Beijing that both would adhere to the one-China principle (although each would have its own understanding of what that meant).
It was also a week of a flurry of concern about a planned visit to Taiwan next month by US House Speaker Nancy Pelosi.
Beijing held a symposium to mark the occasion. Wang Yang, a high-ranking official in charge of Taiwan affairs, said peaceful reunification of Taiwan was the common aspiration of all Chinese people.
In reporting the symposium, China Daily called Wang China's top political adviser. He said the mainland was willing to strive for peaceful reunification but the separatist forces supporting Taiwan independence posed the biggest obstacle.
Hong Kong's South China Morning Post also quoted Wang as criticising Taiwan authorities for refusing to recognise the 1992 Consensus.
"Wang remarks came as Beijing repeatedly warned Pelosi against visiting Taiwan," SCMP said.
"Beijing has already said it would take 'forceful measures' and its military 'won't turn a blind eye' if Pelosi went ahead with the trip.
"Chines military watchers said Beijing might deploy aircraft carriers and announce a no-fly zone and a restricted navigation zone for military exercises near the Taiwan Strait, which would force Pelosi's aircraft to make a detour."
HK's new status symbol: caviar at the food stall
Hong Kong's rich folk are always keen on new fashions and the South China Morning Post has come up with one: "high-low food."
Charmaine Mok, the paper's food and wine editor, says the latest trend is dollops of caviar on ordinary food or fast food – chicken nuggets, crisps or ice cream, for instance. It's the contrast, apparently.
"Like taking a bottle of expensive Lafite wine to a traditional Hong Kong dai pai dong food stall, it's all the rage on social media," Mok says.
Mok says, however, she has been irked by the sight of "black gold" piled on har gow shrimp dumplings. "The deceptively simple dumpling deserves respect," she says.
But it seems that caviar, unlike har gow, is no longer a delicacy. It is merely decoration.