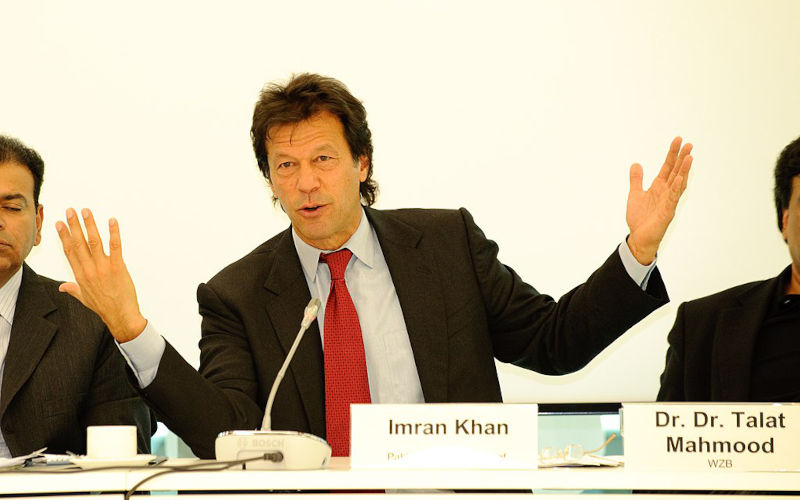 In Asia Media: Blinken draws an admission from Myanmar; US has big problem in India; food security a looming concern; South Korea logs a sad COVID record; and HK food goes back to basics
Not one of Pakistan's 22 prime ministers has completed their full five-year terms and only three have managed to serve for more than four years. It is not surprising, says the Asia-Pacific foreign affairs magazine The Diplomat, that Imran Khan's fourth year in power has been turbulent.
Al Jazeera reports that Khan is facing an imminent no-confidence motion in parliament, heightening fears of turmoil in the country.
"An alliance of opposition parties filed the motion against Khan earlier this month, saying he had lost his parliamentary majority after more than a dozen defections from his party," Al Jazeera said.
Without support from coalition partners and his PTI party dissidents, Khan has 155 seats in the 342-seat lower house, 17 short of the minimum needed to hang on.
The Diplomat says Pakistan has been hit by soaring inflation and mounting debt.
It says the military insists it plays no role in politics but its backing has been a stabilizing factor for the Khan Government.
But the military is now neutral, meaning coalitions have collapsed and some Khan supporters have defected.
Myanmar admits some crimes against Rohingya
US Secretary of State Antony Blinken's declaration that Myanmar's persecution of the country's Rohingya people amounted to genocide produced a formal denial and a significant admission: individuals may have committed crimes against the Muslim minority.
Bangkok Post this week carried several reports on the issue, the first quoting Blinken as saying member of the Burmese (sic) military committed genocide and crimes against humanity against Rohingya.
Blinken said on Monday the military's intent went beyond ethnic cleansing to the destruction of the Rohingya. "The attack against Rohingya was widespread and systematic, which is crucial for reaching a determination of crimes against humanity," he said.
Myanmar's Foreign Ministry on Wednesday rejected the accusations of genocide and crime against humanity. It said they were politically motivated and amounted to interference in the internal affairs of a sovereign state.
But late the next day, the paper posted a brief Reuters report saying: "Myanmar's military did not commit genocide against minority Rohingya Muslims during 2017 operations in Rakhine state but crimes may have been committed by personnel on an individual level, an army spokesman said on Thursday."
The junta spokesman was identified as Zaw Min Tun.
America's India problem: Russia is far more popular
Joe Biden's jab at India as being somewhat shaky in its attitude to Russia's invasion of Ukraine was not well received by India's media.
The Times of India ran an editorial accusing many Western nations of hypocrisy.
"A substantial number of people… have called out that hypocrisy of Western nations, who condemn Russia's aggression in Ukraine even as they are virtually funding the war by buying Russian oil," the paper said.
"…[Even] as many of these countries send weapons and other aid to Ukraine, they are keeping Russia's economy going with oil money…A New York Times opinion article puts the figure at $385 million a day."
But The Diplomat magazine says Washington should stop wringing its hands over India's reliability and recognise the US has a serious image problem in India.
An article written by a political science PhD candidate Muhsin Puthan Purayil acknowledges that India's stance is at odds with its democratic character and commitment to the rules-based international order. But, it says, public opinion should be considered.
Behind all the political justifications for India's refusal to condemn Russia, the article says, is India's past disillusionment with the West.
It says: "India's stance on the Ukraine war reflects the tremendous public support that Russia enjoys compared to the United State, a reality Washington has seemingly yet to grasp."
War's impact on food a growing concern
Food security and food prices are emerging as serious concerns in Asia because of Russia's invasion of Ukraine.
Singapore's The Straits Times says in an editorial that while the energy shock has been felt significantly the impact on global food prices is the next big worry. Russian and Ukraine together account for 23 per cent of world wheat exports.
The UN has warned that food coats, already at record levels after a 40 per cent increase over the past two years, could rise by a further 20 per cent or more.
The Japan Times says the Government is so concerned about the impact of import curbs on the country's food security that it is planning to exempt imported marine products from its sanctions against Russia. The products include crab, salmon and trout, cod roe and sea urchin.
China Daily notes that food prices are already high and that vegetable oil prices have reached record levels, because of poor soybean production in South America and palm oil supply problems in Malaysia.
"Of immediate concern is the vulnerability of net food-importing countries which are highly dependent on Ukraine for supplies, such as those in the Middle East and North Africa," the paper says.
Korea's unwanted COVID record
Amid the international surge of Omicron COVID-19 cases, South Korea has logged a record it would prefer to have avoided – more than 10 million infections, about 20 per cent of the population.
Both The Korea Times and  The Korea Herald reported the country had 490,881 new cases on Tuesday, taking the accumulated number to 10,427,247. There were almost 300 COVID deaths on Tuesday, making a total toll of 13,432.
But Tuesday's infection numbers were not a record. That was reached the previous Wednesday, March 16 – 621,205 cases.
Bangkok Post has reported record COVID numbers for Thailand. The high mark of 27,071 new cases was reached on March 18 and it was almost matched by Thursday's figure of 27,024. But on Thursday 26,768 positive results were registered from antigen test kits, bringing the total to 53,793.
Thailand, however, is easing restrictions – including scrapping, from April 1, the pre-departure PCR tests for travellers. And the paper has reported that the Government plans to classify COVID-19 as endemic from July 1.
A story headlined "Race to end restrictions" said the change would mark a significant step towards economic recovery.
HK's latest gastro-trend
COVID-19 restrictions have produced a new food trend in Hong Kong, says South China Morning Post food writer Andrew Sun.
"It's not some nouveau-gastro movement started by artisanal-minded chefs deeply connected to their native terroir, pursuing organic yet authentic cooking techniques to elevate the Escoffier tradition while remaking it for modern palates," he says (with his tongue where it should be: in his cheek.)
"Nope, what's taking the city by storm is nondescript food stalls selling rice boxes topped with your choice of two or three side dishes. It is blue-collar meals on the cheap, sold to those on a tight budget…" And to those who can't go out for dinner while evening dining in restaurants is suspended.