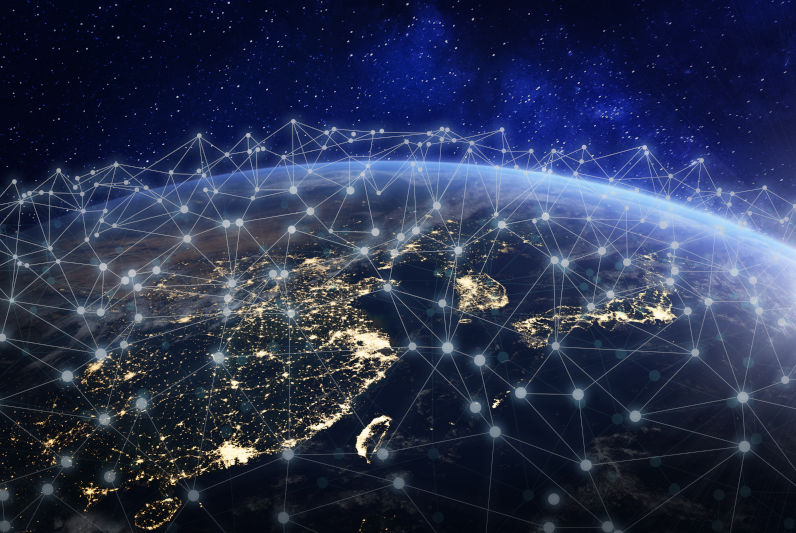 In Asian media this week: different views on what Xi said – and did not say – in his national party congress report.
Plus: Japan sees 2027 as critical; climate justice demands; President dresses down police; Quad fund to counter China; and Korea shows the way on EVs.
CCP National Congress (i): The China Dream
Former Singapore diplomat Bilahari Kausikan goes straight to the key question in a considered, detailed analysis of the Chinese Communist Party's 20th National Congress.
"Barring being hit by a stray thunderbolt, in a few days Mr Xi Jinping will get a third term," he writes in an essay published by The Straits Times, a paper that is consistently strong on China news and commentary.
"The question is: what will he do with it?"
His short answer is: "China's ambitions will not change and are unlikely to be tempered during Mr Xi's third term and beyond."
Kausikan, formerly Singapore's permanent representative at the UN and now chair of the Middle East Institute at the National University of Singapore, says the 'China Dream' is the means by which the party legitimises its monopoly of power.
The China Dream is a revanchist policy concerned with the recovery of the real or imagined place China occupied in times before its disastrous contact with the West.
"The China Dream is a powerful narrative because…its broad outline is largely true," he says. "Mr Xi has used it more insistently than his predecessors…
"This narrative has been a success with most PRC citizens, at least those who are Han."
Hong Kong's South China Morning Post says that in his speech to the congress Xi gave an account of his 10 years in charge and set out the next stage of China's ascent to the summit of world power.
The paper says in an editorial: "Xi made it clear that the next five years under his leadership is mission critical to the vision of China becoming the leading power in the world by mid-century in two stages – first by completing modernisation by 2035 and then by becoming a pacesetter and goal-setter of global development by 2050."
Headline growth figures are not the only measure of China's development, it says. The country needs sustainable quality growth in self-reliance in many aspects of security – military security plus safety from disease, deprivation and disaster.
CCP National Congress (ii): What Xi did not say
Xi Jinping's 105-minute speech to the party congress departed from tradition: he did not read out his full work report, which was 72 pages long. Both SCMP and The Straits Times carried stories on what he did not mention.
SCMP said the unabridged report went into much greater detail about challenges facing the country and the party – and singled out shortcomings in party performance.
The full report stressed that a 'great new struggle' was needed – that the internal reconstruction of the party had been inefficient, SCMP said.
It quoted from the report: "Despite repeated warnings, pointless formalities, bureaucracies, hedonism and extravagance persisted in some localities and departments. Privilege-seeking mindsets and practices posed a serious problem and some deeply shocking cases of corruption had been uncovered…
"Misguided patterns of thinking, such as money worship, hedonism, egocentricity and historical nihilism were common and the online discourse was rife and disordered."
The Straits Times said that in the full report Xi had described the country as being confronted by drastic changes in the international landscape, especially attempts to blackmail, contain, blockade and exert maximum pressure on China.
But China had shown a fighting spirit and a firm determination never to yield to coercive power.
The paper said: "[Xi] wanted the Chinese to be in crisis mode, painting a picture of a dangerous, unstable world with a target on China's back – hence signalling that they need a strongman leader who will put security first and steer them through the rough seas."
CCP National Congress (iii): The official media
China's official English-language newspapers, China Daily and Global Times, naturally carry blanket coverage of the congress.
Two samples:
China Daily published a major editorial on how Xi's report stressed China would continue to open up to the outside world.
Some voices alleged that focusing on improving the domestic economy meant that China would start turning its back on the outside world, the paper said.
"This is a false assessment," it said. "The new development paradigm … is being implemented in accordance with a careful assessment of the risks and uncertainties arising from complicated domestic and international development environments."
Read the China Daily coverage.
Global Times said in an editorial Xi's report emphasised that building a modern socialist economy required the pursuit of high-quality development.
It said: "High-quality development is a new concept in which 'innovation is the primary driver, coordination is an endogenous trait, eco-friendly growth prevails, openness to the world is the only way, and shared growth is the ultimate goal'."
Read the Global Times coverage.
Japan sees 2027 as a danger point
Over the next five years, Japan will undertake its biggest arms buildup since World War Two, according to the country's news media.
Both The Japan Times and The Asahi Shimbun newspapers carry a detailed report on Japan's planned efforts to deter Beijing from waging war in East Asia.
Japan had identified China as its main adversary in its 2019 defence white paper.
Now it pointed to 2027 as the time when East Asia's power balance might tip in China's favour.
That year will bring the next Chinese Communist Party national congress and is the centenary of the founding of the People's Liberation Army.
The report quoted a senior Japanese Government official as saying there were different shades of opinion but generally officials shared the view of the significance of 2027.
But China's Foreign Ministry said Japan was using China as a pretext for its military buildup.
The Japan Times also published an analysis of the signs Beijing was preparing to invade Taiwan.
The story said many China experts believed Xi Jinping would prefer to gain control of Taiwan through non-military means. But it also noted that Xi warned in his party congress speech that China would never renounce the use of force in resolving the Taiwan question – and was met with thunderous applause.
Possible warning signs included: short-term financial measures, such as freezing foreign assets in China; a blockade of Taiwan; an increase in munitions stocks; unusual maintenance programmes on major equipment; and mobilisation of PLA forces in Fujian province (opposite Taiwan).
China would also step up its anti-Taiwan rhetoric in a bid to shape international opinion.
"Such indicators could give Taiwan more time to prepare," the story said.
COP27: demands for climate justice
The next UN climate change conference – COP27 – will be held next month and activists are staking the claim for climate justice for poorer nations.
Hong Kong's South China Morning Post this week published two articles making the case.
One, written by two senior Oxfam officers, carried the headline: "Developing world crying out for climate justice as green finance promises go unfulfilled."
The second, written by Rizwan Basir, a climate activist in Pakistan, had the heading: "COP27: Rich nations must take responsibility for pay for climate damage in poor states."
The Oxfam article cited the effects of Super Typhoon Noru, the massive flooding in Pakistan and heatwaves in India, Pakistan and China as evidence of the damage climate change is causing in Asia.
Oxfam had estimated countries in South and Southeast Asia would require $US1.3 trillion a year until 2030 to handle climate impacts and decarbonise their economies.
Commitments so far amounted to only about $US14 billion a year.
Basir's article pointed out that Germany planned to reactivate 21 coal-powered plants to escape Russia's energy stranglehold. France, Italy, Austria and the Netherlands had announced similar plans.
"One state's emissions are another state's disaster," Basir wrote.
COP27 opens in Sharm El-Sheik, Egypt, on November 6.
'Jokowi' pulls police into line
Indonesian President Joko "Jokowi" Widodo summoned 556 high- and middle-ranking police officers to the State Palace on October 14 and gave them a dressing down.
The Jakarta Post reported the president told them public trust in the police was at its lowest point.
Earlier that day, the Post said, a police general had been arrested for allegedly selling five kg of confiscated crystal meth.
On the same day, a fact-finding team had held police responsible for the deaths of 132 soccer fans at Kanjuruhaan Stadium in East Java on October 1.
"Jokowi" told the police officers people have complained about illegal levies and other forms of extortion. He told them to stop arbitrary and repressive measures.
"Do not show off because you have a luxury car or a big, expensive motorcycle," the Post reported him saying.
"Be careful. The current technology has changed social interaction."
Quad fund to counter China's success
The continuing COVID pandemic, Russia's invasion of Ukraine and international economic stresses, have temporarily distracted global attention from China as the sole long-term threat to the "free world", says an opinion piece in India's The Statesman.
But the article, bylined Bhopinder Singh, says the strategic eye-on-the-ball of future risks from Beijing remains firmly in place, as shown by the proposed Quad Fund, a plan to invest $US1 billion in important industries in the Quad countries – India, Japan, the US and Australia.
"Hypothetically, with hardware technology powerhouses the United States and Japan, software powerhouse India and a resource abundant Australia, all under one composite umbrella of Quad, it is workable," the article says.
China seems to be taking the idea seriously. Global Times, an official English-language paper, says the idea has been put forward by a group of Washington insiders.
Their aim, the paper says, is to suppress China's dominance in critical minerals, pharmaceuticals, military technologies and supply chains, citing a story in The Australian Financial Review.
"Washington is now attempting to use the Quad investment fund to escalate containment of China," Global Times says. "[It] shows that the US has entered a period of strategic fear from strategic anxiety."
How to move on EVs: South Korea shows the way
South Korea had only eight electric car models in 2018 but the figure jumped to 55 in 2021 and is expected to hit 81 by the end of this year.
The country had 27,352 car chargers across the country in 2018, rising to more than 106,000 last year and 160,000 now.
The Korea Times reported these figures in a story saying the Government is ordering all public entities and institutions to use only emission-free vehicles.
The order comes into effect 40 days' time.
"We wanted to have our public servants take the lead in improving air quality and reducing greenhouse gases by purchasing or renting emission-free vehicles," said Park Yeon-Jae, chief of the country's Air Quality Policy Bureau.