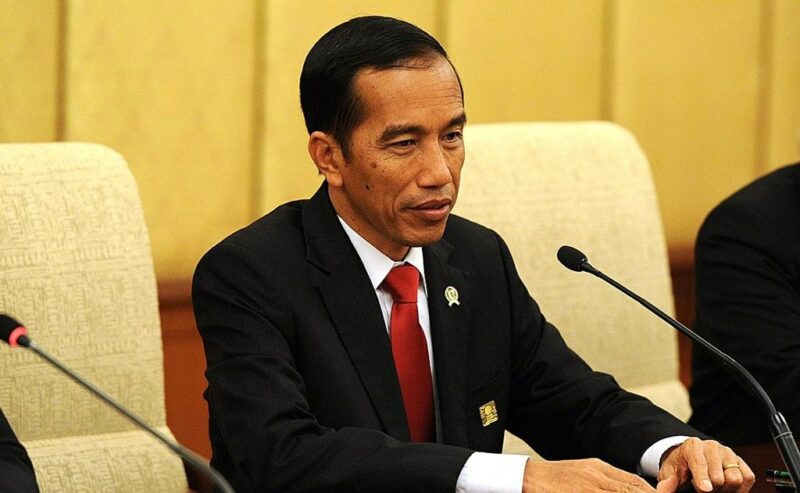 Indonesian President Joko Widodo hasn't gone so far as to ban outlets that publish unflattering portrayals — yet. Watch this space.
The ABC's Insiders recently ran a spoof video of Scott Morrison as a caveman urging his followers to leave their refuge.  It was a clever and funny clip – even Coalition MPs might have risked a quiet giggle. Who can guess the PM's thoughts but we do know Joko Widodo and his minders would have flared had the Indonesian president been the target.
Tangerang is home to Jakarta's Soekarno-Hatta international airport. The sprawling dormitory and industrial centre on the Western side of the Big Durian is not a leafy suburb. So when spray-painters turned their talents to a concrete underbridge they could only improve the streetscape.
To the usual gaudy Zap! Pow! unintelligible mess, someone imaginative added a head and shoulders of Widodo. They included a red strip across his eyes carrying the words in English: 404: Not Found.
This is the error message which smacks screen jockeys when they click on a banned website. The mistitled Information Ministry blocks thousands of links it doesn't like, mostly on moral grounds but also political issues, particularly the secession movement in West Papua.
As political satire goes the graffiti's a yawn, nowhere near Insiders satire, too bland to stir a sophisticated audience. That group doesn't include Indonesian censors whose contrived outrage has helped a few otherwise forgettable kids gain national notoriety and fuel the debate about the Republic's democracy.
The woebegones assumed the Tangerang artwork implies the boss of the world's third-largest democracy currently facing the biggest pandemic crisis in the region is missing in action. Morrison has been the butt of similar comments but knows any display of petulance would double the derision.
Though the police ordered the cartoon to be scrubbed, pursuit of the "artists" continues, much to the anger of civil rights groups. This has aroused intense comment escalating a basement mutter to a top floor debate on Widodo's performance.
Murals in Indonesia usually show imagined scenes of red-eyed guerrillas fighting the returning Dutch colonialists during the 1945-49 revolutionary war. Mythical characters from centuries-old stories are also favourites.
Until now political comment has focussed on supporting Palestine independence and condemning West Papua separatists. Shots at the Jakarta government have featured in social media, but Anon can often be traced and prosecuted. Hooded figures daubing public property at night away from CCTV cameras are harder to catch.
An enterprising/naughty screen printer who allegedly tried to sell T-shirts featuring the 404 line was forced by the police to apologise.
The right to freedom of expression and opinion is in the constitution but try exercising that in a country where legal aid is almost invisible and the justice system notoriously corrupt. Then there's the paranoia.
Colonel John Haseman, a former US defence and army attaché in Jakarta described Indonesia as "an inherently centrifugal country … whose leadership has always identified internal instability as the country's greatest security threat."
During the 32-year rule of former general Soeharto, the taboo topics were encrypted as SARA (Suku, Agama, Ras, Antargolongan (ethnicity, religion, race and inter-cultural relationships)). "SARA conflicts were invariably dealt with quickly and ruthlessly," wrote Haseman. "It was an item of faith that such violence was never to be tolerated and certainly not to be allowed to spread."
Since Indonesia became a democracy this century the acronym has rarely featured – till now. Communications Ministry staffer Faldo Maldini told the media that painting on walls without a permit violates the law.
"There are several aspects that become a measure of restrictions on artistic expression. National security, public safety and public order … do not spread lies, SARA, hate speech."
Presidential chief of staff Moeldoko reportedly said his boss was "open and never fazed by criticism" but comment had to be framed by "eastern cultural traditions … civilised and in accordance with the right methods and the culture practised by the nation.
"Chasing perpetrators doesn't mean the State is acting repressively, because a summons by the authorities can mean providing guidance so the perpetrator does not do bad things again."
These ominous warnings re-enforce a widespread belief that Widodo has abandoned his man-of-the-people reformer image to embrace authoritarianism, running his palace – say the rumours – like an imperial court.
Freedom House ranks the republic "partly free", though rights are slipping. ANU's Edward Aspinall reckons that although Indonesia retains many aspects of democracy, "Jokowi is leaning increasingly heavily on the military to get things done, and harassment of anti-government activists has increased."
Natalie Sambhi of the Center for East Asia Policy Studies claimed Widodo, "has presided over a period of democratic regression and increasing illiberalism.
"During his tenure it appears that the military is gaining greater ground in the civil-military balance, marked by the appointment of several New Order (Soeharto era) figures in politics, increased reliance on the army's territorial system, and a greater ability for retired officers to shape public discourse and policy."
Scribblings on a concrete underpass would never have gained fame beyond the graffiti gang had the president's protectors ignored the mild comment in an obscure spot. Now they've ensured Widodo's performance is getting international attention.
This month The Economist published an unflattering cartoon of the president calling him "Jokowho?" claiming democracy is "increasingly enfeebled under his rule".
Last century the autocratic second president Soeharto would have banned the London-based magazine as he did with Newsweek, Time and the local Tempo when they were less than flattering,
So far the seventh leader hasn't gone that far. Watch this wall space.