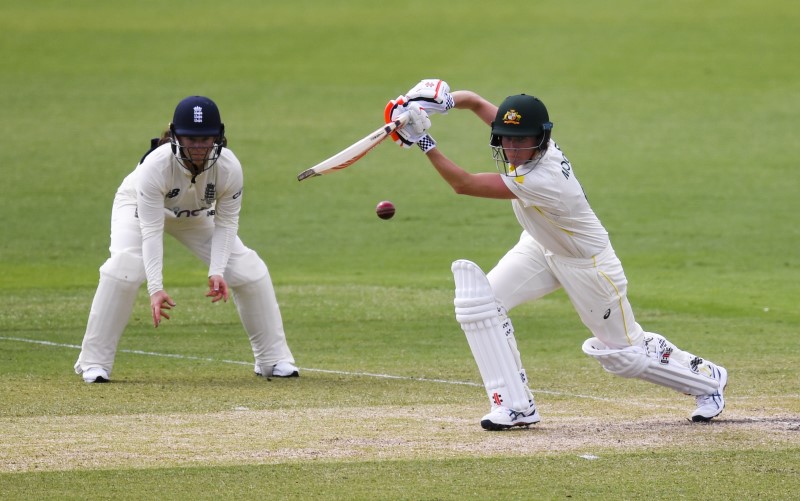 While women display their abilities in fields monopolised by men, people in power not only allow these talents to be wasted but actively inhibit them.
The women's Ashes Test in Canberra in the last days of January provided evidence that the best aspects of cricket are alive and well. The skill and values on display might well be a predictor of where society is heading and could help explain why some dinosaurs do not understand the frustration they cause to female advocates such as Grace Tame.
In this sport obsessed country, the cults of celebrity around swimming, tennis, football and cricket stars convinces them that they are above normal rules of behaviour. At least this is true of the male stars just as it is true of male politicians. On the day Ash Barty showed how to win a tennis tournament with dignity, two males lacked discipline and brought the game into disrepute, appearing shirtless and squirting an official. No sport can afford to tolerate such behaviour.
On the same day Ash Barty showed the true values of a champion and appeared with idol Evonne Goolagong Cawley, Ash Gardner received an award as cricketer of the year, marking a great day for Indigenous athletes. Cricket has sometimes been described as a metaphor for life, and if this is so, Australian women are on an upward trajectory.
Kate Fitzpatrick in Name Dropping: An Incomplete Memoir (2004) describes a time when cricket was seen as a masculine preserve. Known chiefly as an actor, Fitzpatrick was hired as a Channel Nine commentator in 1983 after writing some newspaper columns based on interviews with cricketers such as Greg Chappell and became friends with players such as Mike Brearley, David Gower and Imran Khan.
Needless to say the gutter press greeted Fitzpatrick's appointment with racy photographs from her stage roles and puns about 'leg glances'. Talkback radio hosts encouraged listeners to complain about her performance.
There are two distinct aspects to the cricket broadcast – ball-by-ball commentary and comments for colour. Fitzpatrick realised that her role was to represent the uninformed women asking silly questions to allow the real commentators to patiently explain the game to female fans. No expertise was assumed. She lamented that when 'the Australian cricket team has a few permanent female players, the colour commentary door may open, just a crack. It could happen, just not in my lifetime'.
In fact, both have come to pass. The Channel Seven commentary team of three for the Canberra Ashes Test at times was three women operating independently. And no-one should feel the need to qualify the cricket teams playing the Manuka Test by adding 'women' to their description. Both England and Australia fielded superior cricket teams, in terms of both technical ability and playing in the spirit of the game.
The skills of the batters on both sides were outstanding. Those atop the respective batting orders got starts in one innings or the other. The remarkable England captain Heather Knight, who finds Manuka very conducive to run scoring, added 168 not out and 48 to her tally. Australian skipper Meg Lanning came to the crease with her side in trouble at 3 for 12 and scored 94. The straight-bat techniques of tall, elegant right-handers Tahlia McGrath and Nat Sciver who dominated over the ball, provided models any young cricketer could strive to emulate.
The fielding performances were wholehearted. Rookie Darcie Brown dived across the turf often to save runs on the boundary. Rachael Haynes' catch to dismiss Tammy Beaumont just as the England opener was looking dangerous was nothing short of spectacular as was Amy Jones' record-equalling bag of six catches behind the stumps. The batters acknowledged 50s and 100s with modest celebrations and the bowlers toiled without great displays of swagger and ego.
Mostly the length and line was excellent and it was refreshing to see that bowlers did not immediately switch to bowl around the wicket at the merest sight of a left-handed batter. The veteran Katherine Brunt who secured a five-wicket haul was tireless. Other pleasing features of the match included a sporting declaration by Lanning which created an exciting finish and a fitting draw, Beth Mooney's courage in playing despite having recently suffered a broken jaw and seeing star bowler of the men's game Mitchell Starc in the stands supporting his partner Alyssa Healy.
It is interesting that the scoreboard at Manuka was formerly in Melbourne. Relocated to Canberra it was named after Jack Fingleton, Test opening batsman and political journalist. Fingleton was outspoken and was even known to criticise Don Bradman. Perhaps a little more iconoclasm is appropriate today.
While Australian women continually demonstrate their abilities in fields traditionally monopolised by men, people in power not only allow these talents to be wasted but actively inhibit them. The disappointment on Grace Tame's face when she met the Prime Minister was perfectly understandable.
Domestic violence has been institutionalised almost as much as male sporting prowess. Perhaps if we stopped idolising the masculinity in sporting stars, political leaders would no longer dare to make policies which currently keep women down. Either that, or get out of the way and let the women do it. The Ashes Test at Manuka showed how well they do.