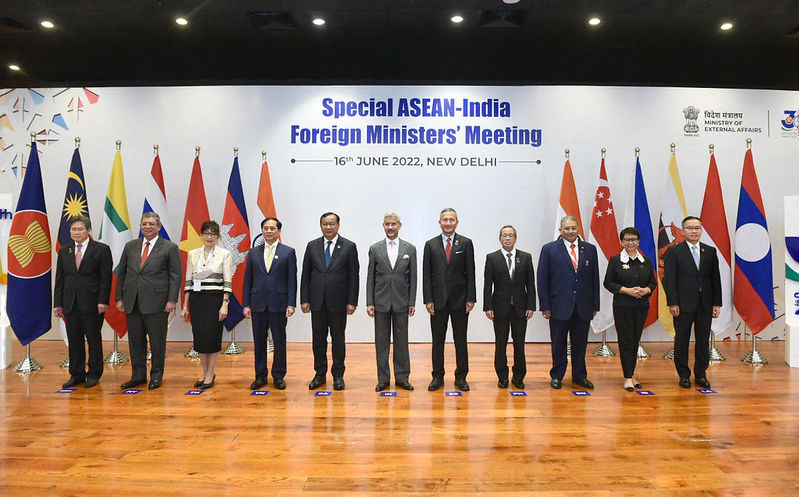 India holds this year's presidency of the Group of 20 and has boldly stated its vision as Vasudhaiva Kutumbakam (One Earth, One Family, One Future). This is a departure from the previous (and often dry) themes of the G20 which are dominated by geopolitical issues and economic priorities of Western powers.
India's tagline demonstrates the insertion of its culture and philosophy as well its desire for a more contemporary and non western centric geopolitical narrative into the global agenda in a major way.
In many ways, India is now joining China in aspiring to reshape the substance of geopolitical relations away from the Western-led zero-sum-game framing of internationalism. With the G20 and other efforts, India is demonstrating an ambition to bring about a new era of pluralism and coexistence based on a strong appreciation of the need for a shared prosperity that is rooted in an age old appreciation of socioeconomic limits, collective welfare and a departure from international relations based on exceptionalism and entitlement by exerting power and dominance over others.
This will not be easy for India given its own challenges, but to dismiss this new global vision by taking a cynical view is to risk not understanding how new narratives are critically important and are being created by rising powers to help the world move beyond the status quo.
Indeed, as the world moves away from the traditional power centers of the United States and Europe, it is important for other nations and blocs to consider their role in shaping a new global agenda based on the fundamentals of pluralism and cooperation drawing up their culture and historical experience.
Via the G20, India has an opportunity to contribute to a new global narrative and cooperative framework more suited to the challenges of our time by collaborating with another rising region: ASEAN. Together they will constitute about 2.5 billion people by 2050, a quarter of humanity.
The ASEAN-India relationship is as old as the hills and is now entering a golden age. Both have to seize the opportunity with a new mindset.
Why is this the case? A starting point is the cultural and ethnic mix of ASEAN. There are long-existing and deep relations between India and ASEAN's major ethnic groups, such as the hundreds of millions of Muslims and the millions of Chinese (who constitute the largest Chinese population outside China). The region is a melting pot, and most of ASEAN's citizens hold a multicultural outlook that can be leveraged to contribute to the building of a multipolar world based on pluralism.
In addition, the Indian diaspora and broader Indian cultural capital held by ASEAN are major factors. When looking at the Indian-ASEAN relationship it is important to remember that there are over 5 million people of ethnic Indian origin in Southeast Asia, including nearly 3 million in Malaysia alone.
In the realm of business, proximity and familiarity often play a crucial role in establishing successful partnerships. This is where the Indian diaspora and its accompanying cultural capital can prove especially valuable: for Indian businesses looking to expand into ASEAN markets, the diaspora can provide a familiar and trusted counterpart, offering invaluable insights into local customs, language and culture.
In countries such as Malaysia and Singapore, the ethnic Indian population often has a strong command of other dialects, including English and Malay, which is similar to Indonesian. This presents a unique opportunity for Indian businesses to gain a foothold in the vast Indonesian market through the expertise and connections of the local diaspora.
The strengthening of ties between India and ASEAN will also have far-reaching positive political and security implications for the region. First, it is important to note that India's vision of a unified global society is closely aligned with ASEAN's diplomatic ethos, the ASEAN Way. This approach has proven successful in enabling ASEAN to manage relations with its own member states as well as major powers in the region.
India's vision for its G20 chairmanship highlights the need for cooperation and solidarity among nations in addressing global challenges such as inequality, economic recovery and sustainable development. This provides India with an unparalleled platform to shape the global agenda and work towards a more multipolar world order.
This theme aligns with ASEAN's goal of creating a community of shared prosperity for the region, where nations work together for the common good and the prosperity of all. The close connection between India's G20 vision and ASEAN's aspirations makes their collaboration more relevant in the current global context, given the global community is now increasingly aware of the need for new models of cooperation and collaboration that are not unfairly influenced by just one or two superpowers.
It also presents an opportunity to reignite the ethos of the ASEAN Way, which emphasises non-interference, respect for sovereignty and the promotion of regional peace and stability. These values align with the much vaunted Westphalian principles developed in Europe in the 1600s, which are the foundation of modern international relations.
Ironically, these principles are often ignored by Western powers, which frequently prioritise aggression and the threat of military intervention and sanctions. An India-ASEAN partnership can demonstrate to the international community that peace, respect and stability can characterise a multipolar world and frame efforts to resolve global crises in an inclusive manner; an approach from which the West could learn a thing or two. The G20 is a good place to put these new approaches and priorities on the agenda; something Indonesia also pushed when it hosted the G20 in 2022.
Furthermore, by leveraging its strong political, cultural and economic ties with India and China, ASEAN can emerge as a powerful political-security agenda setter within the region and help mediate between Asia's largest nations. This is especially crucial given the volatile geopolitical landscape that often sees bigger powers like the US and China engage in manoeuvring that can destabilise the region. ASEAN's role in fostering better relations between India and China should not be underestimated.
In addition, by working together to tackle regional challenges such as environmental degradation, territorial disputes, transnational crime and extremism, ASEAN and India can demonstrate the importance of regional collaboration and integration in addressing global issues. This will require developing solutions that are generated and implemented outside of traditional Western geopolitical approaches, which are often top-down, and lack inclusivity or appreciation of local contexts.
The partnership between ASEAN and India is not only a promising vision but a tangible reality that is already taking shape. In a world seemingly plagued by political and economic instability, ASEAN and India have the potential to lead by example and inspire other nations and blocs to join forces in creating a more peaceful, just and equitable world.
The partnership between these two regions is not just an opportunity but a responsibility to contribute to the stability and prosperity of the world, and to ensure that no one is left behind in the pursuit of a more sustainable future.
First Published in The Jakarta Post March 11, 2023