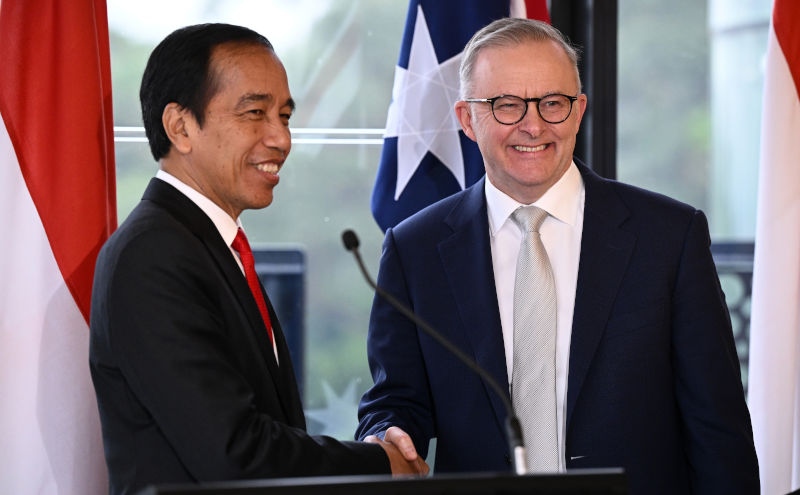 A lot of opportunities have been missed to engage more closely with Indonesia over the last few decades, a period when Australian government enthusiasm and funding for engagement with Indonesia declined significantly. Correcting that is getting harder as time goes on and Indonesia grows in economic and political influence.
The recent three-day visit to Australia by President Joko Widodo (Jokowi) was relatively low-key, without much of the hoopla surrounding previous bilateral leadership visits. That includes Jokowi's last visit, in February 2020, and even PM Albanese's visit to Indonesia in June last year. The images of Jokowi and Albanese under umbrellas in the rain in front of Sydney Harbour could not compete with the two of them riding bamboo bicycles through the gardens of the Bogor Palace.
Of course, the leaders are not to blame for the weather, but the image is perhaps symbolic. After the raised expectations of Albanese's 'reset' visit last year, this meeting was a bit of disappointment. Yes, plenty of important issues were raised, but very few were resolved. The visit therefore stands as a fair summary of the current state of the Australia-Indonesia relationship, which, rhetoric notwithstanding, often seems disengaged and incomplete.
For example, there was much discussion about improving trade relations. This certainly needs to happen. In 2021, each was only the other's 13th-largest trading partner. Indonesia, expected to be a global Top Ten economy by 2030, ranked 27th as a destination for Australian foreign investment and the 38th-largest source of foreign investment for Australia. The bilateral free trade agreement (Indonesia-Australia Comprehensive Economic Partnership Agreement, IA-CEPA) was signed in 2019, after years of negotiations, but it is yet to deliver much.
Jokowi's hopes that Indonesia could buy lithium for electric batteries from Australia and become a significant producer of EVs could help improve trade links. But no agreement has been made, and the idea is pie-in-the-sky for now. And given Indonesia's electricity is mostly coal-fired, the idea might not tick the climate box after all. The leaders also announced a $50 million program for Indonesian climate action start-ups, but, again, there was not much detail and that is essential given Indonesia's woeful environmental record.
Australia made concessions on visas to make it easier for Indonesians to visit. This is a sore point, as Jokowi has repeatedly made clear to Canberra. We will now offer longer business visas (5 instead of 3 years) and 10-year visas for frequent travellers.
But there was no increase in the number of working holiday visas available to Indonesians. And nothing was done to change the fact that, while Australians can get a $50 visa on arrival in Indonesia, most Indonesians wanting to travel to Australia first have to pay $140 per person (expensive for most Indonesians, and often non-refundable). Worse, they have to fill out a long and detailed application form that requires, among other things, a bank statement. Visa approvals – or rejections – can take weeks.
One reason for weak engagement between Australia and Indonesia is that very few Indonesians live here, despite our close proximity. In fact, Indonesia does not even appear in the Australian Bureau of Statistics list of the top 20 overseas-born communities, although the Philippines is now ranked fourth, and even Nepal and Sri Lanka make the list. Diasporic communities play a vital role in building and maintaining links between countries, as well as offering an invaluable pool of linguistic and cultural skills. This is another a missing piece of the puzzle, and visa rules undoubtedly play a part in this.
Education got a mention at the leaders' meetings, with Albanese emphasising bilateral education links (for which read: recruiting Indonesian students). 'Enhanced and expanded' scholarships for Indonesia were 'welcomed' by the two men, as were the plans of three Australian universities to build campuses in Indonesia. The leaders also announced the return of the Indonesian Language Learning Ambassadors (ILLA) program, which places Indonesian scholarship holders into Australian schools, as well as a university pilot program to support Indonesian language and culture learning.
These are all worthy initiatives, but they are limited in scope. They are nowhere near the serious expenditure needed to reverse the decades-long collapse of Indonesian language and studies in our schools and universities, even though courses are vitally important to our capacity to engage with a country where very few speak much English.
The reality is that not much is likely to be done to resolve these long-standing obstacles to closer relations any time soon. Although neither Labor nor the Coalition dispute the importance of Indonesia, it is a very long time since any federal politician seriously pushed for real investment in strengthening our capacity to engage with our near neighbour.
The same seems to be true in Indonesia too. Since early in his first term, Jokowi has been clear that he does not see the Australia Indonesia relationship as 'special' in the way his predecessor, Susilo Bambang Yudhoyono did. Jokowi is interested in business and, while Australia gets some attention as the junior representive of AUKUS and the Quad in Southeast Asia (yes, the Deputy Sherriff), it is a minor economic player in his country's future.
But the lack of major breakthroughs from this visit might turn out to be for the best, given any major initiative brokered now with Jokowi might not hold in any case. This is because although he remains popular in Indonesia, with approval ratings still exceeding 70%, Jokowi is fast becoming a lame duck.
Approaching the end of his second term, he cannot run in the elections set for Valentines Day next year, and Indonesia is already fixated on the race to replace him. In Indonesia's US-style system, a new president also means an entirely new administration and a spill of most senior government positions. In other words, next year will see a sweeping recalibration of power and patronage across this vast nation of 270 million+, and that is already the only game in town.
Jokowi's 10-year rule and popular reach (despite failing to deliver on many core promises) means he is already playing a role as kingmaker, working hard to cement influence for himself and his family after he leaves office. However, there can be no guarantee that even signature policies, like his unlikely $50 billion plan to build a new capital in remote Kalimantan will survive, let alone any deal he makes with Australia.
A lot of opportunities have been missed to engage more closely with Indonesia over the last few decades, a period when Australian government enthusiasm and funding for engagement with Indonesia declined significantly. Correcting that is getting harder as time goes on and Indonesia grows in economic and political influence.
Jokowi's farewell lap was another lost opportunity. Sadly, our track record suggests we probably won't perform any better next year after the new president is elected.