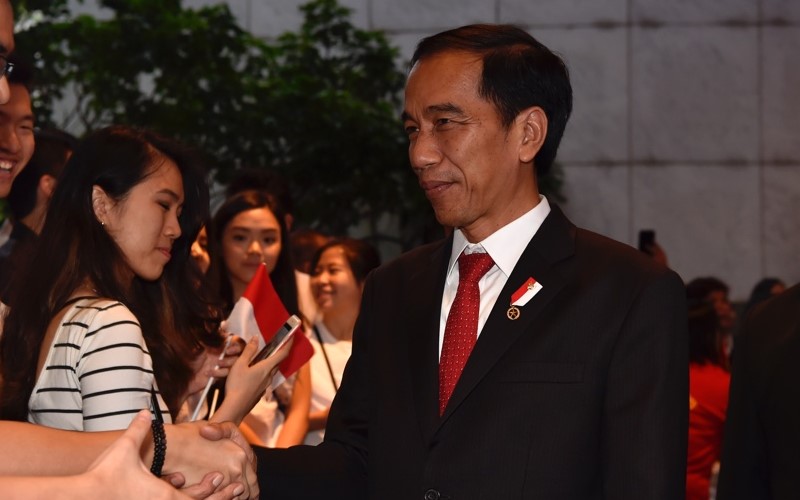 Indonesia is chair of ASEAN this year and using its position to try and end the two-year crisis in Myanmar that's already cost more than 3,000 lives.
President Joko 'Jokowi' Widodo has told Reuters he wants to send an envoy to Myanmar 'in the hope of demonstrating to military rulers how Indonesia successfully transitioned to democracy.
'This is a matter of approach. We have the experience – here in Indonesia, the situation was the same.' His reference is to the 1998 fall of Soeharto and the end of his 32-year autocracy.
An ASEAN meeting in Jakarta this month minus Myanmar decided on an Office of the Special Envoy headed by Indonesia's FM Retno Marsudi.
A spokesman explained the plan is 'to establish communication with all sides of Myanmar with the purpose of reduction and cessation of hostilities …once they are ready to sit down and have an inclusive dialogue.'
The Jakarta whisperers are picking former four-star general Luhut Panjaitan as 'special envoy' for the tough task of talking to the junta.
Luhut, 75, is the Coordinating Minister of Maritime and Investment Affairs. He quit the army after the fall of second president Soeharto in 1999 and became a businessman, then a politician. The Wall Street Journal reported that he's 'highly regarded… untainted by allegations of widespread Soeharto-era corruption, or human-rights abuses'.
Human Rights Watch researcher Andreas Harsono welcomed the likely choice, telling this correspondent Luhut is 'a Mr-Fix-It in the Jokowi cabinet who has already criticised the Myanmar junta in Davos. (The World Economic Forum held last month in Switzerland).
'He's a straightforward man, very practical, and pragmatic. He was instrumental in releasing political prisoners in Papua and the Maluku Islands in 2015. He also knows the Chinese leaders as well as ASEAN countries' top leaders. Let's see how he will deal with this complicated Myanmar problem.'
This is not Indonesia's first shot at peacemaking. In mid 2021 Jokowi sought a special ASEAN meeting to talk about Myanmar's coup. This failed because the organisation bans interference in members' domestic affairs.
Jakarta then invited junta leader General Min Aung Hlaing to talk solutions, infuriating democracy activists. The man of many medals turned up, glanced at a five-point plan which included releasing prisoners, then went home to Naypyitaw and shut the door.
Some background: On 8 November 2020 an election was held in Myanmar (formerly Burma) after the Tatmadaw (military) which had run the country for almost half a century started retreating from politics.
The electorate decisively backed Nobel laureate Aung San Suu Kyi's National League for Democracy, trouncing the military's Union Solidarity and Development Party by capturing 82 per cent of the vote.
The result was not what the astrologers had predicted. On 1 February 2021, a day before the new parliament was about to sit, the army pounced, declaring a state of emergency claiming without evidence that the poll had been rigged.
Mass protests erupted. These were largely peaceful but the junta started shooting, arresting and executing. It's believed more than 3,000 have died and thousands imprisoned including Suu Kyi, 77.
She's been sentenced to 26 years on several charges including corruption. The West has condemned these as politically motivated.
Reform in Indonesia was more than a human rights issue. The 1997 Asian financial crisis had sent the rupiah crashing from around Rp 2,000 to the US dollar to Rp 16,000, savaging the economy and enrolling corporates in the cause.
Most protests were peaceful but the numbers were scary. On 12 May 1998 the army shot dead four unarmed students from Trisakti, the nation's largest private university much favoured by the elite. They turned against Soeharto and they had clout.
Riots erupted on other campuses and in the streets. Nine days later Soeharto resigned after 32 years of ruthless rule.
The demands for democracy were largely led by US-educated university rector Dr Amien Rais. He was then 54 and had a reputation among students as a reformer. He also had religious cred as head of Muhammadiyah, the second biggest Muslim organisation in Indonesia.
The military under its head General Wiranto played a positive role according to Princeton University research:
'Soeharto summoned Wiranto, whom he had appointed both commander of the armed forces and minister of defence and security, (who) … said that although the country's military and security services could restore order, the costs, including further loss of life, would be high. Soeharto decided his time had come.'
Vice president 'BJ' Habibie a former aeronautical engineer took over, freeing Indonesia's media and running an election on 7 June 1999. It was the Republic's first democratic poll since 1955.
The ballot was messy with 48 parties competing, but eventually liberal cleric Abdurrahman Wahid (Gus Dur) became president. He retained Wiranto who split the police from the army, evicted soldiers from their 100 reserved seats in Parliament and banned serving officers from seeking election.
Dr Adriana Elisabeth from Indonesia's University of Pelita Harapan approves the government's strategy: 'I don't think sending a (civilian) special envoy is a good idea because this will push Myanmar into a corner. If Myanmar does not agree to talk to the envoy, there will be no dialogue'.
Others see this as a sellout, a de-facto recognition of the junta and repudiation of the 2020 election results.
ASEAN sensitivities don't bother the UNHCR. In January chief Volker Türk let fly: 'Nearly two years on from Myanmar's brutal military coup against the democratically-elected government, the country has sunk deeper than ever into crisis, undergoing a wholesale regression in human rights.'
Jakarta hopes its initiatives will reverse this trend, push the power-crazed generals to herd the troops back to their barracks and let democracy flourish. Such an outcome would deserve the same gong Suu Kyi was awarded in 1991.