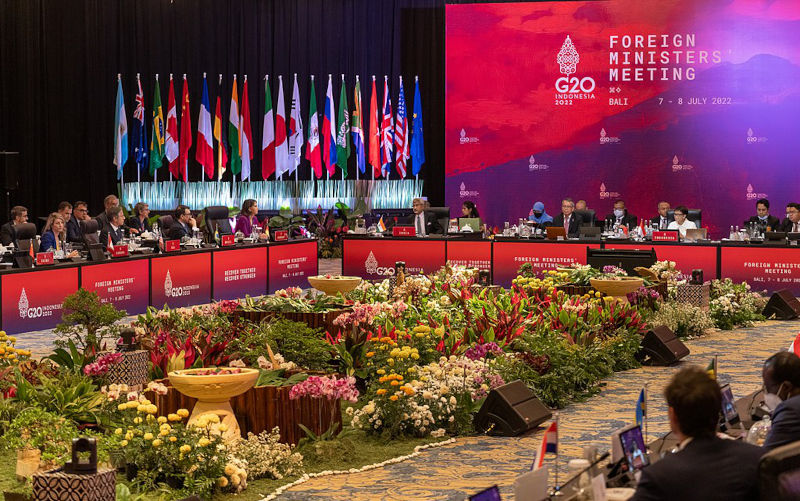 The Indonesian G20 year was like no other. The Russian war in Europe divided the G20. No G20 communiques emerged from the ministerial meetings held during the run-up to the summit in mid-November 2022. There was a moment when it seemed that the summit would only tackle low-hanging fruit. But Indonesian President Jokowi Widodo embraced the tensions rather than avoiding them.
By listening to all of the G20 governments, Widodo realised that the crucial nexus was the impact of security tensions on the global economy. Both security and economic issues had to be dealt with. Realising that the fate of the international community as a singular entity was at stake, President Jokowi Widodo pushed G20 leaders in their communique to 'reaffirm our commitment to cooperate', and to maintain that 'it is essential to uphold international law and the multilateral system that safeguards peace and stability' and that 'the use or threat of use of nuclear weapons is inadmissible'. Quite a feat.
G20 members refused to expel Russia from G20 membership yet unified all other members around reaffirming these long-held principles essential for sustaining the viability of a single international community. The G20 member-states were able to agree on an extensive communique that demarcated lines of action to address global systemic challenges.
Pluralism emerged as the driver of political dynamics among great powers by highlighting the role of middle powers. Pluralism was evident in Indonesia's leadership and in crucial language of the communique mediated by Indian Prime Minister Narendra Modi, which stated that 'today's era must not be of war'. The shifts in US–China relations resulting from discussions between US President Joe Biden and Chinese President Xi Jinping on the margins of the G20 set a possible new tone in geopolitics. It highlighted the need for dialogue as a means of easing tensions.
Each of these elements contributed to clarifying the G20's potential role as a viable platform for global governance. The question is whether the Bali G20 can be an enduring turning point.
What the Indonesian G20 Summit revealed more vividly than most is what the G20 is and is not.
The G20 is often thought of as a group. But it is better seen as a process. The G20 is not just a two-day leaders-level summit. There are ministerial meetings, working groups, task forces, Sherpa planning sessions and engagement groups meeting throughout the year.
The G20 now embraces the pluralism that is intrinsic to this eclectic grouping of member-states. Each of these countries now seek 'strategic autonomy' in their foreign policies and fervently avoid alignment with one side or the other of the geopolitical divide.
This pluralism is a positive political dynamic for global governance. It embraces contradiction rather than adhering to singular ideological orientations. Pluralism relies on a diversity of perspectives and acknowledges the complexity of issues to open policy space for convergence, rather than being confined to the narrow corridors of consensus. This is a major breakthrough away from confrontational narratives of the China–US relationship and from the war-driven divide between Russia and Europe.
These dynamics have enabled a fresh perception of the G20 as an 'informal apex focal point' rather than a 'peak' organisation of big powers. Middle powers play key roles in the G20, as demonstrated by Indonesia's leadership and Modi's initiative. This perception reveals that the G20 is not an institution but rather a 'network of networks' which makes clear its informality and its porousness to external contributions.
The G20, unlike the G7, is value-neutral with respect to regime type, which facilitates dialogue among those who have different domestic values, cultures, institutions and behavioural patterns. It is a more interest-driven forum where the focus is on policy rather than polemics.
While the G20 is often thought of as a forum focussed on the global economy, it has evolved. It has become a focal point for systemic global issues that require strategic vision and political action not just economic policy coordination.
G20 summits have often been maligned by critics for their failure to reach conclusions or take decisive actions. It is true that the G20 performs better in moments of crisis than in more normal times. G20 members need to push each other to deliver policy, both in moments of crisis and beyond.
Global leadership is a political process, which is fluid and evolving. The informal and interactive nature of G20 processes provide governments throughout the year with ways to understand each other's positions, perspectives and constraints. It enables them to forge common discourses and action options, which evolve based on diverse interests and ideas. G20 summits become means by which national political leaders push forward the frontiers of feasible ambition — constrained as they are by domestic politics.
Greater understanding of what the G20 processes really are will hopefully help create momentum for greater accomplishment in the next three years under the leadership of India, Brazil and South Africa.
First published in THE EAST ASIA FORUM December 13, 2022