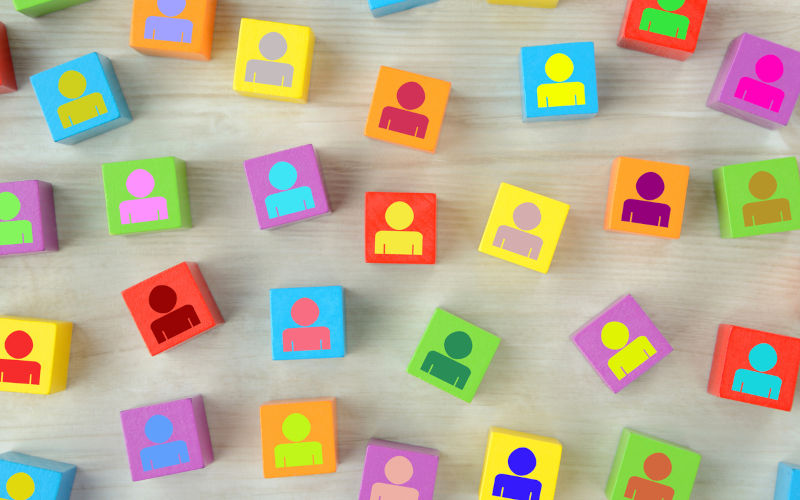 Treasury's December 2022 Population Statement has received more media attention than any of its previous statements. This is predominantly due to Treasurer Jim Chalmers promoting the statement extensively in contrast to his predecessor who largely treated these statements as business as usual.
Chalmers is reported to have said "the news that Australia's population would be slightly smaller and older was concerning, especially in the context of the broader trend towards an ageing population." It is important Treasurers follow Peter Costello's lead in talking about the implications of an ageing population, albeit beyond just trying to encourage Australians to have more babies.
What is Treasury Projecting?
Table 1 of Treasury's population statement is reproduced below.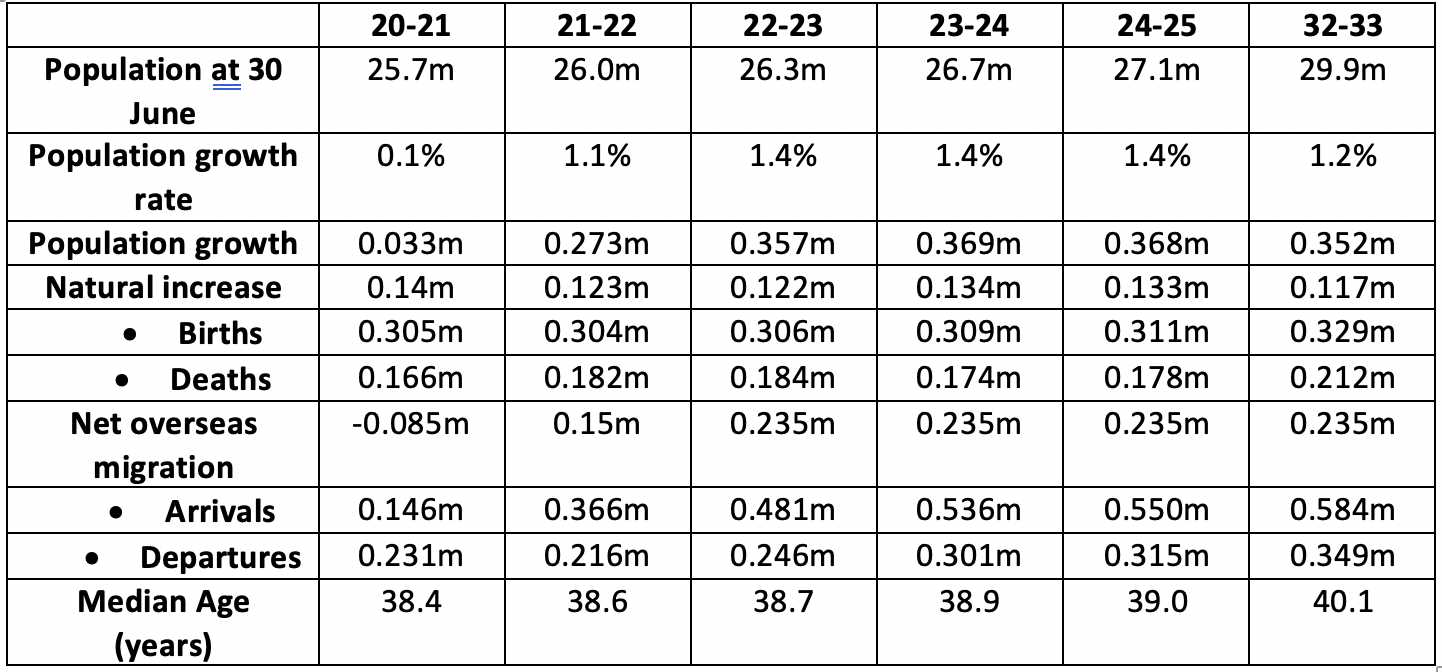 Source: Treasury Population Statement
Australia's population growth rate is projected to gradually slow and the median age to steadily rise. Compared to developed nations and major trading partners such as China, however, Australia's population is projected to continue growing more quickly and age more slowly. Nations in North-East Asia and most of continental Europe are projected to shrink over the next few decades and age much more rapidly from an already much older starting point.
While Australia's median age is projected to rise to 40.1 by 2032-33, Australia would likely remain one of the youngest developed nations on the planet. This is predominantly a function of immigration levels since around 2001 as well as a comparatively higher fertility rate, both of which are assumed to continue.
By comparison with Canada, the nation most similar to Australia from a demographic and immigration policy perspective, Canada's median age had already reached 41.7 in 2021 and rising strongly compared to Australia's median age in 2021 of 38.4 and rising more gradually. A three difference in median age is substantial given the median age 'sweet spot' of between 25 and 35 that is most closely associated with stronger economic growth.
Canada's comparatively older age structure was driven mainly by a much lower fertility rate which fell to 1.47 births per woman in 2019 and then to 1.4 births per woman in 2020. By contrast, Australia's fertility rate has remained substantially higher at around 1.7 births per woman in 2021 after falling to 1.58 births per woman in 2020.
In their population projections, both nations are assuming a long-term fertility rate of around 1.6 births per woman (ie Australia's fertility rate is assumed to fall from current levels to around 1.6 births per woman while Canada's fertility rate is assumed to rise from its current levels) as well as very similar life expectancies. The key difference in their respective population projections is the assumed level of net migration.
Both nations have boosted immigration levels significantly to address labour shortages as well as to slow the rate of population ageing. Canada is aiming to lift its annual migration program to around 500,000 per annum. This is in the context of an unemployment rate of 5 percent at end 2022 (around 1.5 percentage points higher than Australia's current unemployment rate) and a participation rate of around 65 percent (around 1.8 percentage points lower than Australia's participation rate).
At the same time, the central banks of both nations have been increasing interest rates to temper high rates of inflation. As a result, both nations are forecasting significantly slower jobs growth over the next few years. A challenge for both nations will be how their respective governments respond in terms of immigration policy if the forecast weaker labour market and the possible global recession being forecast by the IMF is realised.
Treasury's Net Migration Assumption
When Treasury first forecast net migration in 2022-23 rising to 235,000, I had thought Australia would struggle to reach that level so quickly after the negative net migration in 2020-21. But it appears Treasury has underestimated the rate at which net migration is rising.
In its December 2022 population statement, Treasury appears to have underestimated net migration even in 2021-22 by 20,900 compared to the preliminary estimate for the same year published by the Australian Bureau of Statistics (ABS). Moreover, the ABS preliminary estimate will most likely be revised upwards.
The rapid increase in net migration, particularly during the first six months of 2022, is reflected in an extraordinary 58.7 percent increase in tourism industry jobs over the 12 months to September 2022. This compares to an overall increase in jobs across all industries over the same period of only 6.7 percent.
For calendar 2022, Treasury appears to have forecast net migration of 235,000 having forecast overall population growth in that year of 373,000 in the October 2022 Budget. Once again, Treasury may be underestimating how quickly net migration is rising, mainly because of what appears to be happening with people on visitor visas changing status after arrival rather than due to the larger migration program (which is running well behind pro rata at this stage).
During the 11 months to end November 2022, there had been an unprecedented excess of visitor arrivals over departures of 340,000 – this is likely to grow further in December 2022. Note that in 2019, 71 percent of excess visitor arrivals contributed to net migration. In 2018, it was around 40 percent and in 2017, it was 70 percent.
A high conversion rate of visitors to net migration depends on how long a large excess of visitor arrivals over departures persists during the year. A large excess of visitor arrivals over departures in 2022 has persisted since at least June 2022. If the rate of conversion to net migration of excess visitor arrivals over departures in 2017-2019 (ie prior to the pandemic) continues in 2022, net migration in calendar 2022 and in fiscal year 2022-23 may significantly exceed 300,000, possibly setting a new record for net migration.
This may not be a significant issue if the labour market remains strong through 2022-23 and 2023-24. But if the Treasury forecast of a sharp slow-down in employment growth and an increase in unemployment is realised, net migration of well over 300,000 may attract significant media and political attention, especially if it is being driven by people on visitor visas changing status rather than to the larger planned migration program. Australian governments have a long history of cutting immigration levels in response to economic slowdowns and recessions despite ongoing encouragement from business lobby groups to further increase migration levels.
It should also be noted that if a large portion of offshore migrants in the 2022-23 program arrive in the June and September quarters of 2023 (as is likely because visa grants in the 2022-23 program are running well behind pro rata), they may face a very difficult labour market and a four year wait for access to social support. Moreover, from 1 July 2023 work rights for overseas students will again be restricted to 40 hours per fortnight. That will force many students to work beyond the permissible level unless there are some reasonable transitional arrangements. Many students and newly arrived migrants may also be forced to accept jobs that pay well below the statutory minimum wage just to survive.
Over the longer-term, Treasury has assumed net migration will also average 235,000 per annum. I will examine how Treasury arrives at that assumption and its implications in a part two of this article.