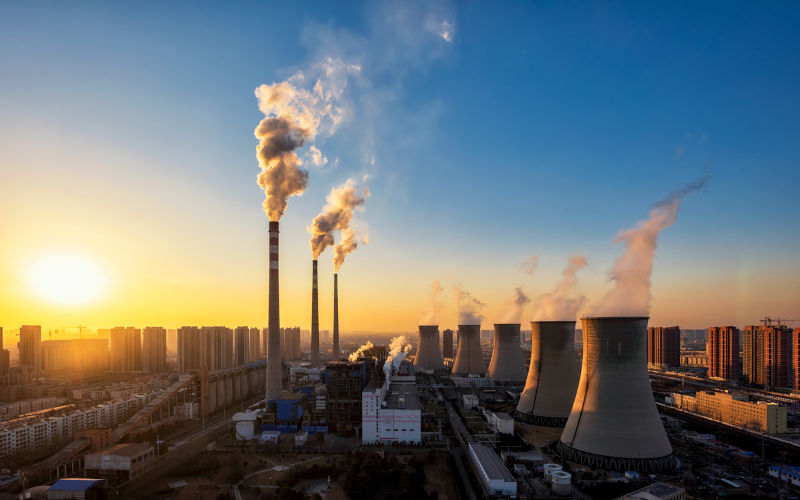 No, it's catastrophic climate change. Avoiding that threat needs co-operation with countries like China, not conflict. Australia's challenge is to get our priorities right and be a constructive player in addressing the existential climate threat that all nations face.

Political leaders and security commentators have made great play about Australia's dramatically changed strategic environment. Deputy Prime Minister and Defence Minister Richard Marles says "the world around us has become more uncertain and more precarious than at any time since the end of World War II", euphemistic language for the rise of China and its supposedly aggressive intent, and justification for the nuclear submarine-inspired AUKUS.
The Defence Strategic Review (DSR) seems to have the purpose of enshrining the China threat as strategic doctrine, whilst the greatest threat to Australia and its people — catastrophic climate change leading to forced mass migration, failed states and a breakdown in global relations — receives much less focus in the strategic conversation.
The geopolitical context is a concern, but it is also clear that despite three decades of intense debate and unprecedented scientific investigation the risks of climate change are still not well understood by our leaders. This was disastrously demonstrated by the failure of the recent COP27 meeting in Egypt to make any progress on reducing global emissions. Prolonged inaction particularly by fossil-fuel endowed countries like Australia has resulted in climate change becoming an immediate existential threat to the future of human civilisation as we know it.
Immediate, in the sense that the continuing rise in global carbon emissions at worst case rates is, unless rapidly reversed, locking in irreversible climate impacts from which humanity may never recover.
Some leaders do acknowledge climate change as an existential threat, including our Minister for Climate Change and Energy, Chris Bowen, and the US Secretary of Defence, Lloyd Austin. Unfortunately there is little sign, as yet, that Australians appreciate what those words actually mean.
The Australian Security Leaders Climate Group summarised the real climate challenge in its recent submission to the DSR:
Climate change and nuclear war are the greatest threats to the security of Australia and its people. Australia has little influence over a possible outbreak of nuclear war; however it is extremely exposed to climate change risks. As such, climate change and its security implications should be a major focus of the DSR.
This threat requires an emergency response, akin to wartime mobilisation. Key requirements, as indicated by the latest science, are: to reduce carbon emissions extremely fast to reach zero emissions as close to 2030 as possible; to drawdown atmospheric carbon concentrations to a more stable 350 parts per million carbon dioxide from the current unstable 420 ppm; and to assess potential climate intervention (geoengineering) mechanisms to cool parts of the planet, to buy time whilst other measures take effect. Far faster change than anything currently being considered officially. Change which will mean considerable hardship for the Australian community, but continuing on our current path will be far worse.
A comprehensive climate–security risk assessment covering domestic, regional and global climate risks is essential before sound conclusions on mobilisation and defence strategy can be drawn. Astonishingly this has never been done in Australia despite our obvious climate risk exposure. The conclusions must be made publicly available to build community support for appropriate climate policy.
It is understood that the Office of National Intelligence is assessing global climate risks to support the DSR. A parallel domestic climate risk assessment is urgently required.
The existential nature of the climate threat requires a fundamental reframing of Australia's defence and security strategy to focus on unprecedented global cooperation rather than conflict. Likewise for the other G20 nations who are responsible for 80% of global emissions, particularly leading powers such as China and the USA.
Pressure on national budgets will increase as governments struggle to meet competing demands as the impact of climate change intensifies. Australia needs an effective defence capacity to protect its own territory and to respond to regional disruption, but hard choices will have to be made in order to shape the economic environment to prioritise effective climate mitigation and resilience. All government spending areas, including defence, need to be examined in this light.
Whilst climate change is an existential threat, it is also Australia's greatest opportunity for economic prosperity and security in a zero-carbon world, provided nations cooperate to overcome that threat.
Demands on the Australian Defence Force Humanitarian Assistance and Disaster Resilience (HADR) role will increase substantially, both at home and in the region. This should prompt a restructure of civilian disaster management arrangements, further emphasising the need for regional cooperation rather than conflict.
Finally, the "China threat" needs to be put in context. China continues to be Australia's major trading partner, around which much of our national wealth has been created over recent decades, built up through long-term diplomatic and business initiatives. This long-term diplomacy and relationship-building contrasts starkly with the anti-China rhetoric which emerged relatively recently from US, UK and Australian political and security leaders as China has become more assertive.
Certainly China is handling its emerging global role aggressively, but that has to be seen against the current accepted Western paradigm that Western dominance must be maintained at all costs, and China's influence "constrained". China's rise is inevitable. Inter alia it is the logical outcome of the West placing increasing reliance on China's manufacturing and technological skills; China's achievements should be recognised rather than ignored by Western leaders and media. There is no way that Western democracies could have moved 1.4 billion people out of poverty in the way that China has done over the last two decades. Whilst it is now the world's largest carbon emitter, it is doing far more to address climate change than most other nations. Our relationship with China should not be seen as a zero-sum game to preserve the status quo.
Climate impacts are certain. Conflict with China is not, and can be avoided. Australia's challenge is to get our priorities right and position ourselves as a constructive player in addressing the existential climate threat that all nations face.