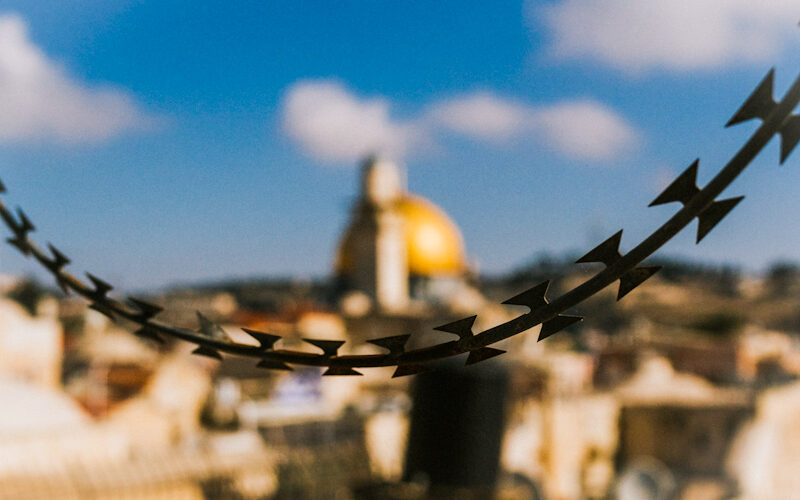 Australians must ask themselves if, given the Coalition and Labor's support of Israel, they can vote for either of the major parties in good conscience.
So, I understand that Scott Morrison has come out in support of the International Holocaust Remembrance Alliance (IHRA) working definition of anti-Semitism. And, surprise, surprise, Anthony Albanese is in support: why now? And why?
As to the first of these questions I have no doubt.
Israel has had some bad press recently — the New York-based Human Rights Watch, and the Israeli human rights non-profit organisation B'Tselem have both reported that Israel has become an apartheid state.
Israel is on the back foot.
How does the Israel lobby respond? It goes on the attack in an effort to delegitimise the Palestinian cause and silence defenders of Palestinian rights.
What wins can it score? Ah, have Australia declare Hamas a terrorist organisation, and have Australia — its government — adopt the IHRA definition of anti-Semitism.
As to the first of these two, the steps have been taken. It will happen soon if it hasn't happened already.
This paper is more concerned with the IHRA working definition of anti-Semitism.
In 2019 the Australian government was accepted as a member of the IHRA, but to date Australia has not adopted the definition of anti-Semitism for government use.
The main issue with the definition is not its 38-word definition, but the 11 illustrative examples of anti-Semitism. Seven of these examples equate criticism of Israel with anti-Semitism.
Two of them reference Israel without mentioning Jewish people.
The definition is in these terms:
Anti-Semitism is a certain perception of Jews, which may be expressed as hatred toward Jews. Rhetorical and physical manifestations of antisemitism are directed toward Jewish or non-Jewish individuals and/or their property, toward Jewish community institutions and religious facilities.

To guide the IHRA in its work, the following examples may serve as illustrations: Manifestations might include the targeting of the state of Israel, conceived as a Jewish collectivity.  However, criticism of Israel similar to that leveled against any other country cannot be regarded as anti-Semitic. Anti-Semitism frequently charges Jews with conspiring to harm humanity, and it is often used to blame Jews for 'why things go wrong'. It is expressed in speech, writing, visual forms and action, and employs sinister stereotypes and negative character traits.

Contemporary examples of antisemitism in public life, the media, schools, the workplace, and in the religious sphere could, taking into account the overall context, include, but are not limited to:

Calling for, aiding, or justifying the killing or harming of Jews in the name of a radical ideology or an extremist view of religion;
Making mendacious, dehumanising, demonising, or stereotypical allegations about Jews as such or the power of Jews as collective — such as, especially but not exclusively, the myth about a world Jewish conspiracy or of Jews controlling the media, economy, government or other societal institutions;
Accusing Jews as a people of being responsible for real or imagined wrongdoing committed by a single Jewish person or group, or even for acts committed by non-Jews;
Denying the fact, scope, mechanisms (e.g. gas chambers) or intentionality of the genocide of the Jewish people at the hands of National Socialist Germany and its supporters and accomplices during World War II (the Holocaust);
Accusing the Jews as a people, or Israel as a state, of inventing or exaggerating the Holocaust;
Accusing Jewish citizens of being more loyal to Israel, or to the alleged priorities of Jews worldwide, than to the interests of their own nations;
Denying the Jewish people their right to self-determination, e.g. by claiming that the existence of a state of Israel is a racist endeavour;
Applying double standards by requiring of it a behaviour not expected or demanded of any other democratic nation;
Using the symbols and images associated with classic antisemitism (e.g. claims of Jews killing Jesus or blood libel) to characterise Israel or Israelis;
Drawing comparisons of contemporary Israeli policy to that of the Nazis; and
Holding Jew collectively responsible for actions of the state of Israel.
The definition has been the subject of controversy world-wide.
The primary criticism is that it blurs the difference between anti-Semitic speech and legitimate criticism of Israel and Zionism. It seeks to render support for Palestinian rights as anti-Semitic.
In the US, where various jurisdictions have adopted the definition, investigations of alleged anti-Semitism have been launched at several institutions. These include Rutgers, Duke, and New York universities, and the University of North Carolina. In each case, the "anti-Semitic speech" being investigated is criticism of Israel.
An alternative has been advanced.
It is known as the Jerusalem Declaration on Antisemitism. It seeks to create more breathing room for criticism of Israel by stating that it is not anti-Semitic to "support arrangements that accord full equality to all inhabitants" of Israel, the West Bank and the Gaza Strip — including a binational or other non-Jewish state.
It also describes boycotts as "commonplace, nonviolent forms of political protest against states" This alternative definition has not been totally free of criticism on the left of politics. Jewish Voice for Peace, which supports the Boycott, Divestment, Sanctions (BDS) movement, said that while the Jerusalem Declaration was a "welcome alternative" to the IHRA definition, it nonetheless focused too much on Israel.
What is anti-Semitism?
I believe that educated people can see it when it really exists. As a lawyer, I was interested to see how it has been defined in the courts. I went to perhaps the most recent highly publicised decision on the issue, namely Irving v Penguin Books Ltd. [2000] EWHC QB 115.
David Irving, self-professed Holocaust denier, sued for defamation in the UK High Court. He claimed that it was defamatory of him to call him an anti-Semite.
It clearly would be defamatory to so label somebody, however Penguin Books pleaded the defence of truth. The court rejected Irving's claim, accepting Penguin Book's plea of truth. It characterised Irving's words as "directed against Jews, either individually or collectively, in the sense that they are by turns hostile, critical, offensive and derisory in their references to Semitic people, their characteristics and appearances".
Irving's words "crossed the divide between legitimate criticism and prejudiced vilification of the Jewish race and people". As simple as that.
I, for one, think that that says it all, no examples are necessary. It is simply hatred for Jews as Jews and manifests itself in sweeping generalisations and stereotypes about Jews, regarding power and money in particular, along with conspiracy theories and Holocaust denial.
Compare that to the IHRA definition.
The examples conflate Judaism with Zionism in assuming that all Jews are Zionists, and that the state of Israel in its current reality embodies the self-determination of all Jews.
The examples have been used to shield Israel from accountability for its human rights violations, or to express it in another way, to stigmatise and stifle legitimate criticism of Israel.
The definition has been deployed mostly against left-wing and human rights groups supporting Palestinian rights and the BDS campaign, sidelining the real threat to Jews coming from right-wing white nationalist movements in Europe and the US.
The portrayal of the BDS campaign as anti-Semitic is a gross distortion of what is fundamentally a legitimate non-violent means of struggle for Palestinian rights.
The IHRA definition has been the subject of academic analysis. I refer to The Politics of a Definition by Oxford University Researcher Jamie Stern-Weiner. In his foreword to this work, Oxford University Professor Avi Shlaim argues that the study ought to lead any government that is considering the adoption of the definition to think again.
And so what is the outcome of this analysis?
The answer is that you, the Australian voter who is aware of the significance of what is happening in Israel/Palestine, must ask yourself whether you can seriously consider voting for either the Coalition, or the ALP. You may agree with me that you cannot.
So who can you vote for?
Well, the Greens must be given consideration. The Greens have a commendable record on Israel/Palestine.
There may be acceptable independent candidates in your electorate. Ask them what their position is on the question of Palestine.
Has the time come for sanctions against Israel until it complies with international law (puts Security Council resolutions 242 and 2334 into effect)?
Do they agree that Israel must remove all settlers from the West Bank and East Jerusalem; that it must remove all barriers to freedom of movement in and out of Gaza?
Test them on these questions!