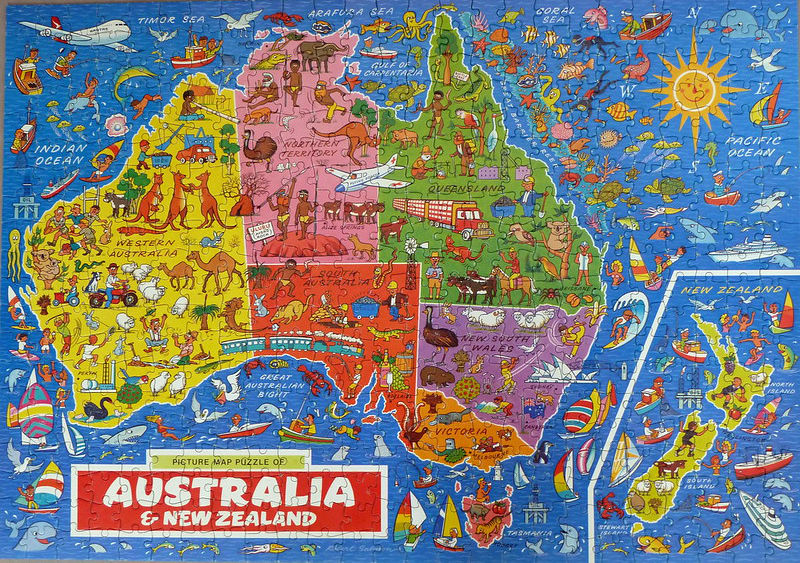 Prime Ministerial visits from New Zealand usually pass unnoticed but not this one.
That said, it should be remembered the bar is already set low when it comes to curiosity about New Zealand and Kiwis living in Australia despite the fact they are the fourth largest migrant community living in the lucky country. Frequent resort to family metaphors and cursory interest in Jacindamania, disputed cultural icons and periodic disasters never take us very far in coming to grips with what some historians refer to as the 'Tasman world' – a shared community of interest that never died with Australian federation in 1901.
Apart from talks on foreign policy and climate change – a matter of existential importance to both nations' Pacific neighbours – Ardern came west with two key goals: to try to soften Australia's policy on deportations, which has disproportionately impacted on New Zealanders, and to improve the rights of Kiwis who have migrated across the Tasman.
In the wake of Ardern's visit, some media outlets claimed the outcome was a deal to bestow "new rights" on Kiwis. Such statements need to be put into a clear context.
Under the 1973 Trans-Tasman Travel Agreement, Australian and New Zealand citizens were granted reciprocal rights to travel, live and work in each other's country without visas. Historically, migration flows were predominantly eastward to New Zealand, a situation that only reversed in the 1970s when flagging national economic fortunes motivated many young Kiwis to seek new opportunities abroad, above all in Australia.
From September 1994, migrating Kiwis were no longer granted permanent residence status on arrival. Henceforth, subject to entry requirements, they were now granted Special Category Visas. In a later and very significant step, prompted by Australian concerns about a growing imbalance in welfare payments and lingering suspicions in some political quarters that New Zealand was a "backdoor" entry to Australia, the Howard government renegotiated bilateral social security arrangements in 2001.
This new agreement effectively eroded the status and rights of New Zealanders resident in Australia who were not permanent residents or citizens. One distinctive characteristic that we do know about Kiwi migrants is that most see themselves as sojourners or temporary residents rather than permanent settlers.  They make vital economic contributions as an integral part of the Australian labour force and yet fewer than one in three will take up Australian citizenship.
The resulting irony is that while many crossed the Tasman to improve their lives as workers and boost the fortunes of family members, when their circumstances change for the worse through unemployment, ill health or natural disaster, many fall between the cracks and, in some cases, are forced into poverty and homelessness.
A related issue with serious consequences for individuals and for New Zealand as a nation is the more recent changes to Australia's Migration Act.  The amended legislation in 2014 broadened the powers of the Minister for Home Affairs to expel non-citizens who were considered a risk to Australian society. Risk is defined vaguely in the legislation and can be triggered, for example, on the grounds of "character" so that no gaol time is required to meet the threshold of deportation. Deportees refer to themselves as 501s – a reference to section 501 of the Act, which contains "character tests".
To return to my earlier point about citizenship, changes to the Migration Act have most impacted on Kiwis precisely because are they are less likely to take out citizenship than other migrant groups.  And within the New Zealand migrant community, sources indicate that the majority have been Māori and Kiwis of Pacific Island background (known collectively in New Zealand as Pasifika).
This is not intended to deny the impact of crime where it has been committed, but little has been said about the impact on deportees.
In a 2018 study on the human impact of Australia's deportation policy which interviewed 31 Kiwis deported since changes to the legislation, Patrick Keyzer and Dave Martin pointed to psychological trauma inflicted on their interviewees.
Few issues have induced a more febrile response from the New Zealand government than deportations as guest reporter for the ABC's Foreign Correspondent, guest reporter Peter Fitzsimons, discovered in 2018. A regular source of friction in the relationship, Ardern has lobbied successive Australian counterparts fiercely to review the policy. The New Zealand government argument is that many of the deportees are socially and culturally Australian with no ties or networks across the Tasman. Further, when they are dumped at the airport to become New Zealand's problem, the difficulties only compound.
That the Albanese government has acknowledged there is a problem and will examine it in close detail is an important shift and a recognition by both leaders that cooperation and goodwill are far more productive in the long run.
When the Fitzsimons' edition of Foreign Correspondent screened in 2018, there was a backlash from Coalition Ministers including Peter Dutton who suggested that Australia does more heavy lifting in the bilateral relationship.
There is a convenient political amnesia about this stance. For example, it seems to have been all but forgotten that in 2013 then Prime Minister John Key struck an agreement with Julia Gillard under which 450 refugees from Australia's regional processing program would be relocated in New Zealand. Despite repeated follow up offers over the past decade, that deal was only finally signed off by the Morrison government in February 2022 – nearly a decade later.
An urgent re-engagement with the Pacific by the new federal government since the May election has set the tone for the ensuing years. New Zealand now sees itself as a nation in and of the Pacific: one with a significant and growing Pasifika population that enjoys close relations with a number of Pacific Island states. Australia and New Zealand have an important leadership role in the region on an array of matters, including climate change, peacekeeping and refugee resettlement. Removing some of the fractious elements in their own relationship puts them in better stead to take on this joint role.
 James Bennett is an honorary academic at the University of Newcastle, a dual citizen living in Newcastle, NSW and a consultant on a forthcoming series for SBS TV about multicultural Australia.